Ogilvy Named 2023 Network of the Year by the Clio Awards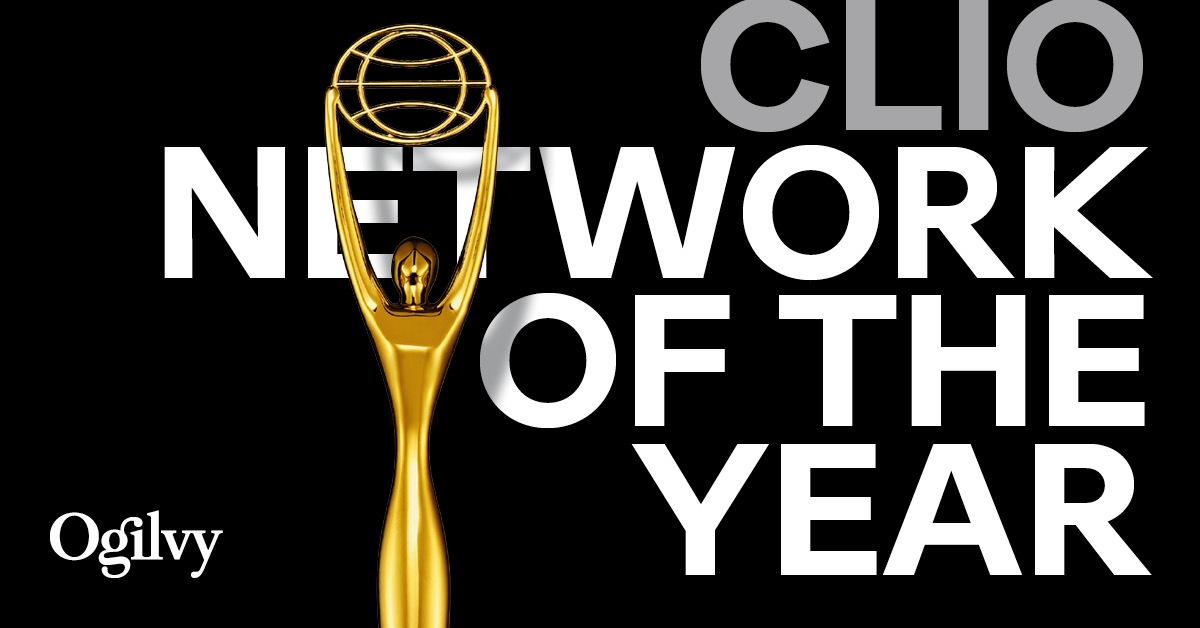 NEW YORK — April 25, 2023 — Today Ogilvy was named 2023 Network of the Year by the Clio Awards, one of the premier international awards competitions for the creative industry. The Clios revealed the winners of its most prestigious awards at a live ceremony in New York City this evening. Ogilvy had a remarkable showing with 4 Grand Clios, 24 Gold, 47 Silver, 52 Bronze, and 44 Shortlists for a total of 171 accolades. 27 offices across every region of Ogilvy's global creative network earned trophies: Bangkok, DAVID Bogotá, DAVID Buenos Aires, DAVID Madrid, DAVID Miami, DAVID São Paulo, Brazil, California, Cape Town, Chicago, Colombia, Frankfurt, Honduras, Hong Kong, INGO Hamburg, Japan, Johannesburg, Mexico City, Milan, Mumbai, New York, Peru, Singapore, Sydney, Taiwan, UK, and Warsaw. Check out all the winning work here.
Liz Taylor, Global Chief Creative Officer of Ogilvy, said: "Winning Network of the Year at the Clios is a tremendous honor. Nothing makes me prouder than to see the strength of our global creative network recognized, with 27 offices winning accolades this year. Every day our teams employ the power of borderless creativity to create unreasonable impact – impact on our client's businesses and on society – and the work that won proves Ogilvy's ability to do just that. Thank you to all our clients for their continued partnership and to our talented teams around the world for their hard work, passion, and ingenuity."
"Morning After Island" for Groupo Estratégico PAE by Ogilvy Honduras took home Grand Clios in the Direct (Experience/Activation), Out of Home (Ambient), Public Relations (Public Affairs) categories. "Lu from Magalu"      for Magazine Luiza by Ogilvy Brazil won a Grand in Media category for Use of Talent & Influencers.
Ogilvy won Gold Clios in categories including Creative Effectiveness, Creative Commerce, Creative Use of Data, Design, Audio, Experience/Activation, Branded Entertainment & Content, and Media among others for a range of campaigns including: "Amazing Thailand. Culture to Commerce" for Tourism Authority of Thailand and "Love Your Gut" for Dutch Mill Company Limited by Bangkok; "The Fresh System" for Carulla by Colombia; "[Life Subtitled]" for Chicago International Film Festival by Chicago; "Natural Bar" for Corona by DAVID Bogotá; "The Art of Self Examination" for MACMA by DAVID Buenos Aires; "Even More Confusing Times" and "Meat" for Burger King and "Scratchboards" for Activision by DAVID Madrid; "Staraoke" for Prime Video by Milan; "Vertical Bike" for Honda del Perú by Peru; "The Loudest Call" for Whitelion by Sydney; "REmemory" for Want Show Laundry by Taiwan; and " Toxic Influence" for Dove by Ogilvy's global Unilever team.
This honor comes on the heels of Ogilvy ranking #1 on WARC's Creative 100 and Effective 100 lists and rounds out an exciting start to the year for Ogilvy. Last month, Ogilvy was named to Fast Company's Most Innovative Companies list for its effective use of AI to drive business results. The Drum recognized Ogilvy as the most creative agency network in the world and ranked Ogilvy's Global Chief Creative Officer, Liz Taylor, as the #1 Chief Creative Officer in the world, making her the first woman to top the rankings. Additionally, Ogilvy was honored on Ad Age's A-List.
About Ogilvy 
Ogilvy inspires brands and people to impact the world. We have been creating iconic, culture-changing, value-driving ideas for clients since David Ogilvy founded the company in 1948. We continue building on that rich legacy through our borderless creativity—operating, innovating, and creating at the intersection of talent and capabilities. Our experts in Public Relations, Growth & Innovation, Advertising, Health, and Experience work fluidly across 131 offices in 93 countries to bring forth world-class creative solutions for our clients. Ogilvy is a WPP company (NASDAQ: WPPGY). For more information, visit Ogilvy.com, and follow us on  LinkedIn, Twitter, Instagram, and Facebook. 
Media Contacts: David Ford / david.ford@ogilvy.com
# # #
Interested in bigger, bolder ideas? Sign up for our newsletter for more insights on how brands can make an impact on the world.
Share