Ogilvy Wins Two Grand Prix and Five Gold Lions on Day One of 2021 Cannes Lions Festival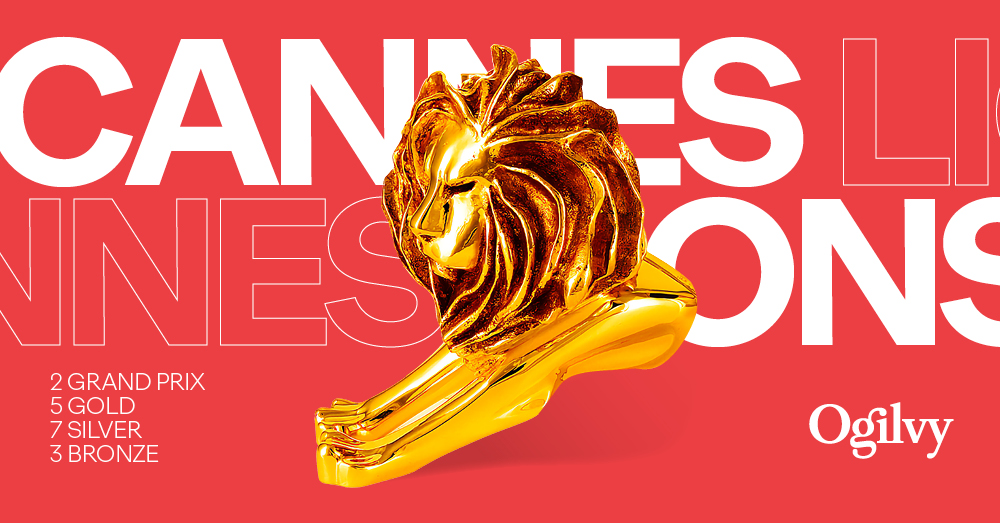 NEW YORK — JUNE 21, 2021 — As the 2021 Cannes Lions Festival of Creativity kicked off today, Ogilvy took home two of the coveted Grand Prix prizes in the Outdoor and Print & Publishing categories. Ogilvy's global network was also awarded 5 Gold, 7 Silver, and 3 Bronze Lions.
David Miami and INGO Stockholm took home the Outdoor Grand Prix and two Gold Lions for Burger King's "Moldy Whopper," along with Publicis Romania, and Ogilvy London and Toronto took home the Print Grand Prix and two Gold Lions for Dove's "Courage Is Beautiful." Ogilvy Bogota also scored a Gold in Health & Wellness for Vivir Association, "Mother Blanket."
Teams from Amsterdam, Cape Town, Chicago, David Buenos Aires, Melbourne, and Taipei contributed to campaigns that won the additional 7 Silver Lions and 3 Bronze Lions for work done on behalf of clients and partners including Unilever, Mondelez, Burger King, Volvo, AB InBev, Relate, The City of Chicago, Vogue, Rape Crisis, and AAMI.
Piyush Pandey, Chairman of Global Creative at Ogilvy, said: "The work that we put forth at this year's festival is a source of great pride, especially given the way our teams and clients persevered during unprecedented times. This recognition is a true testament to the power of borderless creativity and the impact that can be created when you work at the intersection of capabilities, talent, and geographies. Thank you to all our clients for their continued partnership and to our talented teams around the world for their hard work and ingenuity."
Check out some of the winning campaigns by following Ogilvy on Twitter using the hashtag #OgilvyCannes. Keep up with Ogilvy and Cannes-related news throughout the week by following us on LinkedIn, Twitter, Instagram, and Facebook.
About Ogilvy  
Ogilvy inspires brands and people to impact the world. We have been creating iconic, culture-changing, value-driving ideas for clients since David Ogilvy founded the company in 1948. We continue building on that rich legacy through our borderless creativity—operating, innovating, and creating at the intersection of talent and capabilities: our experts in Public Relations, Growth & Innovation, Advertising, Health, and Experience work fluidly across 132 offices in 82 countries to bring forth world-class creative solutions for our clients. Ogilvy is a WPP company (NASDAQ: WPPGY). For more information, visit Ogilvy.com, and follow us on LinkedIn, Twitter, Instagram, and Facebook. 
For more information contact: David Ford / david.ford@ogilvy.com  
Interested in bigger, bolder ideas? Sign up for our newsletter for more insights on how brands can make an impact on the world.
Share