Zippo Appoints Ogilvy Global Creative, PR, and Social Agency Partner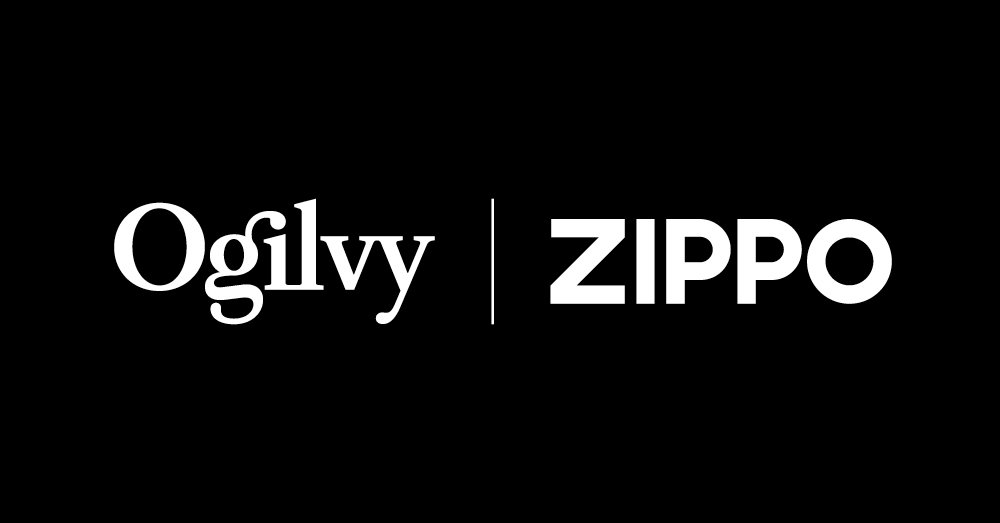 NEW YORK — February 19, 2021 — Ogilvy today announced it has been selected by Zippo, the iconic American brand and creator of the windproof lighter, as its global creative, PR, and social agency partner. Ogilvy will support Zippo's brand and communications strategy with an integrated team that combines expertise across creative, media relations, influencer marketing, social strategy, and performance media. The account will be led out of Ogilvy's New York office and will draw on talent and expertise from across the agency's global network, which spans 132 offices in 83 countries.
Lucas Johnson, Senior Brand Manager, Global Marketing at Zippo said: "In Ogilvy we found a partner that valued the heritage of our brand, listened to our needs, and best demonstrated an ability to deliver integrated creative ideas and transformative strategies that will drive value for Zippo's brand and business as we look to the future."
William Kolasa, Senior Director of Integrated Marketing and Communications at Zippo said: "As Zippo continues to grow globally, we were looking for an agency that would be a true partner to us as we think more holistically about our approach to marketing and communications. Ogilvy is well-versed in the data-driven, personalized experience that consumers have come to expect from brands and offers unparalleled creative expertise. We are excited for the opportunities that lie ahead."
"When you think Zippo, you think iconic. You think original. You think everlasting," Marcos Kotlhar and Danilo Boer, Chief Creative Officers for Ogilvy New York, added. "David Ogilvy wrote Zippo's original tagline in the 1960's. The line has been true to the brand since the day the product was created: Zippo. Still Works. Our relationship today was quickly built on the agreement that there is something else that still works: Ideas. With creativity at the core, Ogilvy will help Zippo reach its global aspirations with ideas that will remind the world how Zippo is a true American brand—one that has captivated the hearts of an amazing fan base that spans generations."
Zippo products are sold in more than 180 countries and regions around the world. To find information about Zippo, visit Zippo.com.
About Ogilvy
Ogilvy has been producing iconic, culture-changing marketing campaigns since the day its founder David Ogilvy opened up shop in 1948. Today, Ogilvy is an award-winning integrated creative network known for developing ideas that create giant value for Fortune Global 500 companies as well as local businesses. Ogilvy is a global network with 132 offices in 83 countries and five core businesses that span Advertising, Public Relations & Influence, Experience, Innovation, and Health. Ogilvy is a WPP company (NASDAQ: WPPGY). For more information, visit Ogilvy.com, and follow Ogilvy on Twitter, Instagram, Facebook, and LinkedIn.
About Zippo
One of the most recognized brands in the world, Zippo was founded in the fall of 1932 by George G. Blaisdell in Bradford, Pennsylvania, where it has manufactured over 600 million windproof lighters. With the exception of improvements to the flint wheel and modifications in case finishes, the product remains unchanged and is backed by the company's famous Zippo guarantee – "It works, or we fix it free. ™" Zippo's diverse product line includes lighters, leather goods, eyewear and lighter accessories; butane candle lighters, and a robust line of heat and flame products for outdoor enthusiasts.  Zippo markets in over 180 countries, and owns Bradford-based W.R. Case and Sons Cutlery Company and Wellsville, NY based Northern Lights a leading designer of luxury candles and artisan accessories. For more information, visit zippo.com.
Media Contacts: David Ford / david.ford@ogilvy.com
# # #
Interested in bigger, bolder ideas? Sign up for our newsletter for more insights on how brands can make an impact on the world.
Share