Ogilvy Takes Home 5 Gold Lions on First Day of 2022 Cannes Lions International Festival of Creativity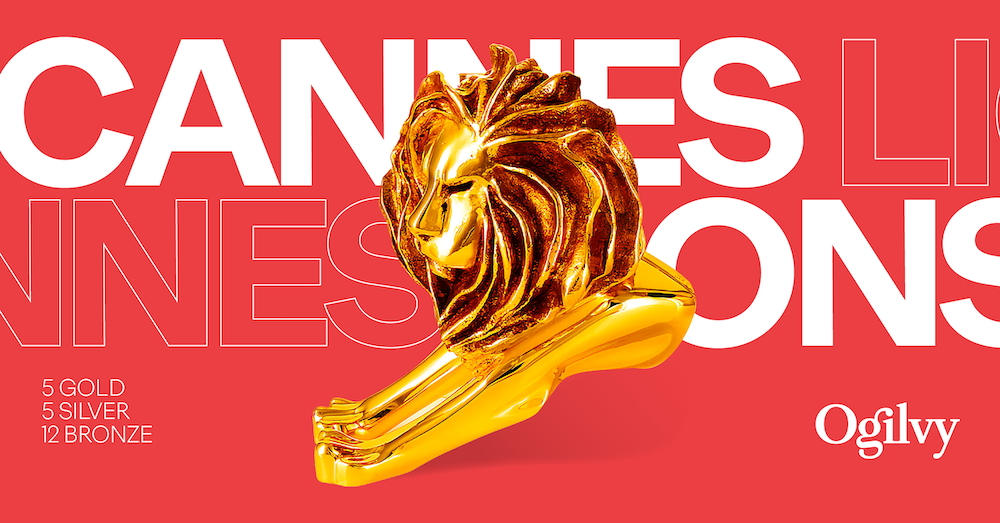 NEW YORK, NY — JUNE 20, 2022—On the opening day of the 2022 Cannes Lions International Festival of Creativity, Ogilvy brought home 5 Gold Lions across the Outdoor, Print & Publishing, and Health & Wellness categories. In addition to the Gold wins, Ogilvy earned 5 Silver and 12 Bronze for a total of 22 Lions. 
The agency won 3 Gold in the Outdoor categories. Ogilvy Singapore and Ogilvy Malaysia's campaign for Cadbury, "Flags of Generosity", earned Gold in the Outdoor – Corporate Purpose & Social Responsibility category. The Gold in Outdoor – Promotional Items & Printed Media went to DAVID Madrid's campaign "Scratch Boards" for Activision and its popular video game Tony Hawk's Pro Skater. And Ogilvy also won Gold in Outdoor – Live Advertising & Events for MACMA's "The Art of Self-Examination" by DAVID Buenos Aires. 
Ogilvy's Global Unilever Team earned Gold in the Print & Publishing – Corporate Purpose & Social Responsibility category for "Reverse Selfie" from Dove. And Ogilvy Honduras' "Morning After Island" for Grupo Estratégico PAE received Gold in the Health & Wellness - Non-profit/Foundation-led Education & Awareness category, marking the first time any agency in the country has earned a Lion at Cannes. 
Ogilvy's Global Chief Creative Officer Liz Taylor said: "Winning Gold at Cannes Lions is an incredible achievement, and I'm so proud of our five teams across the network for this well-earned recognition. Our Lions across the board represent the strength of Ogilvy's global creative network, as we were recognized for work created at all corners of the globe. These campaigns are indicative of the power of Ogilvy's borderless creativity and our ability to generate big ideas that create impact alongside our valued clients." 
A selection of Ogilvy's winning work can be viewed on Ogilvy.com and on the agency's social media channels. Keep up with Ogilvy and Cannes-related news throughout the festival by following us on LinkedIn, Twitter, Instagram, and Facebook and #OgilvyCannes. 
About Ogilvy  
Ogilvy inspires brands and people to impact the world. We have been creating iconic, culture-changing, value-driving ideas for clients since David Ogilvy founded the company in 1948. We continue building on that rich legacy through our borderless creativity—operating, innovating, and creating at the intersection of talent and capabilities. Our experts in Advertising, Experience, Public Relations, Health, and Consulting work fluidly across 131 offices in 93 countries to bring forth world-class creative solutions for our clients. Ogilvy is a WPP company (NASDAQ: WPPGY). For more information, visit Ogilvy.com, and follow us on  LinkedIn, Twitter, Instagram, and Facebook.    
Media Contacts: David Ford / david.ford@ogilvy.com    
# # #  
Interested in bigger, bolder ideas? Sign up for our newsletter for more insights on how brands can make an impact on the world.
Share