What Herding Sheep Teaches Us About Empowering Future Leaders
Recently, I embarked on a two-week journey to Israel, taking part in both the REALITY 30 Under 30 Women's program as well as the first ever Forbes Under 30 Women's Global Summit, a trip that immersed me in diverse perspectives, young women leaders, and important leadership lessons for advertisers and brand marketers, alike.
But let me first tell you about how I herded sheep.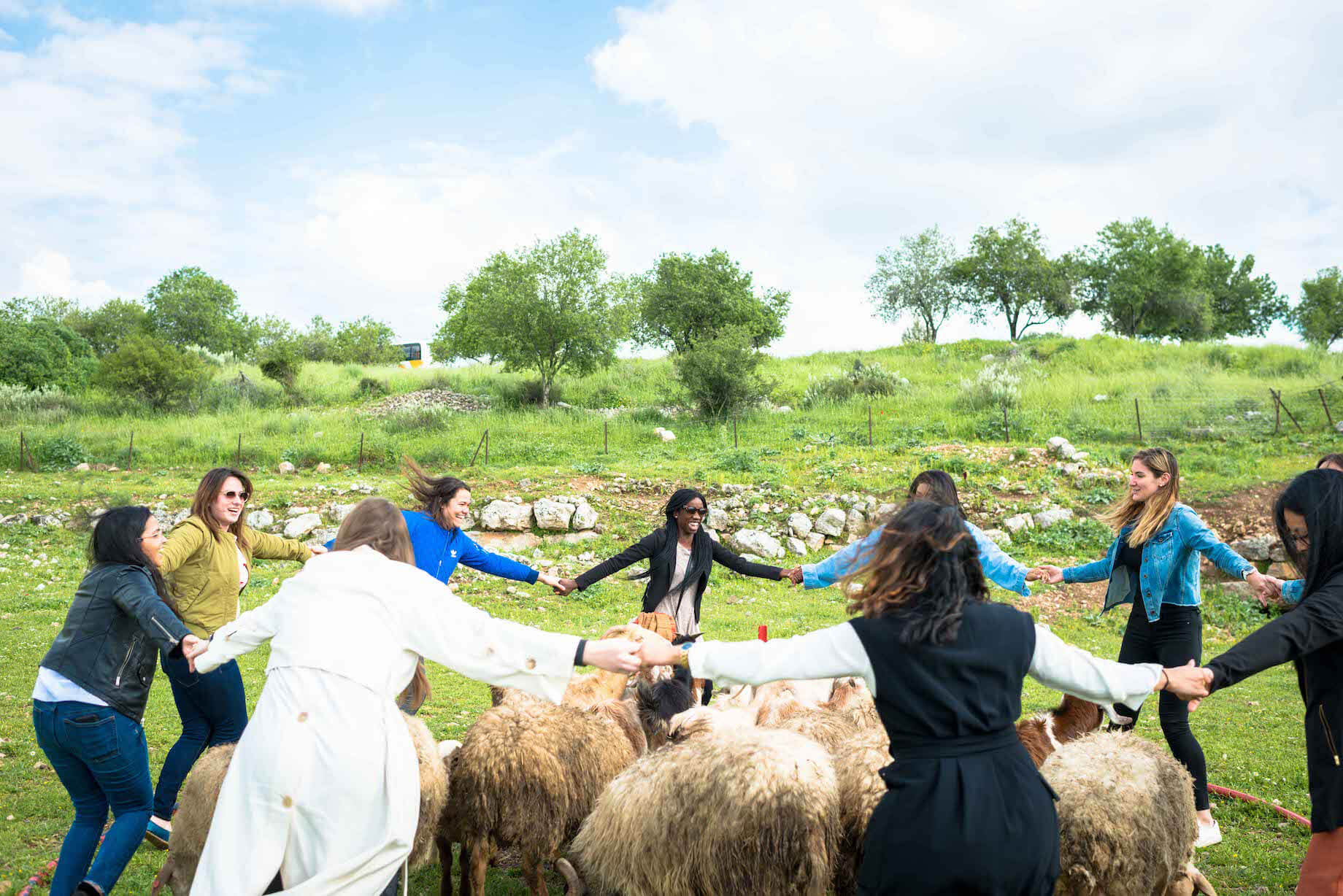 After a grueling 12-hour plane ride, I was introduced to the other 49 women who would be joining me for the Schusterman Foundation's REALITY 30 Under 30 women's program. Without having the ability to change clothes or put down our luggage, we were dropped off in a field surrounded by goats and sheep. As we entered Neot Kedumim, the Biblical Landscape Reserve in Israel, we were asked to herd the goats and sheep from one side to another in under five minutes. This experience forced me to make decisions, get outside my comfort zone with people I had just met, and embrace a new challenge. The key takeaway from the exercise was focused around leadership, and it certainly set the tone for the week ahead. In particular, we were told that leaders, in order to be successful, must lead their teams from behind – and should never lead from the front. Great leaders are very similar to shepherds, making sure nobody is ever left behind to accomplish a shared goal.
When we were assigned roommates, I was paired with a woman who comes with an incredible background as a rocket scientist for a high profile space company. Although we did not have much in common given her field of work and mine, we were able to form a deep bond over the course of the trip. In particular, growing up as an Asian American engineer, she often felt like the only woman in her field. Hearing her story and the stories of the other women that joined me on this trip was incredibly eye-opening. I realize the value and importance of the commitment that companies and clients should make to demand equality and advancement opportunities for women in the workforce.
As part of the REALITY program, we had the privilege to meet with Lady Gamila—the first woman entrepreneur of Druze origin, who turned a small business into a multinational company producing locally-sourced soaps and beauty products (the company achieved $50 million profit in the last year). She shared her story of fighting for her independence in the small Druze community, and how she continues to be an advocate of rights for Druze women in Israel.
I loved hearing her story, and the message that she shared with the group—In particular, her factory exemplifies progressive coexistence and understanding amongst the Jewish, Muslim and Druze women who work at her factory in Peqi'in, Israel. Her best advice to other women in business was to believe in the product and the quality of your work. If you focus on quality of what you're selling then it will sell itself.
Then it was on to the first-ever Forbes Under 30 Women's Global Summit, where I was both humbled and honored to join 500 under-30 change-makers, leaders, and radical thinkers. The programming centered around answering the question of what it means to be a female leader, and encouraged participants to think differently about how organizations can challenge gender equality, professional advancement, and close the pay gap for females in the workplace.
The summit kicked off with Lynn Schusterman, an 80-year-old philanthropist who most recently donated a billion dollars across a variety of foundations and charities committed to improving the lives, education, and mentorship of young women in business and in Jewish communities.
Most interestingly, however, Lynn shared her personal story and struggle as a leading female philanthropist. In particular, when her husband passed, Lynn made the decision to keep the foundation they had built together alive. Despite many skeptics who thought she would not be able to succeed in running the business once her husband passed, she succeeded. Unfortunately at first, Lynn detailed the times when she had to bring men with her to board meetings because she felt nobody would take her seriously as a woman. That has since changed, but women in business are still faced with discrimination today , and Schusterman is committed to mentoring other aspiring business leaders to build a more inclusive future for other women.
"Today we put value on human beauty and forget the beauty is inside of a person," Schusterman said. "I want people to feel safe and secure in your own self, and be proud of who you are, what you are, and remember that you have something to give another person as a women in business today."
The CEO of SodaStream, Daniel Birnbaum also shared his insights into turning around a large consumer brand and taking risks in the workplace. In particular, the CEO showed immense vulnerability detailing the time in 2014 when SodaStream was on a steep decline and how he helped steer the company back to relevance and success. Although he was one of the few non-female panelists, I appreciated Birnbaum's transparency, honesty, and message of optimism when faced with great challenges. As it related to the context of Israel and the topic of women leaders, he shared that his factory was one of the few workspaces in Israel that fights for coexistence and employs Israeli and Palestinians together working in harmony for a shared goal. It's a great example of how a brand standing for something and doing good achieves more than just good PR—it helps drive business results.
This trip helped re-frame for me that, as a young professional female, every day can be a challenge. But whether it's for myself and others like me, or the brands that we work with every day, overcoming these challenges will make us stronger in the long run. When it comes to issues of diversity, inclusion, and social responsibility, companies are better off when they empower their young, diverse workforce, putting them in prominent positions to make real change.
After my journey to Israel, I'm more inspired than ever to educate others, get involved, and cultivate a strong network of female empowerment and drive this narrative within the advertising industry at large.
Interested in bigger, bolder ideas? Sign up for our newsletter for more insights on how brands can make an impact on the world.
Share