Ogilvy Returns to the Top Spot, Named Network of the Year at Cannes Lions 2022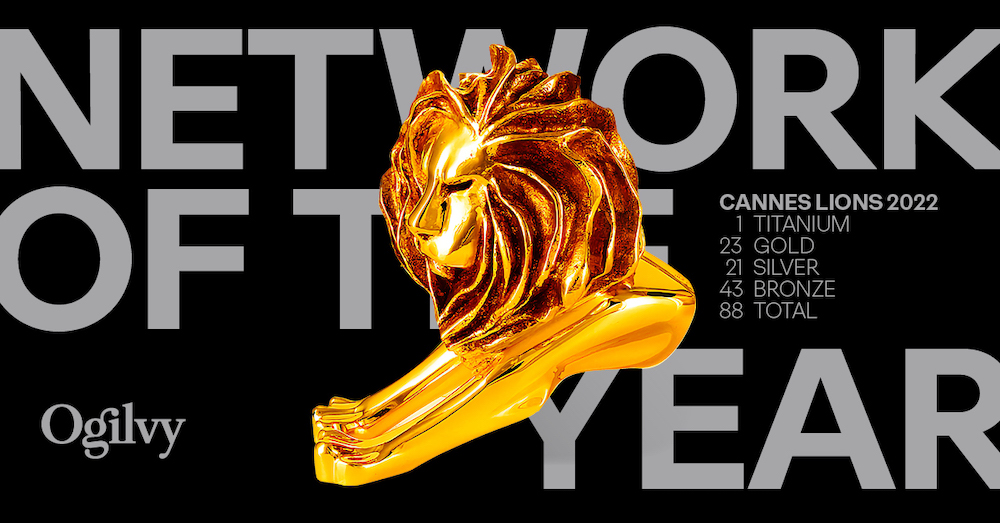 NEW YORK, NY – JUNE 24, 2022 – The Cannes Lions International Festival of Creativity announced today that Ogilvy has returned to the coveted position of Network of the Year. This crowning achievement reflects the strength of Ogilvy's global creative network as 37 offices contributed to winning a total of 88 Lions throughout the festival including 1 Titanium Lion, 2 Glass Lions for Change Gold, 23 Gold, 21 Silver, and 43 Bronze, in addition to 163 Shortlists. Ogilvy was recognized across a broad range of categories throughout the festival, including Golds in Data-enhanced Creativity, Use of Data-driven Insight, Innovation in Branded Content, Innovative Use of Influencers, mCommerce, and Corporate Purpose & Social Responsibility, among other categories.
To close out the week, "Shah Rukh Khan-My-Ad" by Ogilvy Mumbai and Wavemaker India for Cadbury Celebrations earned the prestigious Titanium Lion, which celebrates game-changing creativity. The campaign used machine learning to put Bollywood star Shah Rukh Khan into thousands of ads for small, local stores greatly affected by the Covid-19 pandemic. This marks the first ever Titanium Lion awarded to an agency in India. The Glass Lion for Change category, which celebrates culture-shifting creativity and ideas that positively impact ingrained gender inequality, imbalance, or injustice, were also announced on Friday, and Ogilvy earned 2 Golds in the category. Ogilvy Greece won for Lacta's "Don't Ever Leave Me," a poignant film about domestic violence, and Ogilvy Honduras was recognized for "Morning After Island," which sought to overturn Honduras's 2009 decree banning the sale, distribution and severe penalties for using emergency contraception pills, both earned Gold.
Additionally, Ogilvy also took home the Latin America Regional Network of the Year title for the fourth consecutive year and DAVID Madrid capped off a stellar week by being named Agency of the Year in the Classic track. This latest accolade for DAVID comes as the agency celebrates its 10-year anniversary.
Ogilvy's Global Chief Creative Officer Liz Taylor said: "We are thrilled that Ogilvy has been recognized as the world's leading creative agency network because we believe that creativity is the great differentiator. Our teams earned this honor by producing work that upends the status quo, that alters the conversation, that creates meaningful change, and reshapes our industry. We are so proud that the work honored spanned so many categories, countries, and clients. It is a powerful demonstration of what defines Ogilvy. It's pervasive creativity. It's borderless creativity. It's creativity with impact."
Ogilvy's Global President Devika Bulchandani said: "This recognition is a testament to Ogilvy's ability to lead the way in a world where creativity is needed more than ever. We are so proud to see our teams honored for driving impact with our clients through creativity that transcends the status quo and shifts culture. Our sincerest thanks to everyone at Ogilvy who poured their hearts into the work, who strive day in and day out to do the best work of our lives, and to our incredible clients for their brilliance, trust, and partnership."
Ogilvy's Global Chief Executive Officer Andy Main said: "At Ogilvy, we believe in inspiring brands and people to impact the world and earning Network of the Year is a gratifying validation of that pursuit. Our teams have showed the power of borderless creativity and what's possible when brands think big. We are deeply appreciative to Liz Taylor, Joe Sciarrotta, and our teams across the globe for the impact they have created over the past year for our clients and on our business."
A selection of Ogilvy's winning work can be viewed on Ogilvy.com and on the agency's social media channels. 
About Ogilvy 
Ogilvy inspires brands and people to impact the world. We have been creating iconic, culture-changing, value-driving ideas for clients since David Ogilvy founded the company in 1948. We continue building on that rich legacy through our borderless creativity—operating, innovating, and creating at the intersection of talent and capabilities. Our experts in Public Relations, Consulting, Advertising, Health, and Experience work fluidly across 131 offices in 93 countries to bring forth world-class creative solutions for our clients. Ogilvy is a WPP company (NASDAQ: WPPGY). For more information, visit Ogilvy.com, and follow us on  LinkedIn, Twitter, Instagram, and Facebook.  
Media Contacts: David Ford / david.ford@ogilvy.com
# # # 
Interested in bigger, bolder ideas? Sign up for our newsletter for more insights on how brands can make an impact on the world.
Share