Ogilvy Wins Gold Lions for Its Work at the Intersection of Data & Creativity, Ups Festival Total to 78 Lions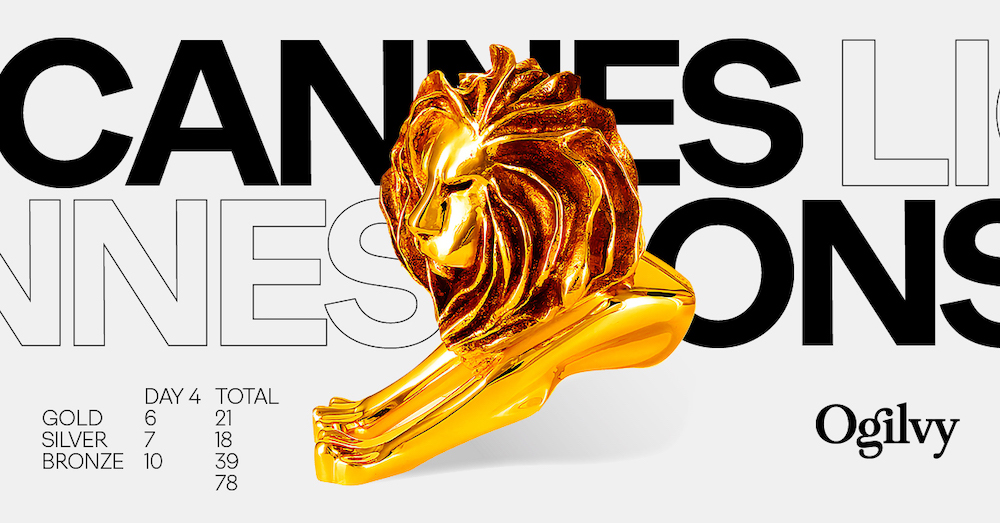 NEW YORK, NY – JUNE 23, 2022 – Ogilvy Mumbai's "Shah Rukh Khan-My-Ad" for Cadbury Celebrations led the way for the Ogilvy global creative network on Day 4 of the Cannes Lions International Festival of Creativity, winning 2 Gold Lions as Ogilvy altogether brought home 6 Golds on the day. Ogilvy also earned 7 Silver and 10 Bronze on Thursday, bringing its festival total to 78 Lions. 
Ogilvy's Global Chief Creative Officer Liz Taylor said: "Several of the Ogilvy campaigns recognized tonight demonstrate the impact that can happen when you work at the intersection of creativity, data, and technology. These big, bold ideas displayed an impressive ability to re-think how brands can make a difference in people's lives while driving real business value. Congratulations to all of our teams across our global network for this recognition of their great work." 
"Shah Rukh Khan-My-Ad", created by Cadbury and Ogilvy Mumbai with Wavemaker Mumbai, earned Gold Lions in the Creative Data – Data-enhanced Creativity and Direct – Data-driven Targeting categories. The campaign featured Bollywood star Shah Rukh Khan and used machine learning to create advertisements that doubled as ads for Cadbury and thousands of local businesses affected by the pandemic. 
Ogilvy São Paulo and Magazine Luiza's campaign creating a popular virtual influencer, "Lu From Magalu" took home Gold in the Social & Influencer – Innovative Use of Influence category. Bar Ogilvy (Lisbon) earned a Gold in the Media – Use of Integrated Media category for the campaign "Breaking Sirens" for Amnesty International, which interrupted advertisements in Portugal to raise awareness of the war in Ukraine. 
Ogilvy's other two Golds on Day 4 were also in the Media category. Ogilvy Melbourne won Gold in the Media – Use of Data-driven Insight category for "AAMI Rest Towns", a new road safety initiative encouraging young drivers to stop and rest regularly while on long road trips. And Ogilvy Johannesburg's work on behalf of AB-InBev/Carling Black Label, "Bride Armour"—unveiling a dress at South Africa's biggest fashion show which raised awareness of intimate partner violence—was awarded Gold in Media – Use of Events.  
A selection of Ogilvy's winning work can be viewed on Ogilvy.com and on the agency's social media channels. Keep up with Ogilvy and Cannes-related news throughout the festival by following us on LinkedIn, Twitter, Instagram, and Facebook and #OgilvyCannes.   
About Ogilvy 
Ogilvy inspires brands and people to impact the world. We have been creating iconic, culture-changing, value-driving ideas for clients since David Ogilvy founded the company in 1948. We continue building on that rich legacy through our borderless creativity—operating, innovating, and creating at the intersection of talent and capabilities. Our experts in Public Relations, Consulting, Advertising, Health, and Experience work fluidly across 131 offices in 93 countries to bring forth world-class creative solutions for our clients. Ogilvy is a WPP company (NASDAQ: WPPGY). For more information, visit Ogilvy.com, and follow us on  LinkedIn, Twitter, Instagram, and Facebook.   
Media Contacts: David Ford / david.ford@ogilvy.com 
# # # 
Interested in bigger, bolder ideas? Sign up for our newsletter for more insights on how brands can make an impact on the world.
Share