Steering Brands Through COVID-19
The COVID-19 pandemic is unprecedented. Never before has there been a disruption—if not total shutdown—of everyday life for this many people across the world at once.
The ripple effects of the coronavirus pandemic are more like tidal waves. One of those has hit the business world, causing many large and small businesses to duck underneath and shutter completely for the time being.
Eventually—hopefully sooner rather than later, but most importantly with as many lives saved as possible—the wave will pass. There will be an after. It's plausible that the COVID-19 pandemic is the defining event of our time, that it will permanently alter some major aspects of our lives as we know it. We've seen a needed explosion in remote working and video conferencing, movie studios rush theatrical titles out for purchase at home; musicians stream live performances directly into the palms of fans. Some behaviors that change during the pandemic may wane, others may have staying power. The pandemic may speed up some seismic shifts that have been gestating for a while.
It's a confounding time for brands. Consumers are concerned with macro issues, but also still need fundamental necessities in their life. How do you find the right tone for this moment? How do you make sure you don't come off as exploitative? How do you deal with the shift to online across, potentially, the entire business, while balancing the concerns of all your stakeholders?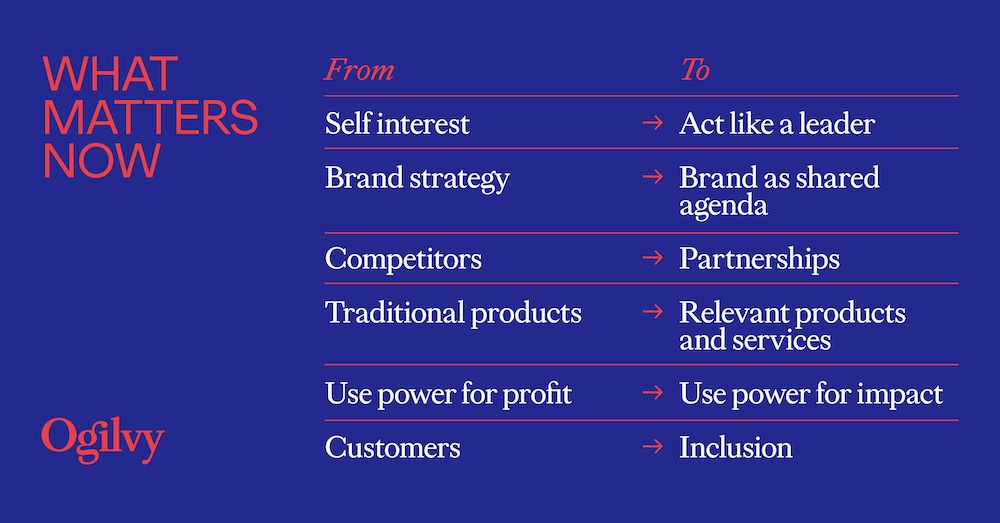 Crises are difficult to navigate, but they can be a place where brands prove their purpose, values, and commitments, while also showing their agility, creativity and spirit. It's a time where the strength of a brand pays off. It's not a time for brands to go too far out of their comfort zone, but there is some opportunity to fill certain consumer needs that a brand may normally not. The key for a brand is to make sure there's an intersection between a brand's purpose and an issue they can credibly step up to. For instance, Unilever announcing a commitment to provide free soap, sanitizer, bleach and food to where it's needed. Netflix also pledged a $100M fund for creatives forced out of work throughout the shutdown, while Chipotle hosted virtual lunches with celebrities while giving away free burritos.
A lot of what brands do in the coming months may feel like temporary strategies. But what if this represents an opportunity for brands to define who they truly are, and who they will continue to be for the next decade or beyond? It's a chance for brands to make meaningful adjustments; moving purpose from words to actions, looking at competitors more as potential partners, using their power for impact rather than just profit.
Brands have a chance to do the right thing. And doing so will not only help them in this current, uncertain time, but set them up for longterm success in what could be a very different world on the other side of the coronavirus pandemic.
Learn more about how brands are reacting to COVID-19 and how they can use this moment as a way to strengthen their relationship with consumers and their communities: Watch the full webinar, "What's Next: Steering Brands Through COVID-19", and access the full deck here.
If you'd like to connect with one of our experts to discuss further, please reach out to one of the contacts below:
Asia-Pacific
Lucy McCabe, Managing Partner, Asia, Ogilvy Consulting
lucy.mccabe@ogilvy.com
Europe, Middle East and Africa
Ann Higgins, Managing Director, EMEA, Ogilvy Consulting
ann.higgins@ogilvy.com
US
Susan Machtiger, Executive Partner, U.S. Brand & Marketing Strategy, Ogilvy Consulting
susan.machtiger@ogilvy.com
Share