Ogilvy Recognized for Creative Impact, Topping Both WARC's Effective 100 & Creative 100 Rankings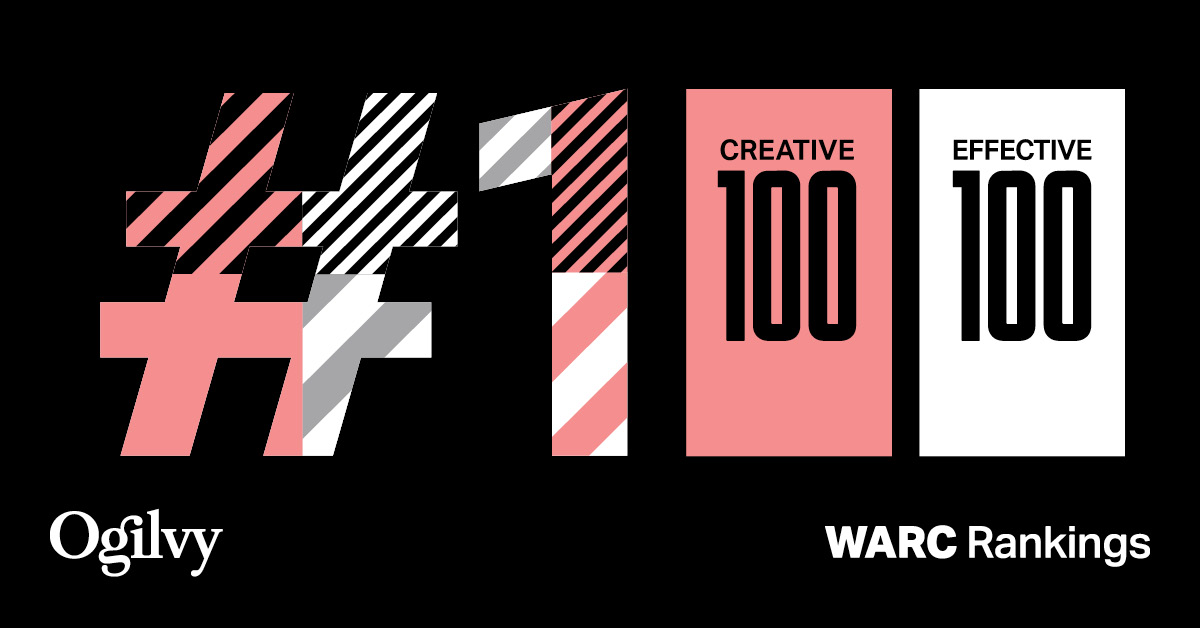 NEW YORK — March 21, 2023 — Today Ogilvy was named the #1 network for effectiveness in the 2023 WARC Effective 100 rankings. This comes on the heels of Ogilvy recently being named the most creative agency network in the world as it topped WARC's Creative 100 for the third consecutive year. The WARC Rankings are a global index of creative, effective and media excellence in advertising.
WARC's annual Effective 100 ranking recognizes the most effective agencies, networks, and campaigns in the world. Seven Ogilvy offices ranked among the top 50 individual agencies on the Effective 100: Ogilvy Mumbai (#5), Ogilvy London (#14), Ogilvy Taipei (#28), Ogilvy Sydney (#39), Ogilvy Shanghai (#42), Ogilvy Toronto (#45), and DAVID Miami (#45). Numerous campaigns created by Ogilvy were featured on the list of the most effective campaigns, including: "Shah Rukh Khan-My-Ad" for Cadbury by Ogilvy Mumbai; "Courage is Beautiful" for Dove by Ogilvy's global Unilever team; '"Moldy Whopper" for Burger King by INGO Stockholm and DAVID Miami; "Lu From Magalu" for Magazine Luiza by Ogilvy São Paulo; "Get Crazy for Crazy Thursdays!" for KFC by Ogilvy Shanghai; "Don't Ever Leave Me" for Lacta by Ogilvy Athens; "Rediscover Germany" for Deutsche Bahn by Ogilvy Frankfurt; "Dollar Catalogue" for IKEA by Ogilvy Taipei; and "Heavily Accented" for Cruzcampo by Ogilvy Madrid. 
Devika Bulchandani, Global CEO of Ogilvy, said: "We believe in the unreasonable power of creativity to impact business and society. Ranking atop both WARC's Creative 100 and Effective 100 lists is a spectacular testament to the impact we created with our clients around the world last year. I want to congratulate and thank all our brilliant teams and clients behind the award-winning campaigns that made this accomplishment possible."
The WARC Effective 100 tracks the results of effectiveness award shows around the world and acts as a benchmark for excellence in effectiveness. The Effective 100 was compiled from global industry competitions including Effies, Cannes Lions (creative effectiveness & creative strategy categories), IPA Effectiveness Awards, WARC Awards for Effectiveness, Jay Chiat Awards, APG Creative Strategy Awards, AME Awards, and ARF David Ogilvy Awards as well as several regional competitions. More on the methodology can be found here. 
Topping the WARC Effective 100 and Creative 100 lists rounds out an exciting month for Ogilvy. Earlier this month, Ogilvy was named to Fast Company's Most Innovative Companies list for its effective use of AI to drive business results. The Drum recognized Ogilvy as the most creative agency network in the world and ranked Ogilvy's Global Chief Creative Officer, Liz Taylor, as the #1 Chief Creative Officer in the world, making her the first woman to top the rankings. Additionally, Ogilvy was honored on Ad Age's A-List. 
About Ogilvy  
Ogilvy inspires brands and people to impact the world. We have been creating iconic, culture-changing, value-driving ideas for clients since David Ogilvy founded the company in 1948. We continue building on that rich legacy through our borderless creativity—operating, innovating, and creating at the intersection of talent and capabilities. Our experts in Public Relations, Growth & Innovation, Advertising, Health, and Experience work fluidly across 131 offices in 93 countries to bring forth world-class creative solutions for our clients. Ogilvy is a WPP company (NASDAQ: WPPGY). For more information, visit Ogilvy.com, and follow us on  LinkedIn, Twitter, Instagram, and Facebook.   
Media Contacts: David Ford / david.ford@ogilvy.com
# # # 
Interested in bigger, bolder ideas? Sign up for our newsletter for more insights on how brands can make an impact on the world.
Share