The Brady Bunch – Ogilvy's 9 Takeaways From Super Bowl LV's Ads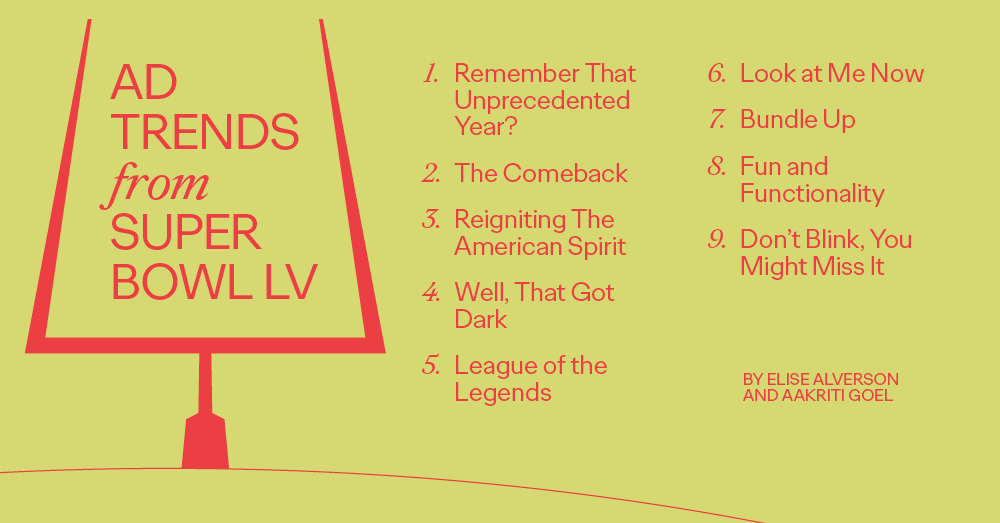 Super Bowl 55 was a fitting conclusion to a National Football League season dominated, like most of our society over the past year, by the pandemic. Though the season completed on time, there were strict protocols, daily COVID-19 testing, rescheduling on the fly, and games played inside one empty stadium after another. Unlike other major sporting events, the pandemic didn't cast quite as big a shadow on the Super Bowl. Though cardboard cutouts of fans outnumbered actual humans in the stands, the pageantry of the big game was prevalent.
The new year has brought about a time of reflection, even though the Covid pandemic continues. Many of the ways we work, live, communicate, shop, and celebrate have been changed forever. This has been a time of competing emotions—nostalgia for the before times, wonder and confusion at the new present, and hope and imagination for the future ahead.
This year's Super Bowl ads followed suit. While masks and social distancing were absent, some brands addressed the rigors of lockdowns and home-bound existence. Though Black Lives Matter was explicitly ignored, many brands called for unity, to disparate reactions.
Here are the key themes we saw from Super Bowl 55's ads:
Remember That Unprecedented Year?
2020 felt like the longest year of our lives. The pandemic, widespread social upheaval in response to racism and police brutality, and a hotly contested, polarizing and unprecedented U.S. Election cast a fog over the past year. No brand wants to utilize their Super Bowl opportunity to remind us about the negative. But there's a tough line to balance between being dismissive and being good-natured. Many brands opted to remind us of the different things that happened in the year that passed. 
Bud Light made Lemonade Seltzer out of all the lemons life in 2020 gave us, while T-Mobile's spot focused on the family drama and bickering that so many of us have dealt with in a year cooped up together. Doritos' Flat Matthew spot showed us that we weren't alone in feeling like life was a little 2-dimensional recently and that "life used to feel fuller." And P&G encouraged viewers to close the chore gap – shining light on an issue that 2020 only intensified.
Going the political route, Fiverr used the Four Seasons Total Landscaping mix up to show how their services allow you to stay nimble and respond to opportunities. Pringles went strictly positive, flashing back to the space landing earlier this summer.
The Comeback
With a vaccine in sight and hope of things getting better, we expected to see brands give a nod to the finish line. Throughout 2020, brands have leaned on hope, optimism and the promise of a better future. And it made an appearance in 2021 during the big game.
Chipotle questioned if a burrito can change the world by promoting a better way to farm and source, while Logitech's 1-minute spot appealed to all the makers, creators and groundbreakers to defy logic and create a better future.
Bass Pro Shops urged us to reconnect with nature when we can, while Ford gave an ode to the finish line with regional ads targeting states hit hard by COVID-19, including southern California, Texas, Florida and Kansas with the hashtag #FinishStrong.
Reigniting The American Spirit
While the arrival of January 1, 2021 didn't magically solve all of our problems, the end of the year represented the turning of a fresh page. Spots from many brands sought to bring the polarized United States together, to celebrate universal truths, and to remind viewers that all Americans are one. The Super Bowl was the perfect platform for spots like this - its audience practicality spans the entire country, including both sides of the aisle.
GM and Will Ferrell tapped into the good ol' American competitive spirit and encouraged the U.S. to beat Norway in the race to electrifying our vehicles. Anheuser Busch reminded us of the simple pleasure of grabbing a beer together, and the unifying powers it can have.
Bass Pro Shops reminded us that we all share common ground in the great outdoors, and need nature to reconnect with the ones we love.
Meanwhile Jeep received some backlash with their spot featuring Bruce Springsteen which spoke to the division in the country and encouraged everyone to meet in the middle. A spot that meant to show how united we can be perhaps just highlighted how far apart many of us still really are.
And the NFL itself brought back American football icon Vince Lombardi as a hologram to remind us that "we didn't get here alone," and should continue to act "as one".
Well, That Got Dark
Several ads took on a playfully grim tone, utilizing ominous scenes or twists in an attempt at memorability—to varying degrees of success. These spots opted for dark humor, and some took it to the extreme, making viewers grimace rather than laugh or smile.
Rocket Mortgage cut to a series of haunting scenes to demonstrate the importance of being certain—from eating poisonous mushrooms, to getting attacked by murder hornets, the advertisers did not hold back. Vroom compared car dealerships to being tortured, in an ad that looked like it was pulled from a horror film.
Sam Adams showed a chaotic scene when a group of Clydesdale Horses (a not so subtle nod to a competitor) got unleashed and wreaked havoc on a quaint town.
M&M's featured a dark twist at the end, when the camera cut to show a hostage M&M awaiting a grim fate, with Schitt's Creek creator and star Dan Levy ready to eat the mascots' friend.
League of the Legends
The game itself was a battle of eras, with 43 year-old Tom Brady battling against a potential successor in Patrick Mahomes. In the end, the old guy won. That's often how it goes with advertisements during the game too. Nostalgia always plays.
This year, many brands veered from the present to highlight some of their classics, reminiscent of "good old days." From advertising legends, NFL legends, iconic songs to legendary movies, many of this year's big game ads looked backwards to either honor the past or retrofit it for today's times.
Bud Light brought together stars from its previous commercials like the Dilly Dilly Knight, Cedric the Entertainer, "I Love You, Man" guy, the Bud Knight, Oracle Susana and more, for a sort of Marvel's Avengers-style spot.
Doordash gave the Sesame Street classic "People in your Neighborhood" an overhaul with Cookie Monster and Elmo, while competitor Uber Eats tapped into the 90's with "Wayne's World" to encourage consumers to eat local.
Squarespace had Dolly Parton reimagining her iconic "9 to 5" to "5 to 9", 44 years after its release. Frito Lays and Guinness banked on power of football legends by signing up yesteryear stars like Peyton and Eli Manning, Marshawn Lynch and Joe Montana, among others.
Look at Me Now
The Super Bowl is the ultimate test of creativity—perhaps not in the long-term sense, but in how brands can set themselves apart from a very crowded and expensive pack. With buy prices so high, many brands don't want to risk a total flop, and thus go conventional.
But there are always some brands who try and buck the trend, and some of the most talked about ads at the end of the Super Bowl were the gutsy ones. These brands stunned, shocked, polarized either with their content or their execution. As they say no guts, no glory.
Reddit created quite a stir, ditching the usual 30 for a 5-second, copy-heavy spot.
Oatly brought back an ad that was banned in Sweden in 2014, with their CEO singing with a keyboard in the middle of a field praising oat milk. Prepared for a backlash, the company had t-shirts allowing you to profess your hatred for the ad. And they are sold out.
Jeep's commentary on the state of affairs with Bruce Springsteen raised some eyebrows for its tone-deafness. Urging us to meet in the middle in an earnest way won some hearts and but raised plenty of questions.
Bundle Up
With the hefty price tag that comes with airing an ad during the Super Bowl, we saw brands coming together to maximize the money. Unlike past years, we had parent companies do the talk, featuring their many disparate brands and partnerships.
Disney ran an ad touting its Disney Plus, ESPN Plus and Hulu bundle. The ad featured clips from such shows as Disney Plus' "WandaVision", Hulu's "The Handmaid's Tale" and ESPN Plus' "Peyton's Places." Frito-Lays featured an all-star NFL cast showcasing its range of products including Lays, Tostitos and Doritos. Anheuser-Busch, in its first ever corporate Super Bowl ad, showcased camaraderie with its range of beers, while. P&G highlighted both Swiffer and Dawn in their ad to promote closing the chore gap.
Fun and Functionality
Often, unique selling point ads can get preachy, and risk being boring and uninteresting. But this year, brands put a spin on the boring by using humor as a tool to highlight their differentiation. For advertisers, this Super Bowl just unlocked an interesting way of communicating functionality with fun.
TurboTax adopted a quirky approach of roaming desks spreading their tax expertise across the land. Klarna brought us four miniature versions of Saturday Night Live star Maya Ruolph buying a pair of pink cowboy boots, with each of them able to pay for a segment of the price using Klarna's payment installment plan. Cadillac used the story of Edward Scissorhands to spotlight the functionality of hands-free driving of the Cadillac Lyriq.
Don't Blink, You Might Miss it
The Super Bowl may be the time that everyone assumes to go big. But sometimes going small or subtle can make a much stronger impact. Many advertisers went understated or used visual gimmicks to catch the attention of those who were paying close attention.
Paramount showed the typical "view of the stadium," but with a twist only the observant would see. Using a sort of big-scale AR, they dropped their iconic mountain into the Tampa landscape, subtly nodding to their new streaming service.
Reddit made waves when it aired a 5 second spot full of copy that would take way longer to read, piquing curiosity of many to pause their live TV or look it up later and read it on their own.
Bud Light Seltzer gave an invite to the "Dude with sign" meme, who got a few seconds of air time in a shot of the crowd. And Mountain Dew, while using a traditional ad format, encouraged viewers to pay very close attention - if you could count the number of products in the ad, you'd be a million dollars richer.
It's worth noting that these weren't always successful. Pepsi ran a sponsored message after the halftime show, telling viewers they could get exclusive footage from the performance if they bought and scanned a can of Pepsi, to which one of the announcers commented "seems like a lot of work!" The most successful gimmicks of the game were those that were simple yet powerful.
On the Sidelines, But Not Sitting Out
Of course, the official television airways aren't the only way for brands to market themselves during and around the Super Bowl.
Many brands took to Twitter, having conversations amongst themselves that captured the attention of many in a much cheaper way.
Creating buzz and social impressions, Doritos created flat versions of other brands, including Ocean Spray, Cheetos, and Snickers. Ford Norway clapped back at GM by pointing out that they actually sell electronic vehicles in Norway, which GM does not. And Popeye's joined the conversation by poking fun at two brands who accidentally used the same stock footage, by slapping their logo on the same shot and callout in their own ad. 
These "steal the show" moments show that brands must stay open and agile in order to capitalize on the conversation that happens during the game.
Some notable advertisers also sat the game out altogether, opting to spend their dollars in other ways. For the first time, Budweiser did not air a Super Bowl commercial, and instead made charitable donations in lieu of spending media dollars, hoping to help spread awareness of Covid-19 vaccination efforts.
Conclusion
The Super Bowl is and will always be a huge stage for advertisers to make their mark. This year, perhaps more than ever, the surrounding world was inescapable, with the pandemic impacting everyone who was tuning in while also having a noticeable effect on the game itself. The brands who engaged with the moment found themselves with the perhaps unenviable opportunity to stand out and make an impact while having to toe the lines between entertainment, authenticity, earnestness and humor. The brands who did this most successfully are the ones who stayed true to who they are, leaning on the intimate relationship they have fostered with their audience over a long period of time. When in doubt, that is never the wrong option.
Interested in bigger, bolder ideas? Sign up for our newsletter for more insights on how brands can make an impact on the world.
Share