Conversations That Matter—Ogilvy Consulting 2021 Trends Report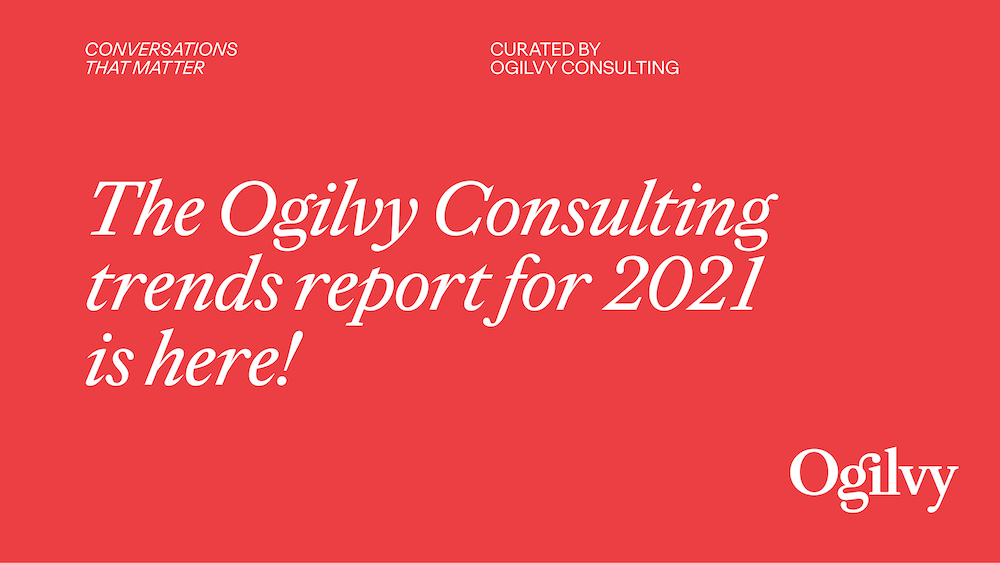 If you're trying to take advantage of a trend now, you're probably already too late. The real trick lies in separating the signal from the noise in the infinite trend buzz to spot the trends that will make a real difference to your business.  
Now in its 8th edition, the Ogilvy Consulting Trends Report outlines several of the most critical trends that businesses will ignore at their own peril in the coming year.   
In Conversations That Matter – Ogilvy Consulting 2021 Trends Report, our speakers from Ogilvy Consulting – Chris Graves, Paul English, Dayoan Daumont, Laurie Close, Pierre Kremer and Olivia Lloyd – share our recommendations for how you can take action and quickly adapt to set your business up for success in 2021 and beyond.
Watch the session above and download the deck here.
The session covers:
Employee experience becomes a key driver of business growth

Behavioral Science forges a new frontier in marketing

The end of e-commerce as we know it

Green recovery will usher a new decade of innovation

Brand experience becomes principled
Interested in bigger, bolder ideas? Sign up for our newsletter for more insights on how brands can make an impact on the world.
Share