Ogilvy's Borderless Creativity Results in Record 8 Grand Prix at 2021 Cannes Lions Festival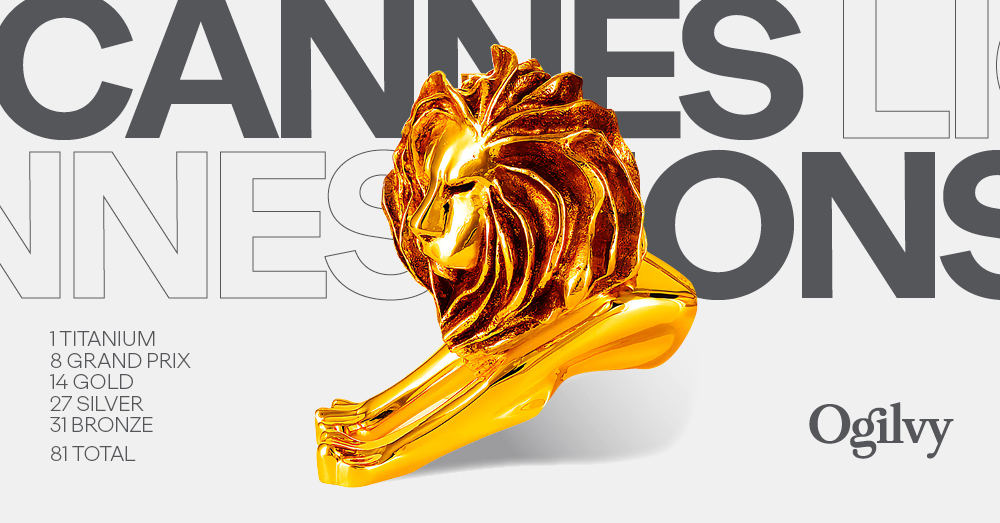 Ogilvy's Global Network Ranked as No. 2 Most Creative Network, Awarded 81 Lions Across 30 Offices in 24 Countries
NEW YORK — June 25, 2021 — Ogilvy was recognized with 8 Grand Prix at the 2021 Cannes Lions Festival of Creativity, a record for the agency. Throughout the week 32 offices across 24 countries contributed to Ogilvy being honored with a total of 81 Lions—including 1 Titanium, 8 Grand Prix, 14 Gold, 27 Silver, 31 Bronze as well as 126 Shortlists. Ogilvy's recognition is for work overwhelmingly done for global brands including AB InBev, Boots, Dove, IBM, IKEA, KFC, Lego, Mondelez, Pizza Hut, SC Johnson, Tyson, Vogue and Volvo —as well as for major regional and local clients.
Ogilvy's 2021 Grand Prix wins included DAVID Madrid earning three for Burger King's "Stevenage Challenge" (in Brand Experience & Activation, Direct, and Social & Influencer); Ogilvy UK and Toronto's "Courage is Beautiful" for Dove won in both Industry Craft and Print & Publishing; DAVID Miami and INGO Stockholm earned a Grand Prix in Outdoor for Burger King's "The Moldy Whopper" along with Publicis; and Ogilvy Pakistan won Grand Prix in both Media and Mobile for "Naming the Invisible By Digital Birth Registration" for Telenor Pakistan marking the first ever Grand Prix awarded to an agency in Pakistan. 
Andy Main, Ogilvy's Global CEO, said: "We are very proud to have Ogilvy recognized as one of the world's leading creative companies with award-winning work that spanned many categories, clients, and capabilities. Our strong performance proves that magic happens when we create and innovate at the intersection of our world-class capabilities and talent. My sincerest thanks go out to our clients and all our people around the world that contributed to our success."
Piyush Pandey, Chairman of Global Creative at Ogilvy, said: "Creativity has the ability to change everything, and its power is unlocked through a collaborative spirit that connects Ogilvy's global network. The work that we put forth at this year's festival is a source of great pride as it represents the impact of our borderless creativity. Thank you to all our clients who entrust us with their brands and to our talented teams for their collective efforts, especially as we all persevered through tough times."
During the final day of the festival, Ogilvy won a Titanium, a Gold, 5 Silver, and 4 Bronze. DAVID Madrid was honored with a Titanium Lion for Burger King's "Stevenage Challenge," which also won three Grand Prix throughout the week. Burger King's "Moldy Whopper" created by DAVID Miami, INGO Stockholm, and Publicis Romania added to its wins with a Gold Lion in Film.
Check out the winning campaigns by following Ogilvy on Twitter using the hashtag #OgilvyCannes.
About Ogilvy 
Ogilvy inspires brands and people to impact the world. We have been creating iconic, culture-changing, value-driving ideas for clients since David Ogilvy founded the company in 1948. We continue building on that rich legacy through our borderless creativity—operating, innovating, and creating at the intersection of talent and capabilities: our experts in Public Relations, Growth & Innovation, Advertising, Health, and Experience work fluidly across 132 offices in 82 countries to bring forth world-class creative solutions for our clients. Ogilvy is a WPP company (NASDAQ: WPPGY). For more information, visit Ogilvy.com, and follow us on LinkedIn, Twitter, Instagram, and Facebook.
For more information contact: David Ford / david.ford@ogilvy.com 
Interested in bigger, bolder ideas? Sign up for our newsletter for more insights on how brands can make an impact on the world.
Share