Ogilvy Wins Industry Craft Grand Prix for Dove 'Courage is Beautiful' on Day Three of Cannes Lions Festival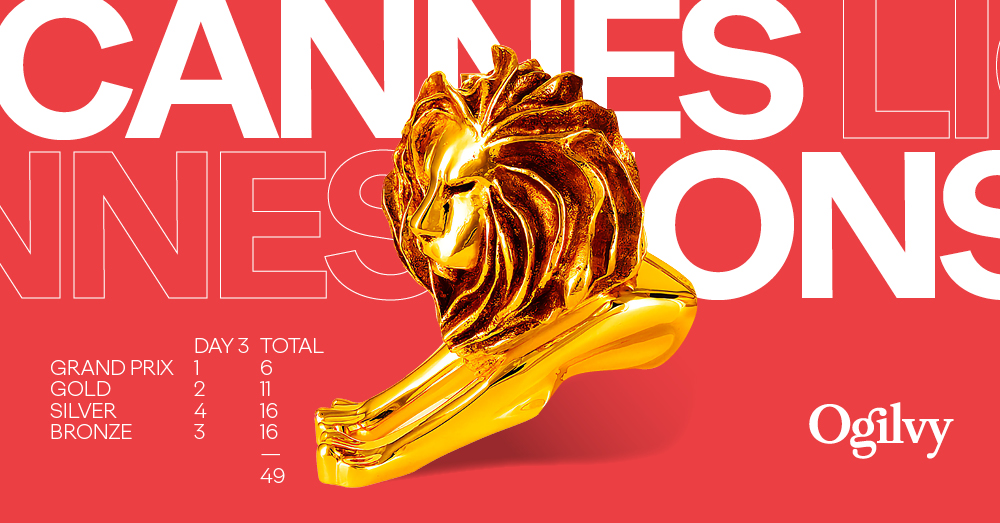 NEW YORK — JUNE 23, 2021 — Ogilvy took home a coveted Grand Prix in the Industry Craft category on the third day of the 2021 Cannes Lions Festival of Creativity. Ogilvy's global network was awarded an additional 2 Gold, 4 Silver, and 3 Bronze Lions today.  
Ogilvy UK took home the Industry Craft Grand Prix for Dove's "Courage Is Beautiful" campaign as well as a Gold Lion in the same category. Dove donated care products as a thank you to healthcare workers on the front lines of the Covid-19 pandemic and created a campaign with Ogilvy Toronto and Ogilvy UK, putting names to the faces of those who continue to put themselves in harm's way to treat those who are battling the disease. It came with a simple message: Courage is beautiful. The execution featuring Patricia was honored by the jury, assets here.
In addition, Ogilvy Chicago's "Peace, Music, and Sausage" work for Tyson also won a Gold Lion for Industry Craft. Teams from Amsterdam, Athens, DAVID Madrid, DAVID Miami, and São Paulo were also recognized with Lions their work for clients including Cosmote, Panenka, Burger King, and Adidas Do Brasil.  

To date, Ogilvy has won a total of 49 Lions including 6 Grand Prix, 11 Gold, 16 Silver, and 16 Bronze. Check out some of the winning campaigns by following Ogilvy on Twitter using the hashtag #OgilvyCannes. Keep up with Ogilvy and Cannes-related news throughout the week by following us on LinkedIn, Twitter, Instagram, and  Facebook.  
About Ogilvy
Ogilvy inspires brands and people to impact the world. We have been creating iconic, culture-changing, value-driving ideas for clients since David Ogilvy founded the company in 1948. We continue building on that rich legacy through our borderless creativity—operating, innovating, and creating at the intersection of talent and capabilities: our experts in Public Relations, Growth & Innovation, Advertising, Health, and Experience work fluidly across 132 offices in 82 countries to bring forth world-class creative solutions for our clients. Ogilvy is a WPP company (NASDAQ: WPPGY). For more information, visit Ogilvy.com, and follow us on LinkedIn, Twitter, Instagram, and Facebook.  
For more information contact: David Ford / david.ford@ogilvy.com
# # #
RECENT OGILVY NEWS:
Interested in bigger, bolder ideas? Sign up for our newsletter for more insights on how brands can make an impact on the world.
Share