Successful Dumb Ads, Politics, and Inclusion: What We Saw At Super Bowl LIV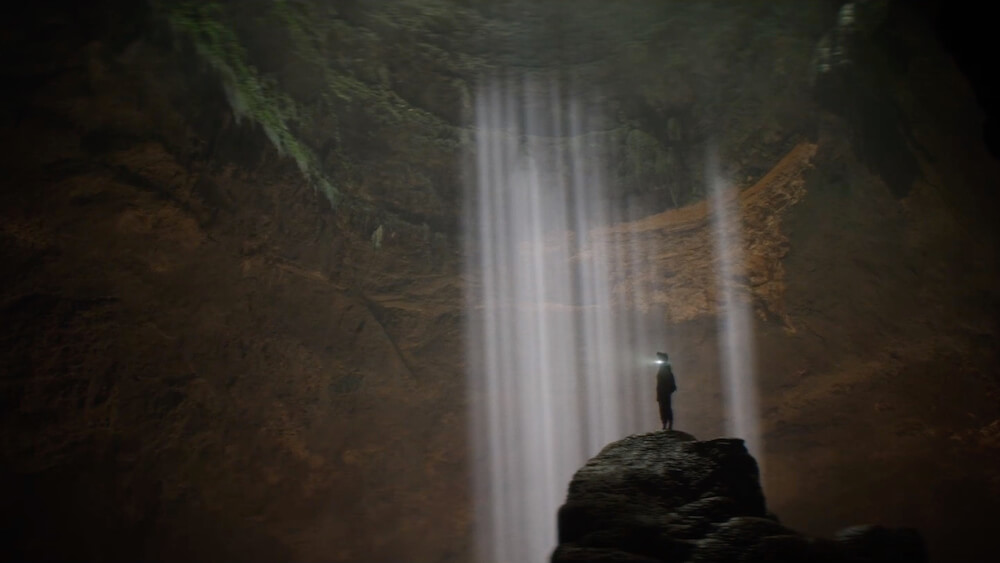 The Super Bowl is one of the most watched programs in the world. It is a cultural event that extends beyond the sport itself, and draws people in to watch and discuss the game reports, halftime show, and of course, the ads.
For all but one day in the year, advertisers strive for consumers' attention. The Super Bowl marks a rare moment where consumers actively seek out ads and instantly make them a part of the cultural conversation.
This year, we saw 55 advertisers produce 60 spots (In the U.S., Fox charged $5.6 million per 30 second spot.) Combined, the ads earned 6,7 billion TV impressions, 4.1 billion social impressions, and 63 million earned online views. That's a lot of eyeballs.
Every year, major themes emerge, commonalities between the spots that show what major marketers are thinking will resonate with the modern consumer. Here are five takeaways we had from this year's Big Game:
1. Dumb Ads Are a Smart Move
According to Ace Metrix, a firm that measures creative effectiveness, over 85% of Super Bowl ads were humorous in 2009. Over the years, that number has dropped to below 50%, with heavier messages and those with more of a social agenda. The great majority of Super Bowl LIV spots, however, were jaunty and optimistic. They lightened the mood with what Matt Ian, chief creative officer at McGarryBowen New York, called "some wonderful dumbness".
Ads with happy messages stick with consumers longer, says Joy Lu, assistant professor of marketing at Carnegie Mellon: "People tend to remember positive experiences or positive memories better, as sort of a self-preservation sort of thing". With this in mind, it's no wonder that Hyundai's "Smaht Pahk," Doritos' "The Cool Ranch," and Reeses' "Rock" were listed in this year's top five most effective spots.
2. Politics Play the Game
Presidential candidates Mike Bloomberg and Donald Trump aired ads in the big game this year - a first in Super Bowl history. The first of two 30-second ads from President Trump's campaign, which together cost more than $11 million, was centered around prison reform and aired in the first commercial break after kickoff. Michael Bloomberg's ad was focused on gun control, an issue he has been vocal about in the past, and aired before the second-half kickoff.
The political tone of the ads stood out in a broadcast filled with companies trying to avoid sensitive topics the day before the Democratic caucuses in Iowa. Typically, political ads tend to not care about the viewer per-say, but rather just pushing the message out. In the end, these ads didn't change many minds, as well as "stole from the moment of unity" that many consumers associate with the Super Bowl.
3. Super Inclusive Bowl
Advertisers have been pushing for inclusivity in their work for years, but with its unparalleled audience size, inclusive ads in the Super Bowl have extra weight behind them.
LGBTQ representation in this Super Bowl was at an all time high, with 11 LGBTQ inclusive ads running, according to the agency GLAAD. Microsoft gave a platform for Katie Sowers to tell her story as the first female and openly gay coach to make it to the Super Bowl, and Drag Queens Miz Cracker and Kim Chi got a moment in the spotlight as the first drag stars to be in a Super Bowl spot.
On a more subtle note, TurboTax's catchy "All People Are Tax People" spot featured a duo signing the song to each other. Though the spot did not revolve around an inclusive message or figure, it was an equally important step in making inclusive advertising the norm.
4. Finding Common Ground in Space
It is no secret that we are living in incredibly anxious and oftentimes divided times. To combat this division, brands have found neutral ground in an unlikely place: outer space. Madonna Badger, Co-Founder and CCO of Badger & Winters, articulates the heart of this theme perfectly: "We're living in pretty anxious times. When things on Earth become so stressful, there's something about space that gives us permission to dream".
Brands like Soda Stream, Olay, and Turkish Airlines set their Super Bowl ads in space this year. Soda Stream announced their vow to eliminate 67 billion pieces of single use plastics by 2025, while Olay is working to raise money for Girls Who Code. Across the board, all three brands wanted to show consumers how forward thinking they are by focusing on neutral territory: "You could see a MAGA lady in Orange County and a liberal in New York loving the Olay spot. There's this universal feeling that space is cool".
5. Splitting the Bill: Cross-brand Promotions
At the hefty price of $5.6 million for a 30 second spot, it makes financial sense that some brands, such as P&G, are letting multiple brands share the valuable real estate. For the parent CPG company, grouping all of their brands together in one spot felt forced at times, but it was a financially viable option to give air time to all seven brands.
There were also some more unexpected pairings, such as the interactions between the Bud Knight and Charlie Day in yet another Tide ad. Day spent commercial breaks wandering into different ads, using the familiar trick of catching viewers by surprise. Bud Light, who were not slated to run an ad this year, also benefitted from the cameos. Even at the funeral of Mr. Peanut, other iconic brand mascots Mr. Clean and the Kool Aid Man were seen mourning the loss of their fellow fictional brand mascot.
Though the television ratings for this year's broadcast were basically even from last year, the truth remains that the Super Bowl is an incredibly prestigious platform that can be powerful for brands with a spot in the mix. (Not to mention that declining or flat TV ratings has as much to do with the way people consume content now, and doesn't translate to lower interest or engagement.)
However, brands that get involved with the Super Bowl should not treat the opportunity as a chance to fly wildly off the cuff. Whether you're spending millions on a Super Bowl spot or creating a digital campaign with minimal budget, the truth remains: Marketing works when it has a defined purpose.
Without a defined purpose, even a platform as mighty (and expensive) as the Super Bowl can lead brands towards inefficient and, ultimately, insufficient outcomes.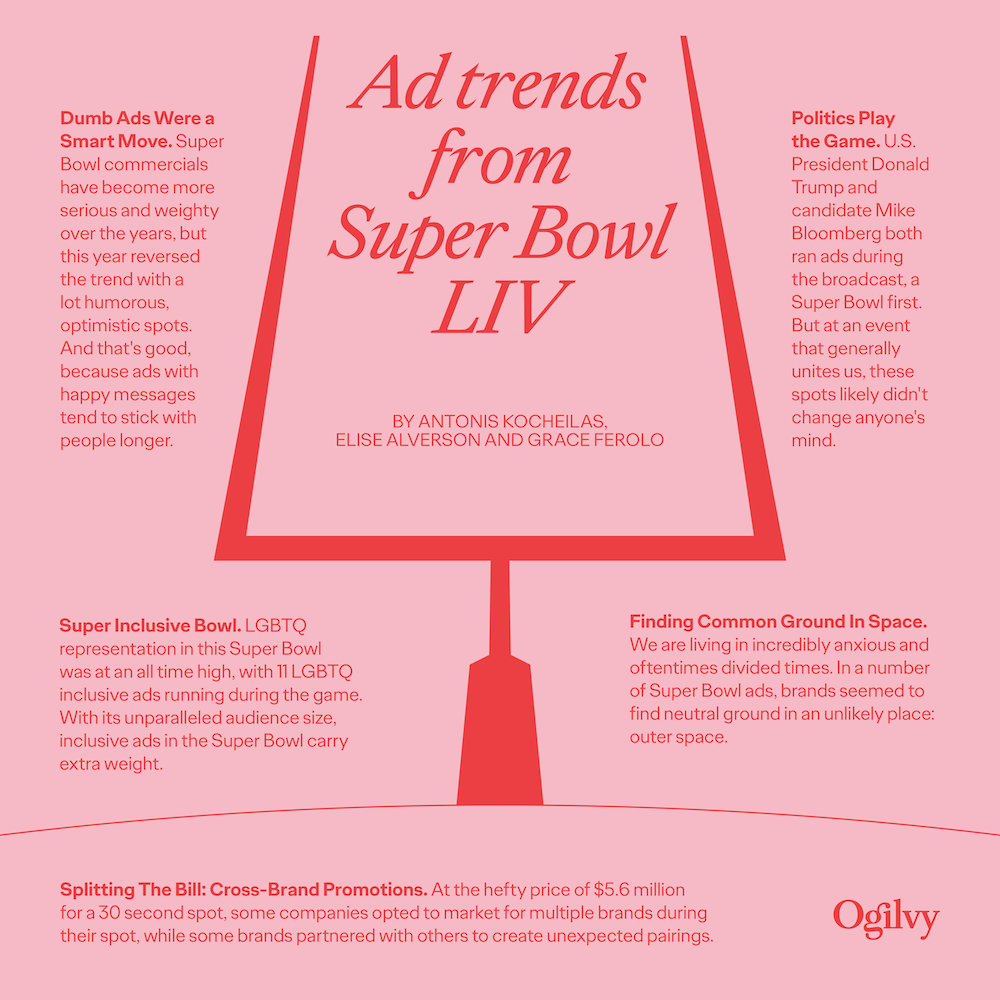 Interested in bigger, bolder ideas? Sign up for our newsletter for more insights on how brands can make an impact on the world.
Share