Ogilvy Named Network of the Year at London International Awards for Third Straight Year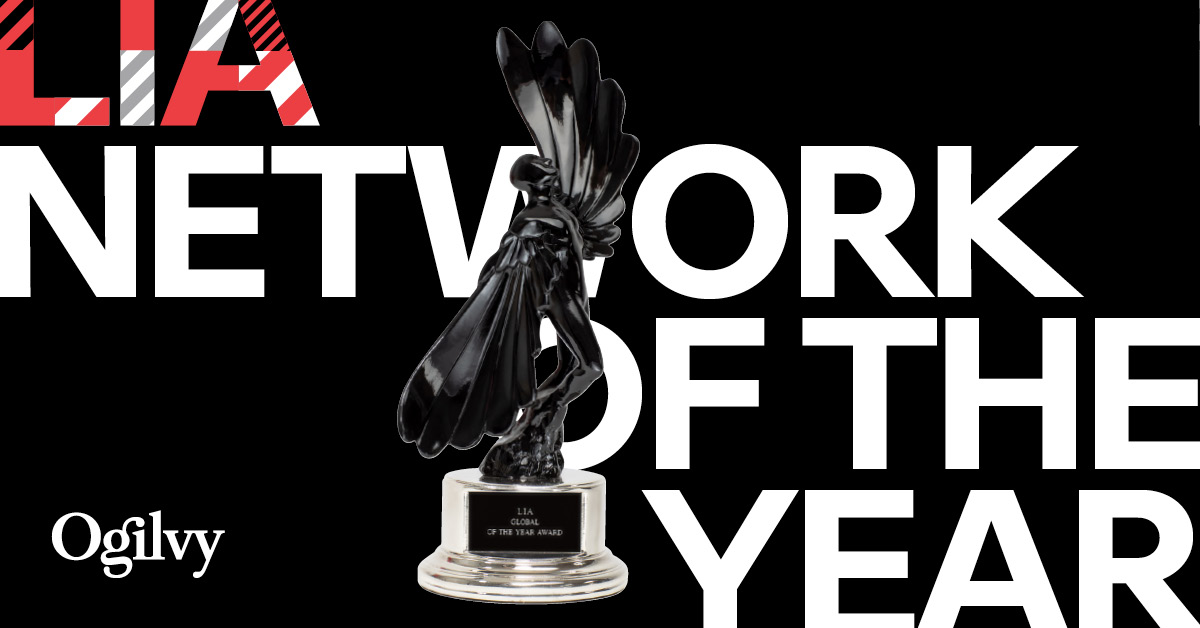 NEW YORK — NOVEMBER 6, 2023 — At the 2023 London International Awards, Ogilvy proudly earned Network of the Year honors for the third consecutive year. This achievement reflects the strength of Ogilvy's global creative network with over 30 offices contributing a total of 140 statues including 3 Grand, 27 Gold, 55 Silver, and 55 Bronze, along with 30 Finalists. Notably, Ogilvy was also named Regional Network of the Year for North America and Asia.
In total, Ogilvy was recognized with statues in 24 of the 27 categories including a collective 19 in Health & Wellness and Health & Wellness Craft, 9 in Transformative Business Impact, 5 for Creativity in B2B, 3 for Package Design, 2 for Creativity in the Metaverse, and 4 for Creativity in PR. In addition, the Global Radio & Audio Company of the Year was awarded for work created for Halls, a joint effort between DAVID Madrid and Deseif that won four statues in the Radio & Audio category; DAVID and Deseif were also awarded the Regional Radio & Audio Company of the Year for Europe. See the winning work here.
The network's performance was led by three Grand wins. "Cost of Beauty" for Dove – a borderless collaboration between the UK, Toronto, and New York offices – took home Grands in both the Health & Wellness and Use of Social Media & Influencers categories. DAVID Bogota won a Gold in the Transformative Business Impact category for "Corona Extra Lime."
Liz Taylor, Ogilvy's Global Chief Creative Officer said: "We are filled with immense pride to be capping off the year by receiving the prestigious title of Network of the Year at the LIAs. It is a great honor for us, especially because our ideas were acknowledged in almost every category. Our teams from all corners of the world have worked tirelessly to create remarkable campaigns that proved the power of Borderless Creativity to drive business results and impact the world. Congratulations to all our people across the network who contributed to this collective effort, and a special thanks to our clients for their support, trust, and partnership."
Barbara Levy, President of LIA, reflecting on the 'Of the Year' Winners said: "Firstly, I would like to congratulate WPP attaining enough points to be named LIA's first Holding Company of the Year, and also congratulate Ogilvy for being Global Network of the Year. It's no surprise as Ogilvy offices worldwide have a formidable creative reputation. Ogilvy has shown this by taking the coveted Global Network of the Year title three years in a row."
The LIA honors cap off an impressive year for Ogilvy. The creative network ranked as the #1 network on both WARC's Creative 100 and Effective 100 lists and took home the Network of the Year honors at the 2023 Clio Awards and The One Show, while Effie Worldwide ranked Ogilvy as the Most Effective Agency Network. Additionally, Ogilvy was named Global Network of the Year for 2023 by both Adweek and Campaign Magazine.
About Ogilvy
Ogilvy inspires brands and people to impact the world. We have been creating iconic, culture-changing, value-driving ideas for clients since David Ogilvy founded the company in 1948. We continue building on that rich legacy through our Borderless Creativity—operating, innovating, and creating at the intersection of talent and capabilities. Our experts in Advertising, Experience, Public Relations, Health, and Consulting work fluidly across 131 offices in 93 countries to bring forth world-class creative solutions for our clients. Ogilvy is a WPP company (NASDAQ: WPPGY). For more information, visit Ogilvy.com, and follow us on LinkedIn, Twitter, Instagram, and Facebook.
Media Contacts: David Ford / david.ford@ogilvy.com
# # #
Interested in bigger, bolder ideas? Sign up for our newsletter for more insights on how brands can make an impact on the world.
Share