5 Television and Video Trends Advertisers Need to Watch in 2020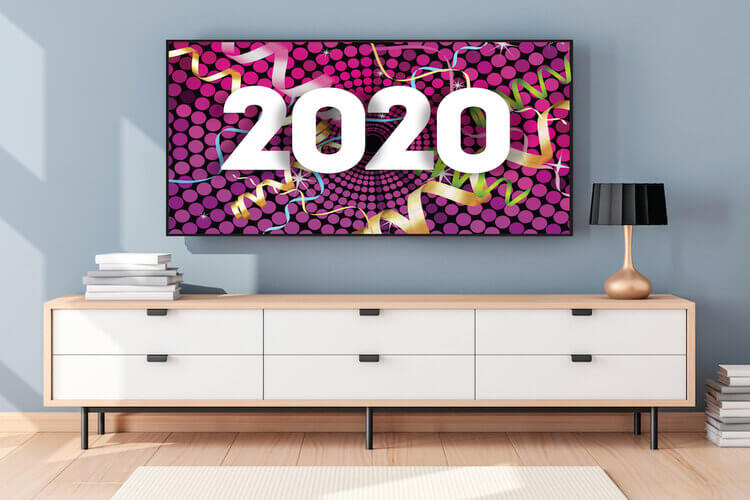 This piece was originally published at Eicoff.com.
2020 is here and it's shaping up to be another great year for direct response marketers looking to drive growth via TV.
While a hotly contested presidential race will push political spend over $4.4 Billion, and Olympic programming will take up inventory across NBC properties this summer, the DRTV landscape continues to trend in a positive direction. Video consumption is increasing, new outlets are emerging across linear and OTT devices, and technology is making it easier than ever to target, track, and optimize campaigns.
Here are five marketplace trends to keep an eye on if you're planning or considering a TV campaign in 2020:
1. Consumers will spend more time with video
According to Nielsen's latest Total Audience Report, adults 18+ spent an average of 11 hours and 45 minutes per day with media in Q2 2019 – a YOY increase of over an hour. Video alone still represents a significant portion of this daily intake at nearly 5½ hours per day, including about four hours per day geared towards live and time-shifted programming.
TV had an estimated 85% weekly reach amongst all adults in 2Q 2019. Older audiences have been a mainstay of linear viewership, and although Millennials and Gen Z's are still lagging in this regard, it's clear these two cohorts seek out other forms of video content. As of 2018, 61% of the A18-29 bucket uses an online streaming service as their primary way to watch TV. For this reason, we're seeing an influx of new services with more advertising inventory to take advantage of.
2. OTT/CTV landscape grows even more, reminiscent of the '90s cable explosion
72% of the nation's households have access to Internet-connected TVs, up from 68% in 2018. Projections suggest the number of CTV users is expected to exceed 200 million by 2021. The amount of time viewers watch CTV is following a similar trajectory; audiences enjoyed 23% more video content per day on CTV devices in Q2 2019 compared to Q2 2018. The industry has seen rapid shifts in ad dollars for CTV as a result – roughly $6.94 Billion last year – and spend may escalate by another 30% in 2020.
A fragmented environment of apps and devices can create challenges from a planning standpoint. However, OTT targeting capabilities remain an undeniable draw. Third-party data integration and programmatic buying will get brands in front of their most sought-after consumers. Moreover, CTV video completion rates (routinely around 95%) are the highest of all device types.
3. Technology gives attribution a much-needed boost
A study by the Video Advertising Bureau reported that 82% of advertisers found a direct correlation between TV spend and website traffic. The strongest media plans are leveraging video across multiple platforms to drive this activity, but compared to digital, parsing out linear responses has traditionally been a challenge. Updates in technology have brought attribution up to synch across the entire video ecosystem, allowing DRTV advertisers to measure both the immediate and long-term impact of TV across channels. This is especially exciting because new quantifiable insights are allowing marketers to align TV with paid search to drive maximum engagement.
4. Diginets will be a secret weapon against the prevalence of cord-cutting
By the end of this year, 29% of households will not subscribe to pay TV. In light of this ongoing cord-cutting phenomenon millions of Americans have gone back to watching free TV over-the-air with antennas, which in turn has opened up viewing access to diginets. Diginets were made possible during TV's transition from analog to digital in 2009 and they allow content providers to broadcast multiple subchannels alongside their primary offering.
Subchannels such as MeTV and Bounce TV yield modest revenue streams for DRTV advertisers on the back of nostalgic content. These days we're also seeing diginets purposefully launching themselves as more niche versions of mimicked cable stations (i.e. Stadium airs sports programming like ESPN, Comet airs similar shows as SYFY). Over-the-air may not turn heads like CTV, however diginet content offerings and overall viewership will continue to grow steadily alongside declining cable subscription numbers.
5. Advertisers will increase use of addressable tech to reach desirable consumers
We all prefer to see ads that mesh with our interests, right? Marketers are aware of this, and they're utilizing addressable technology to deliver relevant content to our screens with precision like never before. Addressable TV is very appealing from a DRTV standpoint because it allows individual viewers within a household to be targeted based on their viewing behavior across devices.
Addressable TV is relatively new, but brands are already catching onto the trend. In 2016, advertisers spent about $700 Million on addressable. By last year, that number inflated to over $2.5 Billion. This trend will continue to grow as improvements are made in the realms of planning, buying, and measurement.
One of the challenges with addressable to this point has been its limited buying landscape; there are only a handful of providers so attribution and delivery guarantees are still being worked through. One promising development came in 2019 when Disney, Turner, NBC, CBS, and Discovery joined forces to implement new Addressable TV standards.
DRTV advertisers can expect another strong year with the right planning in place. Combined with positive viewership trends, the linear and digital marketplaces will continue to evolve alongside a rapidly growing suite of attribution technology.
Interested in bigger, bolder ideas? Sign up for our newsletter for more insights on how brands can make an impact on the world.
Share