Ogilvy Tops 2022 Effie Index, Named Most Effective Agency Network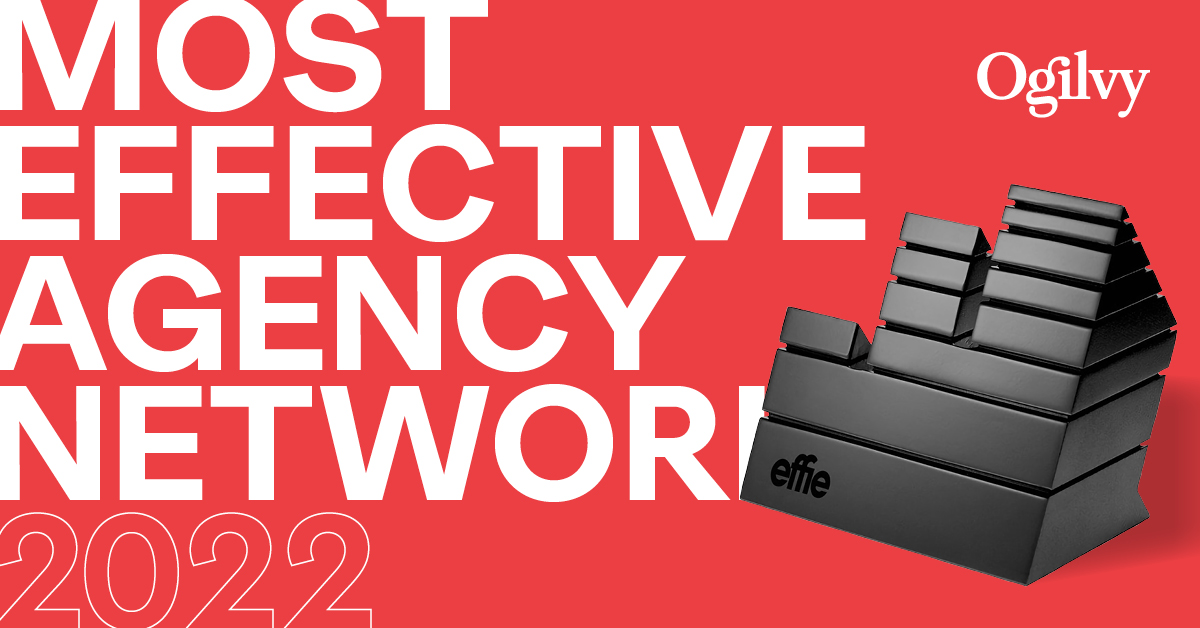 NEW YORK, NY – Effie Worldwide has announced the 2022 Effie Index, the annual ranking of the companies behind the world's most effective marketing, with Ogilvy being named the Most Effective Agency Network for 2022. Ogilvy earned the top prize with a strong performance across all regions in 2022, earning a total of 5 Grand, 58 Gold, 62 Silver, and 82 Bronze Effie Awards. This marks the first time since 2016 that Ogilvy has returned to the coveted position atop the Effie Index. See the full rankings here.
Ogilvy Global CEO Devika Bulchandani said: "The Effies identify the brands, agencies, and marketers across the world who have harnessed the differentiating power of creativity to have the most impact. We're proud to see our work has been recognized in categories that are crucial to the future success of our clients and their businesses. This accomplishment is a testament to our teams across the network who earned this honor with creative ideas founded on strong strategic insights—particularly our strategy community led by our Global Chief Strategy Officer, Mick McCabe. And a massive thank you to our clients for their belief in the power of creativity and their continued partnership."
Ogilvy earned 5 Grand Effie Awards for campaigns in 2022: "Shah Rukh Khan My Ad" for Cadbury by Ogilvy Mumbai in Seasonal Marketing; "Bride Armour" for Carling Black Label by Ogilvy Cape Town in Social Good – Brands/Positive Change; "Don't Ever Leave Me" for Lacta by Ogilvy Athens in Positive Change/Social Good, Brands; "Lu From Magalu" for Magazine Luiza by Ogilvy Sao Paulo in Influencer; and "Get Crazy for Crazy Thursdays" for KFC by Ogilvy Shanghai in Business Achievement – Carpe Diem.
In addition, Ogilvy earned Regional Network of the Year for Asia, and Ogilvy Mumbai was ranked second on the Index for Most Effective Agency. Ogilvy's performance helped WPP reclaim its spot atop the rankings of Most Effective Holding Company.
Traci Alford, Global CEO of Effie Worldwide, said: "No company appears on the Effie Index by chance. To be ranked in the Index demonstrates a relentless commitment to delivering ideas that work, all underpinned by a culture of effectiveness. On behalf of the entire Effie organization, congratulations to the top ranked teams on this well-earned recognition." 
Now in its twelfth year, the Effie Index identifies and ranks the most effective agencies, marketers and brands by analyzing finalist and winner data from more than fifty national & regional Effie Awards competitions. The 2022 rankings reflect a compilation of over 4000 worldwide Effie winners and finalists announced between January 1, 2022 and December 31, 2022.
About Ogilvy  
Ogilvy inspires brands and people to impact the world. We have been creating iconic, culture-changing, value-driving ideas for clients since David Ogilvy founded the company in 1948. We continue building on that rich legacy through our borderless creativity—operating, innovating, and creating at the intersection of talent and capabilities. Our experts in Advertising, Experience, Public Relations, Health, and Consulting work fluidly across 131 offices in 93 countries to bring forth world-class creative solutions for our clients. Ogilvy is a WPP company (NYSE: WPP). For more information, visit Ogilvy.com, and follow us on  LinkedIn, Twitter, Instagram, and Facebook.  
Media Contacts: David Ford / david.ford@ogilvy.com  
Interested in bigger, bolder ideas? Sign up for our newsletter for more insights on how brands can make an impact on the world.
Share