Ogilvy Wins Three Gold Lions Including Kenya's First Gold on Day Two, Ups Festival Total to 34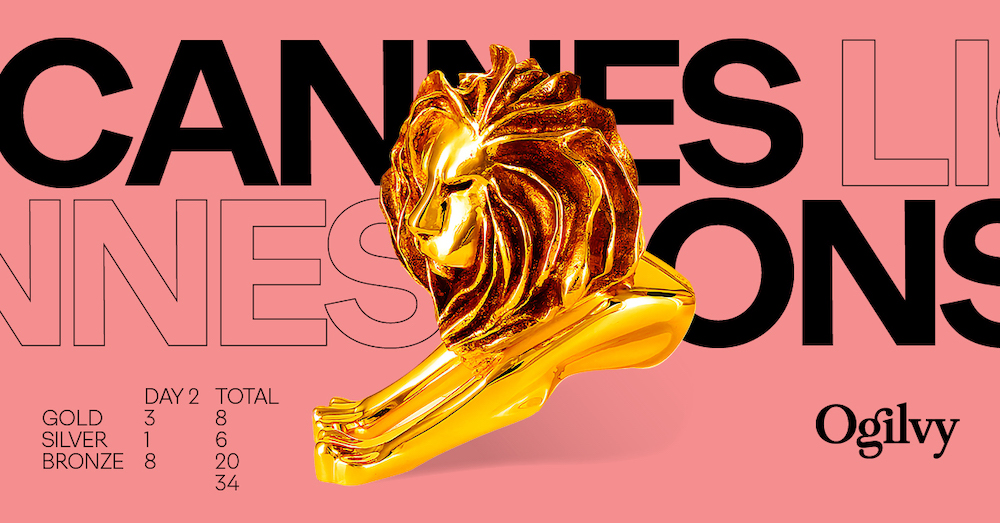 New York, NY – JUNE 21, 2022 – Ogilvy Africa, Ogilvy Mexico, and Ogilvy's Global Unilever Team led Ogilvy's performance on Day 2 of the Cannes Lions International Festival of Creativity, earning Gold Lions for their respective campaigns. The global network's 3 Gold were won along with 1 Silver and 8 Bronze, giving Ogilvy 12 Lions on the day and a total of 34 overall through the Festival thus far.
Ogilvy's Global Chief Creative Officer Liz Taylor said: "We're extremely proud of the teams whose work was recognized today, in particular our Gold winners which came from offices far and wide across the Ogilvy global network. This speaks to the power of Ogilvy's borderless creativity and our relentless pursuit of inspiring brands and people to make an impact. Great work cannot happen without great clients, and we proudly share these accolades with them."
Ogilvy Africa took home Gold in the Design – Special Editions & Bespoke Items category for its work "Lesso Lessons" for Roto Tanks and the Ministry of Health Kenya. The campaign used traditionally patterned fabric garments called "lessos" — which are commonly used as slings by women to carry their babies on their backs as they work — to educate young Kenyan mothers in rural areas on proper postnatal nutritional care. This marked the first Cannes Lions Gold for the country of Kenya.
The Gold Lion in the Entertainment – Fiction Film: Up to 5 Minutes category went to Ogilvy Mexico City's work for Cerveza Victoria, "The Taste of Reunion," a memorable film launching a new beer brewed with marigold flowers, which traditionally adorn altars and graves on The Day of the Dead.
And the Ogilvy Global Unilever Team won their second Gold of the Festival, earning the prize in the Entertainment – Innovation in Brand Content category for "Toxic Influence" on behalf of Dove, a campaign that takes aim at the harm caused to young girls by toxic beauty advice on social media. 
A selection of Ogilvy's winning work can be viewed on Ogilvy.com and on the agency's social media channels. Keep up with Ogilvy and Cannes-related news throughout the festival by following us on LinkedIn, Twitter, Instagram, and Facebook and #OgilvyCannes.
About Ogilvy  
Ogilvy inspires brands and people to impact the world. We have been creating iconic, culture-changing, value-driving ideas for clients since David Ogilvy founded the company in 1948. We continue building on that rich legacy through our borderless creativity—operating, innovating, and creating at the intersection of talent and capabilities. Our experts in Advertising, Experience, Public Relations, Health, and Consulting work fluidly across 131 offices in 93 countries to bring forth world-class creative solutions for our clients. Ogilvy is a WPP company (NASDAQ: WPPGY). For more information, visit Ogilvy.com, and follow us on  LinkedIn, Twitter, Instagram, and Facebook.    
Media Contacts: David Ford / david.ford@ogilvy.com   
# # # 
Interested in bigger, bolder ideas? Sign up for our newsletter for more insights on how brands can make an impact on the world.
Share