Building a Sustainable Way of Working: 'Ogilvy On Remote Working'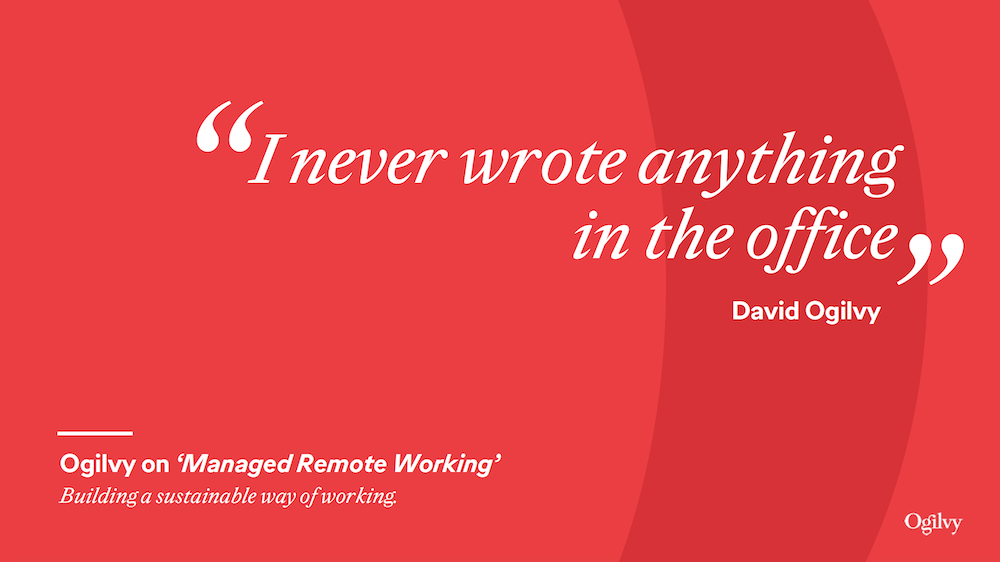 The below is the Foreward to "Building a Sustainable Way of Working: Ogilvy on 'Managed Remote Working".
David Ogilvy never wrote anything in the office. "Too many distractions," he explained.
Eventually he even adopted the practice of working from home permanently. Admittedly the home was a 50-roomed 12th Century Chateau on the banks of the Vienne, but my point still stands: in an ideas business, location needn't matter much. From deep in rural France, David continued to send forth a constant stream of wisdom and inspiration to offices all over the world. (Such was the volume of his correspondence that his local postman received a promotion and a brand new van from La Poste.)
As many of you know, and as my colleagues have found to their irritation, I have always thought we should work from home more. I think our work is highly bifurcated: our best ideas emerge either from high energy collaboration or from long, uninterrupted periods of relative isolation. Up until today, I always thought the ratio was too skewed towards the former "Too many distractions". Now, for a few months at least, you will find it heavily skewed the other way.
In times like this, it is incumbent on us to make this work. It is essential that those of us who can work remotely do work remotely - leaving the public realm less crowded for those who need it more. The talent of the advertising industry lies in finding hidden strengths: in turning a weakness into a strength.
"Good things come to those who wait." Or, in the words of Salman Rushdie before he inexplicably left Ogilvy to try to make it as a novelist: "Fresh Cream Cakes – Naughty but Nice". We should do exactly the same with this damned bug. Turn it into a feature.
First of all, if you have an idea for anything – a slogan, a rule of thumb, an entertainment, an app, a design idea that might help, an inventive use of data – pass it to us. If it's good enough, we'll pass it to No. 10.
Secondly, do the same for your clients. As many have shown, this is an opportunity for brands to reveal their own best selves. If you can think of a way your client's brand can shine, say it loud. Just because you are self-isolating doesn't mean you have to be shy.
Third, do something for your colleagues. Keep in touch. Keep each others' spirits up. If anyone has a problem, share it. Stay connected. Today we have had several brainstorms over Zoom. Is it as good or as fun as a face-to-face meeting? No, but it's 90% as good.
If you need more tech, say so.
Fourth, do something for your neighbours. Join nextdoor.co.uk or a local networking site. Keep an eye out for anyone in distress. Finally do something yourself. Something you've been meaning to do for ages, but have never had the time to do. Write. Lose weight (my own personal goal).
Read Proust. Learn Spanish. You'll never have this chance again.
It will be grim. But it isn't all bad. When this is over, we can build a better, saner commercial world and a finer society. We are hardly an anti-capitalist business: but most of us I think have had the inkling that, for the last decade or so, business and government priorities have been over-optimised along the wrong lines. This is an opportunity for everyone to start afresh with something better.
And take a shower. No, we can't smell you, but you can smell yourself. A bit of self-respect never hurts. Then, when you've done that, read the following pages for more inspiration.
Click here to read the full paper, "Building a Sustainable Way of Working: Ogilvy on 'Managed Remote Working".
Share