Ogilvy Named Among Best Places to Work for LGBTQ Equality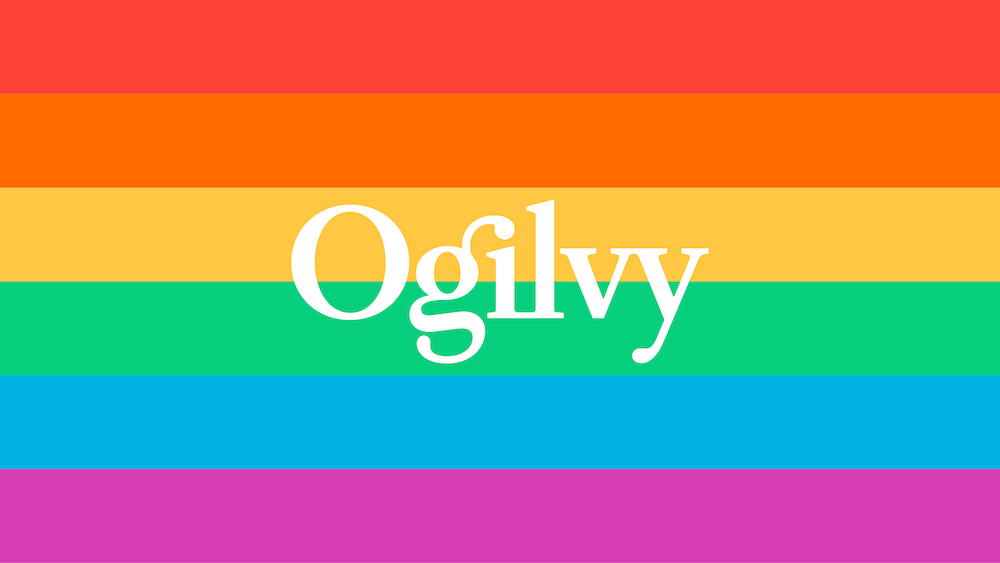 NEW YORK – January 21, 2020 – Ogilvy proudly announces that it has received a perfect score of 100 on the 2020 Corporate Equality Index (CEI) for the sixth consecutive year and has once again been named among the Best Places to Work for LGBTQ Equality. The CEI, administered by the Human Rights Campaign (HRC) Foundation, is the nation's premier benchmarking survey and report on corporate policies and practices related to LGBTQ workplace equality. Ogilvy joins more than 680 major U.S. businesses to also earn top marks this year.
Donna Pedro, Ogilvy's Worldwide Chief Diversity & Inclusion Officer, said: "We profoundly believe that diversity is essential to our success and sustainability as a business. Diverse teams with a variety of viewpoints, perspectives, and backgrounds are better at solving our client's complex problems – allowing us to more effectively make their brands matter today and for decades to come. To achieve a perfect score on the CEI six years in a row is a phenomenal accomplishment and demonstrates our longstanding commitment to ensuring our talent reflects the diversity of our clients and their customers."
The CEI rates companies and top law firms on detailed criteria falling under five broad categories: non-discrimination policies; employment benefits; demonstrated organizational competency and accountability around LGBTQ diversity and inclusion; public commitment to LGBTQ equality; and responsible citizenship. The results of this year's CEI showcase how 1,059 U.S.-based companies are not only promoting LGBTQ-friendly workplace policies in the U.S. but helping advance the cause of LGBTQ inclusion in workplaces abroad. The full report was released today and is available online at www.hrc.org/cei.
Ogilvy's efforts in satisfying all of the CEI's criteria earned a 100 percent ranking and the designation as a Best Place to Work for LGBTQ Equality. In addition to a focus on inclusive policies and practices, Ogilvy's PRIDE employee professional network fosters an inclusive workplace culture where LGBT and ally employees connect to grow as professionals and contribute to the agency's overall success through client work. PRIDE's key objectives include workplace community building, networking and partnerships, and industry-wide thought-leadership. PRIDE currently has USA chapters in New York, Washington D.C., and Chicago.
HRC President Alphonso David said: "The impact of the Human Rights Campaign's Corporate Equality Index over its 18-year history is profound. In this time, the corporate community has worked with us to adopt LGBTQ-inclusive policies, practices and benefits, establishing the Corporate Equality Index as a primary driving force for LGBTQ workplace inclusion in America and across the globe. These companies know that protecting their LGBTQ employees and customers from discrimination is not just the right thing to do – it is also the best business decision. In addition, many of these leaders are also advocating for the LGBTQ community and equality under the law in the public square. From supporting LGBTQ civil rights protections in the U.S. through HRC's Business Coalition for the Equality Act, to featuring transgender and non-binary people in an ad in Argentina, to advocating for marriage equality in Taiwan – businesses understand their LGBTQ employees and customers deserve to be seen, valued and respected not only at work, but in every aspect of daily life."
About Ogilvy
Ogilvy has been producing iconic, culture-changing marketing campaigns since the day its founder David Ogilvy opened up shop in 1948. Today, Ogilvy is an award-winning integrated creative network that makes brands matter for Fortune Global 500 companies as well as local businesses across 132 offices in 83 countries. The company creates experiences, design and communications that shape every aspect of a brand's needs through six core capabilities: Brand Strategy, Advertising, Public Relations and Influence, Customer Engagement and Commerce, Digital Transformation, and Partnerships. Ogilvy is a WPP company (NASDAQ: WPPGY). For more information, visit Ogilvy.com, or follow Ogilvy on Twitter at @Ogilvy and on Facebook.com/Ogilvy.
Media Contact: David Ford / david.ford@ogilvy.com / + 1 917 327 6288
#
Interested in bigger, bolder ideas? Sign up for our newsletter for more insights on how brands can make an impact on the world.
Share