Absolut Vodka Appoints Ogilvy Its New Global Creative Agency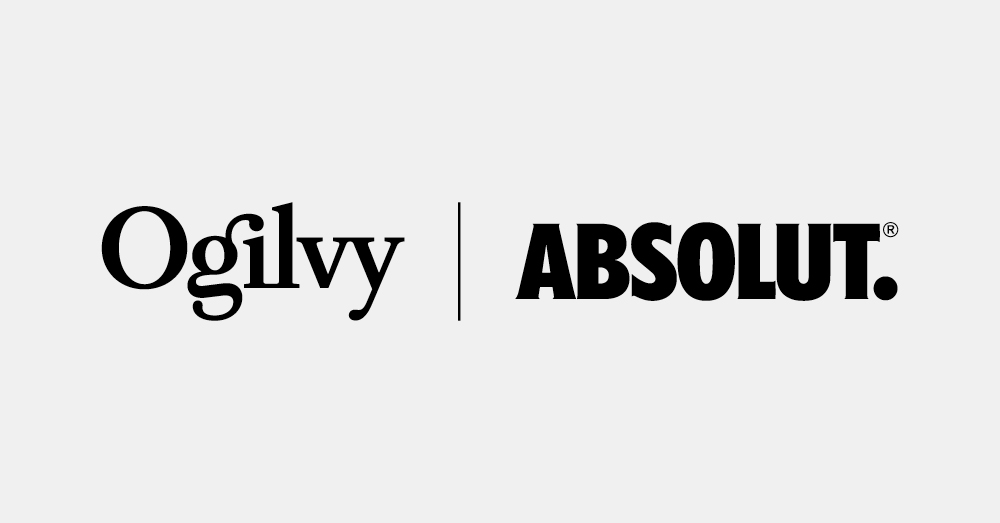 NEW YORK — March 19, 2021 — Ogilvy today announced it has been selected by Absolut Vodka, one of the most iconic spirits brands in the world, as its new global lead creative agency. Ogilvy's remit will include global strategic and creative duties for the brand, focusing on its lead market priorities, with the ambition to accelerate its leadership position.
The Swedish vodka is recognized as a leading premium vodka brand, associated with promoting progressive values since its inception in 1879. The brand is well-known throughout the industry for its sound commitments in terms of sustainability. By applying its one source, one community approach, Absolut emphasizes its origin and close connection to the area that surrounds the distillery, which is one of the world's most energy efficient. An important part of Absolut Vodka's strong heritage is also the brand's creative advertising, through decades of collaborations with fashion designers and artists including Jean-Paul Gaultier, Andy Warhol, Tom Ford, Keith Haring, Stella McCartney and Anne Imhof.
Andy Main, Ogilvy's Global CEO, said: "Ogilvy is proud to be chosen by Absolut, a globally iconic brand, to be their creative partner for growth. We admire Absolut's strong heritage of using creativity to drive meaningful connections and influence culture. Our team is excited to use the borderless creativity of Ogilvy's global network to deliver the innovative work that will win the attention of people around the world."
Tad Greenough, Absolut's Global Chief Creative Officer, said: "Absolut has an incredible legacy of creating extraordinary and unexpected communications, of being a cultural provocateur. As the brand continues to see tremendous momentum globally, we wanted a network partner that can deliver the strategic and creative excellence that Ogilvy has demonstrated time and time again."
Charl Bassil, Global Vice President Marketing at The Absolut Company, commented: "We at Absolut are delighted to announce that Ogilvy has been appointed as our global agency network. This is a such an important appointment for us and a signal of our intent to work alongside our global markets in a more coordinated and integrated manner, while continuing to tap into locally relevant consumer insights. At The Absolut Company, we fundamentally believe that agency partnerships are more effective than transactional supplier relationships. We know that through genuine partnership, we are able to build open, transparent relationships that include a shared view of success and shared accountability. Ultimately Absolut has been built on the idea that we can create better together. With that in mind, we believe we have found the right partner in Ogilvy."
Ogilvy was awarded the business after a competitive pitch with an undisclosed roster of global agencies. The review was led on the Absolut side by Tad Greenough, with support from Observatory International, based in London. Ogilvy's pitch included ideas from global creative teams led by Marcos Kotlhar and Danilo Boer, Chief Creative Officers of Ogilvy New York, and Björn Ståhl, Chief Creative Officer of INGO, and was strategically led by Philip Heimann, Global Chief Marketing & Growth Officer, and Antonis Kocheilas, Global CEO of Advertising.
This news follows the recent announcement that Ogilvy was selected by Pernod Ricard USA to serve as the lead creative agency for Olmeca Altos Tequila, Tequila Avión, and Del Maguey.
About The Absolut Company
The Absolut Company has the worldwide responsibility for the production, innovation and strategic marketing of Absolut Vodka, Malibu, Kahlúa and Our/Vodka. Absolut Vodka is one of the world's leading spirits brand. Every bottle of Absolut Vodka comes from one source, Åhus in southern Sweden. The head office is located in Stockholm, Sweden. The Absolut Company is a part of Pernod Ricard, which holds one of the most prestigious brand portfolios in the sector.
About Ogilvy
Ogilvy has been producing iconic, culture-changing marketing campaigns that have grown brands and businesses since the day its founder David Ogilvy opened up shop in 1948. Today, with 132 offices in 83 countries, Ogilvy's singular ambition is to be the best creative partner and platform for growth on the planet. Ogilvy's deep expertise in almost every field coupled with its award-winning global network allow it to scale value-driving ideas at lightning speed – all powered by world-class creativity to give clients an unfair advantage in this complex, noisy, hyperconnected world. In 2020, two of the world's most prestigious creative award shows, D&AD and The One Show, recognized Ogilvy as the Network of the Year, a reflection of its ability to use creativity to transform business and culture. Ogilvy is a WPP company (NASDAQ: WPPGY). For more information, visit Ogilvy.com, and follow Ogilvy on Twitter, Instagram, Facebook, and LinkedIn.
For more information contact:
Ogilvy / David Ford / david.ford@ogilvy.com 
The Absolut Company / Ulrika Lövdahl / ulrika.lovdahl@pernod-ricard.com
# # #
Interested in bigger, bolder ideas? Sign up for our newsletter for more insights on how brands can make an impact on the world.
Share