Ogilvy is Pilot Partner on LinkedIn's New API
Today, LinkedIn announced the launch of its new Audience Engagement API geared towards increasing audience engagement. Ogilvy was one of the pilot partners that worked closely with LinkedIn to operationalize rich audience and content data made available by the API for its clients and customers. Through this collaboration, Ogilvy has built a dynamic tool that allows strategy teams to pull insights and detailed information about how target audiences are engaging on the LinkedIn platform. We spoke to Ben Levine, Ogilvy's Head of Global Partnerships, who spearheaded Ogilvy's participation in the pilot about his experience working with LinkedIn, why the new API is important and how it will help marketers improve engagement with their LinkedIn audiences.
Ogilvy.com: Firstly, for our readers who are not well versed in application-speak, what exactly is an API? Can you give us the layman's definition? 
Ben Levine: An API is a set of systems and procedures that allow real-time access to data. We use APIs to pull that data into an easily accessible platform—where we can append other information and statistics to help us build strategy and creative solutions for our clients.
Ogilvy.com: As Global Head of Partnerships, your role is to develop and grow strategic relationships with external partners to deliver greater value to clients. How can clients benefit from Ogilvy's partnership with LinkedIn?
Levine: LinkedIn is one of the leading networking platforms that connects professionals around the world to make them more productive and successful. We partner with our clients to create more relevant, interesting and impactful content that will contribute to this dynamic online community. Our ability to understand what content will resonate with key audiences within LinkedIn is critical as we continually build and refine the creative and content strategies for our clients.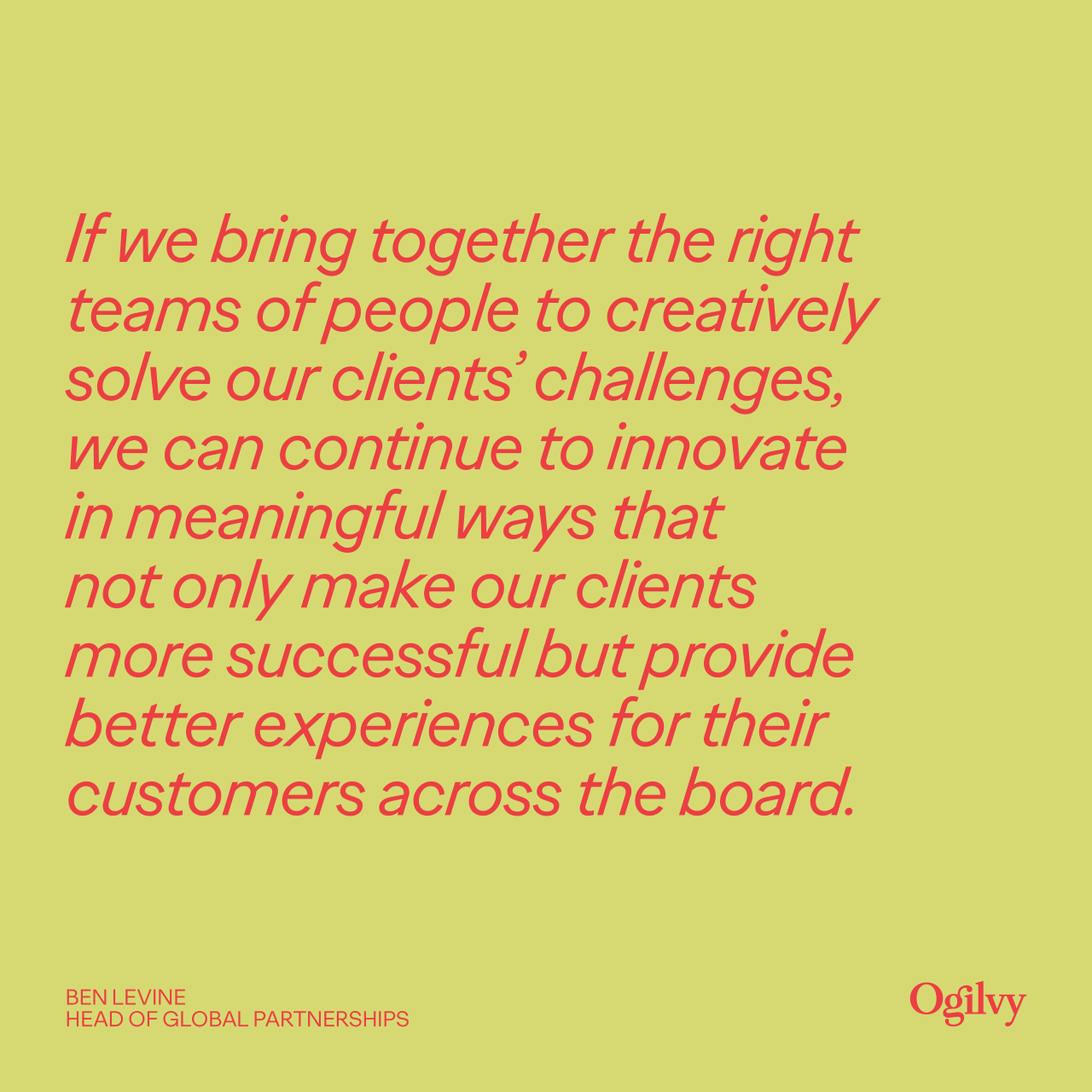 Ogilvy.com: What are the specific ways in which the new API can help marketers increase audience engagement on LinkedIn? 
*Levine: Our tool, built using the API, allows marketers to understand the trends and topics that different audiences engage with "organically." It's unique because there are not many tools out there that provide such relevant and real time content insights – giving brands a competitive advantage in how they engage individuals and companies in a professional capacity. Most tools will allow you to size the audience and find where they live but knowing what types of articles and posts are resonating most with them is extremely powerful.
Ogilvy.com: What are some of the key learnings gained from your experience in this pilot with LinkedIn that can be applied to working with other partners?
Levine: There is huge potential to innovate and create cutting edge ideas and tools, if you collaborate with partners like LinkedIn more. If we bring together the right teams of people to creatively solve our clients' challenges, we can continue to innovate in meaningful ways that not only make our clients more successful but provide better experiences for their customers across the board. The key is a willingness to embrace an entrepreneurial mindset, ask questions and try things that haven't been done before.
Click here for more information about the API and LinkedIn's Audience Engagement program.
 
Interested in bigger, bolder ideas? Sign up for our newsletter for more insights on how brands can make an impact on the world.
Share