Inside 'The Heart of the Farm' With Creative Director Emily Clark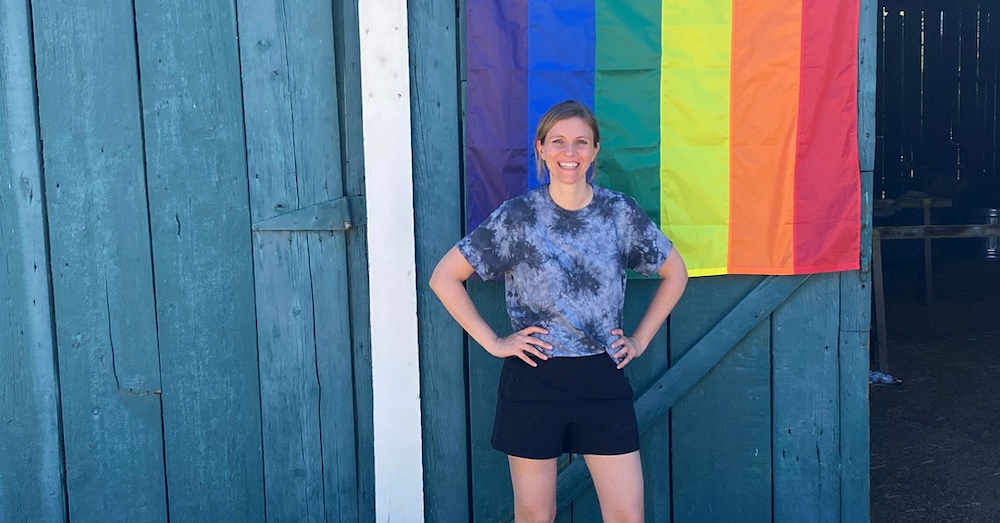 "The Heart of the Farm", a documentary series for Corteva Agriscience, tells the stories of a group of farmers from underrepresented backgrounds. Debuting with a film on gay farmers in California in 2021, the series features the stories of a female farmer, a Black farmer, Native American farmers, a Japanese-American farmer, a Latino-American rancher, a disabled farmer, and a military veteran farmer. Altogether, the series gives voice to those who we don't often hear from, and those who within their own communities bring a unique and meaningful personal perspective.  
We sat down with Creative Director Emily Clark, who led the project from a creative perspective and directed each installment of the documentary series. Identifying as queer herself, Emily talks about the emotional journey the series brought her on, the importance of onscreen representation, and the impact brands and advertising can have when they take chances and tell stories that too often don't get told. 
Ogilvy.com: Take us through the start of this idea. How did it come about, and what were your initial reactions and thoughts as you started to process what this project was and what it could be? 
Emily Clark: I've been working on Corteva since the very start of it. And one of the very first things I did for Corteva was go on a road trip across America interviewing farmers as part of the brand launch, which was so amazing. I'm from Philadelphia, and I've never been to these places—Nebraska, Texas, Alabama. And I met a lot of farmers who of course are living in very rural areas, they're very remote. 
I would come out to them sometimes because we would spend all day together. We would go to lunch, we'd have dinner together in their house, on their family farm. We really got to know each other. And so sometimes they'd ask me if I have a boyfriend. I had to make a split-second decision. And I decided a long time ago, I never lie. 
I could tell some of them had never really met a queer person. So I got back to NYC and I thought, this is a population that would really benefit from a story about queer farmers, because I knew there were gay farmers out there... we just hadn't met them yet. 
So I approached Corteva with an idea to do a documentary for Pride. Corteva is Midwest-based, the population they serve is largely conservative farming culture. I was so excited when they said yes. And our incredible account team was there the entire way, doing an amazing job with the campaign and helping them see how it would drive value. A special shoutout to Emily Maier and Cindy Lake for their amazing work on this. 
And then we went out to California and shot the first one. The client liked it so much that we really had their trust, and they wanted to do one for each of their internal business resource groups. So that's how it expanded.
Ogilvy.com: As the project was greenlit and you really started to dig into how you were going to achieve this, what sorts of thoughts and emotions were you experiencing? How did this influence the work?
Emily Clark: We work in a visual medium, and seeing your story reflected on screen, it is life-changing. We only see a very small sliver of the types of stories in the world, so if we can broaden that and invite more people to the table to tell their story, it has such a tremendous impact on people's psyches. I can't stress it enough.  
After the Pride film, I got a note from the farmer. So many people reached out to him to thank him for sharing his story. And they said to him that the story gave them hope. And many of them even came out. They came out to their families! You cannot underestimate the power of an ad. 
So once I had that under my belt, I was like, OK, let's do that for everyone else, because I knew that it's incredibly powerful.  
Ogilvy.com: As you're planning out and executing each shoot, what were your creative inspirations and influences? 
Emily Clark: My first thought is that I think documentaries get pushed to the side a lot. And I know why... people want the big flashy Super Bowl spot, right? But there's a lot of potential in documentary as a genre. So I am a full believer in that we can make docs cool. I wanted these to feel really fresh. I wanted to push the craft, so that's why there's a very artistic, collage approach to it and it's not just talking heads. We had incredible drone operators, so the storytelling was enhanced so much by the visuals.  
I'm always telling people that with documentary work, you can't write it, you know? These are real people's stories. I come from a copywriter background, but that's what's so exciting about interviewing people—they'll tell you something you couldn't write in a million years.
Ogilvy.com: You said before, "Don't underestimate the power an ad can have." What type of impact do you think ads can have, and specifically, what type of impact do you think something like the series "The Heart of the Farm" can have?  
Emily Clark: I know I've stressed this, but the impact of seeing your story on screen isn't just incredible because you're seeing something that relates to you, but it also has a deeper level: you now see that your story is worthy of being told. It's like, "I'm important because someone brought a camera and asked questions and was curious." And I think that when someone is curious about you, it can really do so much good. And especially for minority communities who haven't gotten the chance to tell their stories, for a million reasons.  
This was an opportunity for the people we interviewed to really open up. For instance, the veteran in Alabama, he had tremendous trauma that he witnessed. And he hadn't really had the opportunity to discuss what that was like for him and what it felt like to actually lose a friend in war. For the first time, someone's says OK, lay it out for me, what have you seen in your life and how has that shaped you? 
One of the main things that I am very focused on in my career as a creative in advertising is to help people feel seen. And that's not just putting a face on the screen, it's making sure people have the chance to explain their emotional journey. That's when people really feel understood. Brands, they have so much power and access to media, to get these stories in front of more eyeballs and broaden people's perspective of what the human experience encompasses. 
I think part of the reason the campaign was so successful is because it really is human, authentic, connected storytelling that is from the heart. The series is called "The Heart of the Farm" for a reason.
Ogilvy.com: You look back on it now, it's a year and a half of work and all this travel and meeting all these new people, and working with others on the project. What did you take away personally from this whole experience? 
Emily Clark: I'm immensely proud of it. I'm really proud of Corteva as well to have taken a chance on the very first story being for Pride, something that really no agriculture company had done before.  
Also it's been personally so illuminating to meet these people and to really have deep conversations with them, on their farm and talk about their emotional journeys and how that has overlapped with their identity as a farmer, these interwoven identities.  
I also want to say, it's great to see corporate pride growing up. Pride celebrations aren't just coming from the brands we expect anymore. And that's a really important takeaway from this project. Being brave to tell stories that you know morally, it is the right thing to do. 
Ogilvy.com: While making this series, did you feel a sense of responsibility at all? To tell these stories accurately and authentically? 
Emily Clark: I absolutely think in leadership you have a responsibility to help. To think, what can we do for people through advertising, a visual medium. And that is increasing representation, increasing the types of stories we tell, and stretching outside of what we may have experienced ourselves to reach people who have not had their voices heard. If you look at it from a leadership perspective, I do feel a responsibility to use the medium to its ultimate capacity. 
This conversation has been edited for clarity. 
Interested in bigger, bolder ideas? Sign up for our newsletter for more insights on how brands can make an impact on the world.
Share