The Objectivity Trap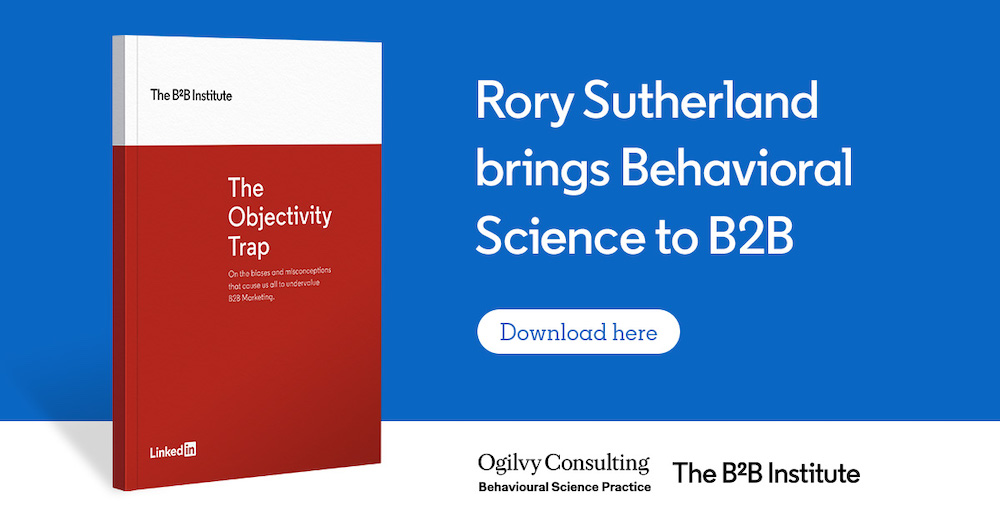 Rory Sutherland, Vice-Chairman of Ogilvy UK and the founder of Ogilvy Consulting's Behavioral Science practice has joined with LinkedIn's The B2B Institute on a new report that changes everything we thought we knew about B2B marketing. 
B2B marketing has long been thought of as having to be much more strictly objective than B2C. But B2B marketing buyers are human beings, just like B2C consumers. Why can't B2B marketing insights also come from the study of human behavior and decision making?
"Rory's highly original report reminds us that marketing is a mindset, not a cost-center; human beings are not rational, so magic is often preferable to reason when solving marketing problems," says Jann Schwarz, Director, The B2B Institute. "There is tremendous potential for innovation and reinvention for our industry in an improved understanding of behavioral science. As B2B marketers, we can all benefit from Rory's wisdom and wit, and we all need more magic in our lives." 
"The Objectivity Trap: On the biases and misconceptions that cause us all to undervalue B2B marketing" dives into why marketing is a mindset, why it's important to avoid reductionism, and why playing the long game is key—especially for B2B businesses. 
Click here to download the report. 
Interested in bigger, bolder ideas? Sign up for our newsletter for more insights on how brands can make an impact on the world.
Share