Ogilvy at Cannes Lions 2023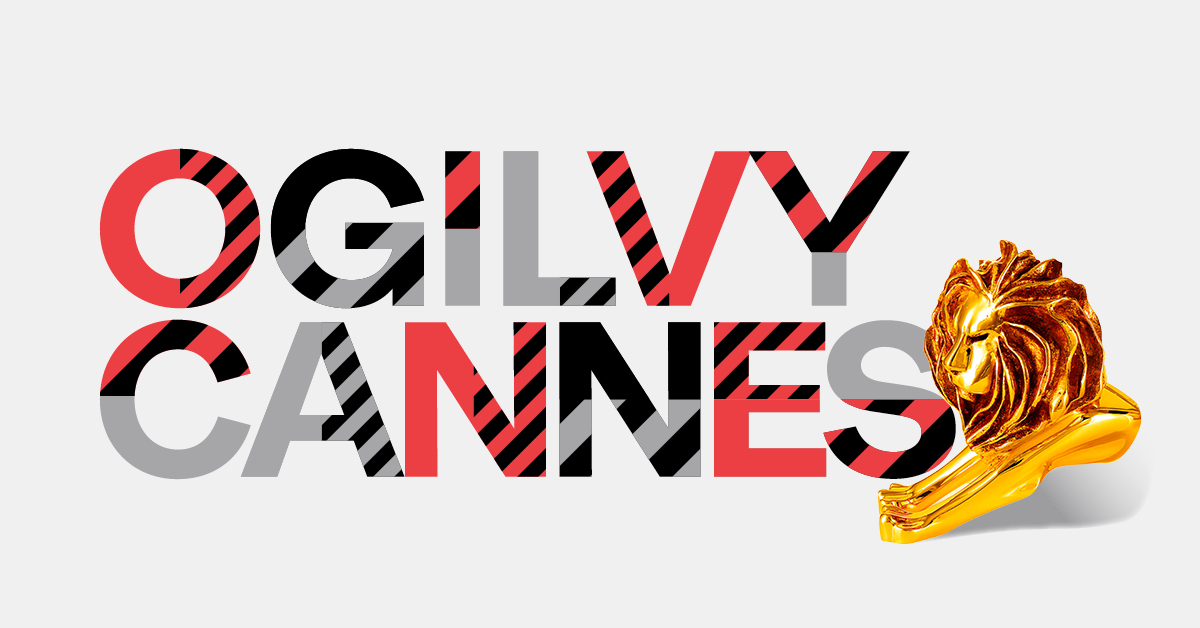 Ogilvy will have talent and clients speaking at various locations throughout the 2023 Cannes Lions International Festival of Creativity. Below is a listing of our events during the week.
Note: Entrance to all sessions at the Palais require a Cannes Lions pass.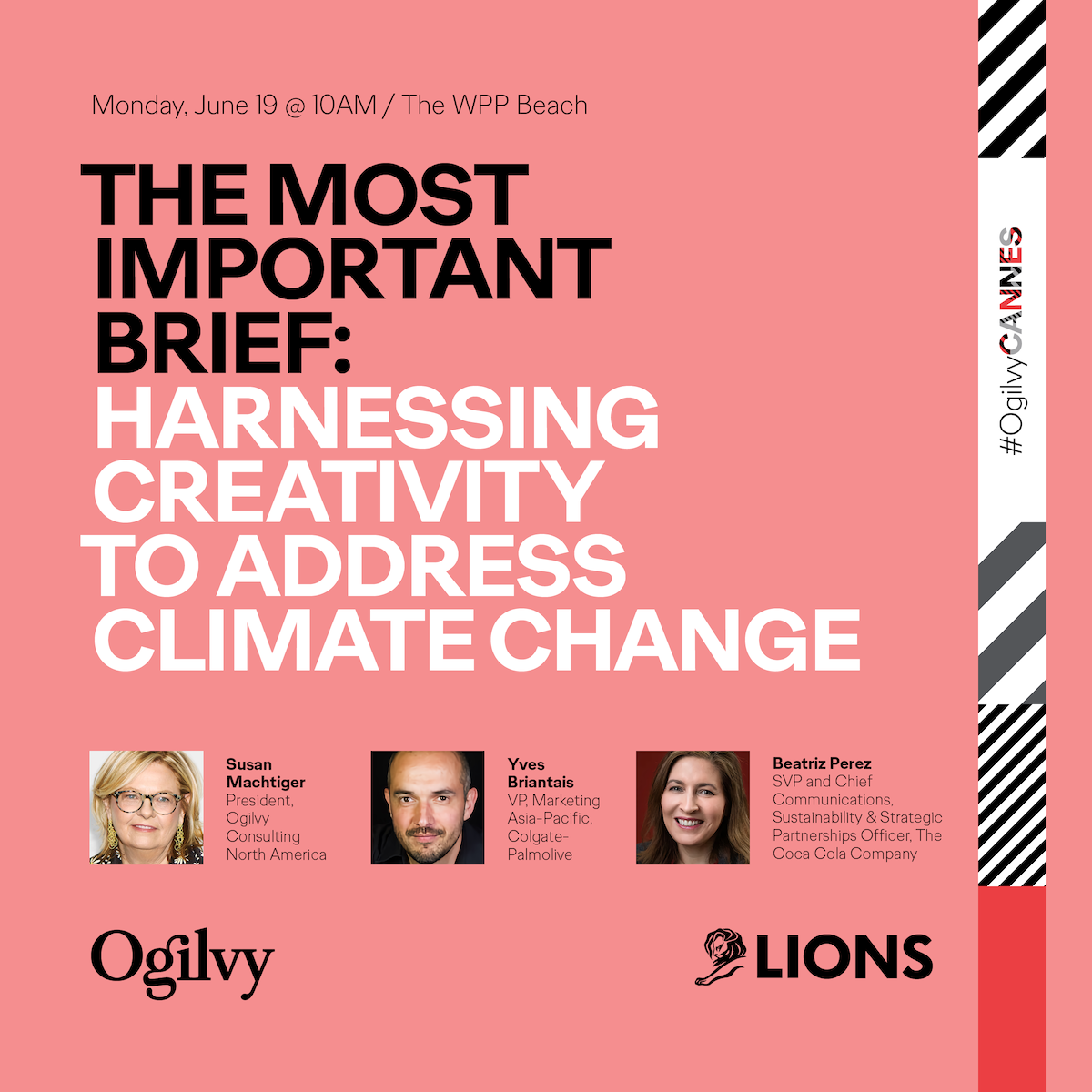 The Most Important Brief: Harnessing Creativity to Address Climate Change
Monday, June 19 / 10 AM / The WPP Beach
The IPCC states that consumer behavior change can bring down global emissions by a staggering 40-70% by 2050, and communications will be mission critical. With rising temperatures, accelerated net zero commitments, business growth paradox, consumer choice paradox, climate doom-ism and youth apathy, it all feels a bit 'everything, everywhere, all at once'.
Join Ogilvy Consulting's Susan Machtiger and an expert panel for a stimulating conversation how creativity can help cut through the noise to drive growth, brand love, and create tangible impact on the issues that matter most to people and planet. Panelists include Yves Briantais, VP of Marketing Asia-Pacific, Colgate-Palmolive, and Beatriz Perez, SVP and Chief Communications, Sustainability & Strategic Partnerships Officer at The Coca Cola Company.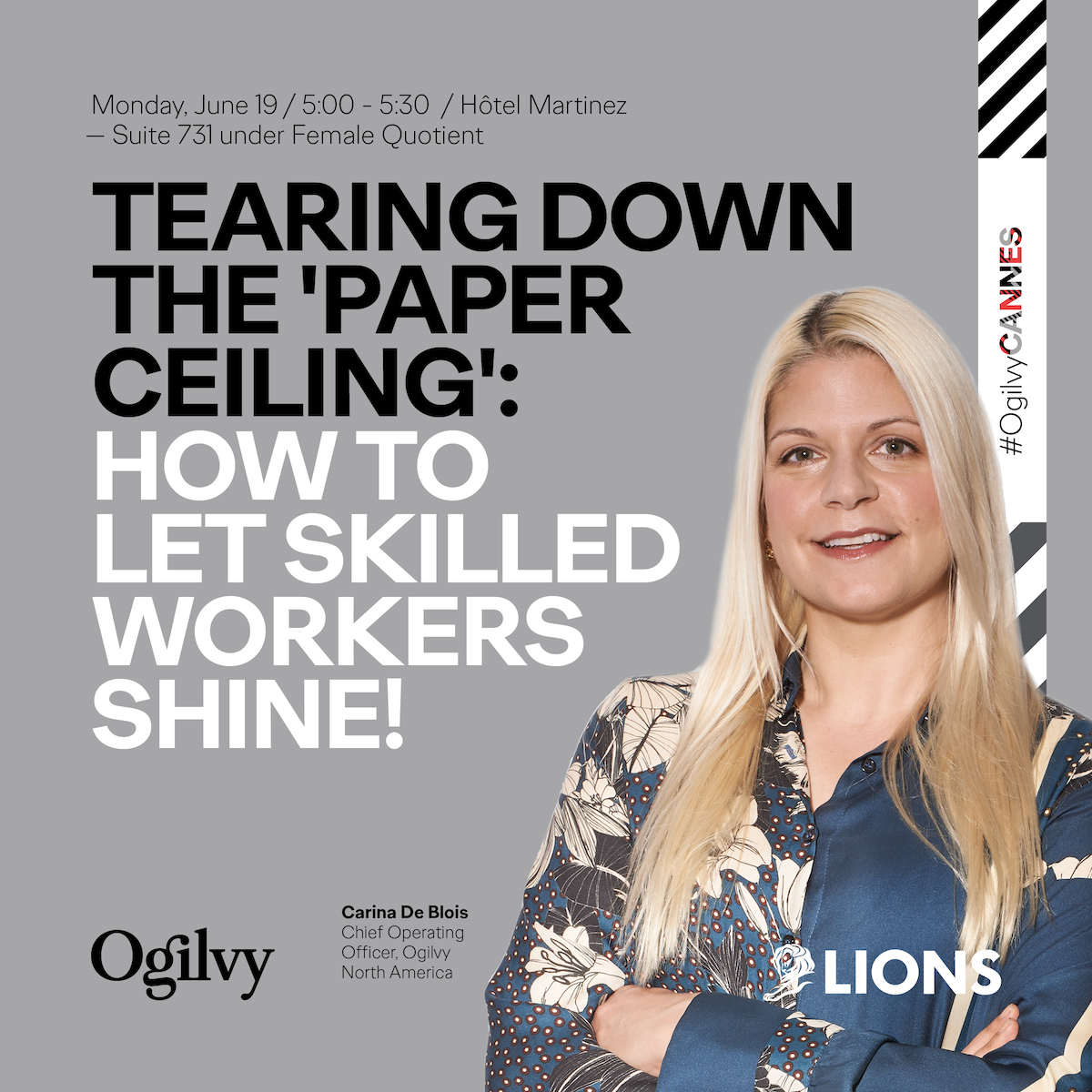 Tearing Down the 'Paper Ceiling': How to Let Skilled Workers Shine!
Monday, June 19 / 5 - 5:30 PM / The Female Quotient's Equality Lounge (Hotel Martinez, Suite 731)
50% of all workers in the U.S. face a "paper ceiling" – the invisible barrier that comes at every turn for workers without a bachelor's degree. Last year, Ogilvy New York helped the Ad Council launch its "Tear the Paper Ceiling" campaign.
Carina De Blois, Chief Operating Officer of Ogilvy North America, joins a panel of C-suite leaders to share how their organizations are evolving their hiring practices to remove biases, create a more inclusive workforce, and tap the talents of workers who are Skilled Through Alternative Routes (STARs). Get ready to take your hiring practices to the next level!
Snapchat Industry Bestie Series
Monday, June 19 / 2 - 2:30pm / Medialink Beach Salon
Join Ogilvy North America's Chief Client Officer Liam Parker and Coca-Cola Senior Global Creative Strategy Director Islam Eldessouky for a panel on relationship-driven storytelling,and brand authenticity in a trends-driven culture.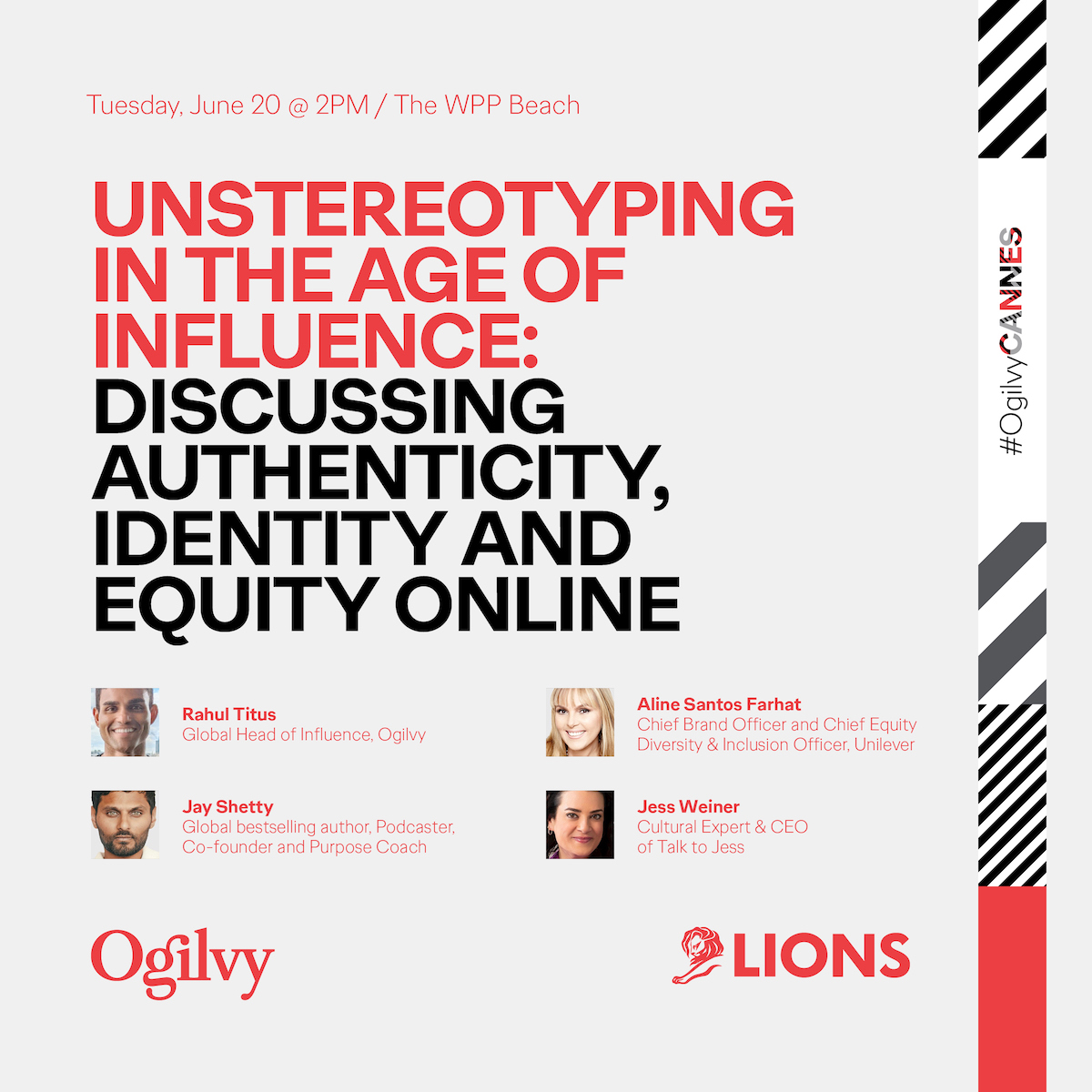 Unstereotyping in the Age of Influence: Discussing Authenticity, Identity and Equity Online
Tuesday, June 20 / 2 PM / The WPP Beach
Online content creators play a powerful role in shaping social attitudes. This session unpacks the impact that stereotypes in entertainment and influencer content is having on consumers, why lived experience improves creativity and how together brands and influencers create positive change as well as driving business results.
Ogilvy's Global Head of Influence Rahul Titus joins Aline Santos Farhat, Unilever's Chief Brand Officer and Chief Equity Diversity & Inclusion Officer, and special guest influencers for a conversation about the real impact real people can have for brands.
More on the WPP Beach agenda here.
The Real Beauty of Long-Lasting Brands
Wednesday, June 21 / 10 - 10:30 AM / Lumiere Theatre
For more than 65 years Ogilvy has worked with Dove to keep the brand at the forefront of culture and helped millions of young girls through The Dove Self-Esteem Project, the world's largest provider of self-esteem education. As a result Dove has become a beauty and personal care superbrand.
Unilever Chief Digital and Commercial Officer, Conny Braams and Dove Chief Marketing Officer, Ale Manfredi will provide a deep dive into Unilever's approach to building brands that last. This session will explore how brands grow in ever-changing societies and more complex marketing landscapes where culture, community and commerce converge.
More info from Cannes Lions here.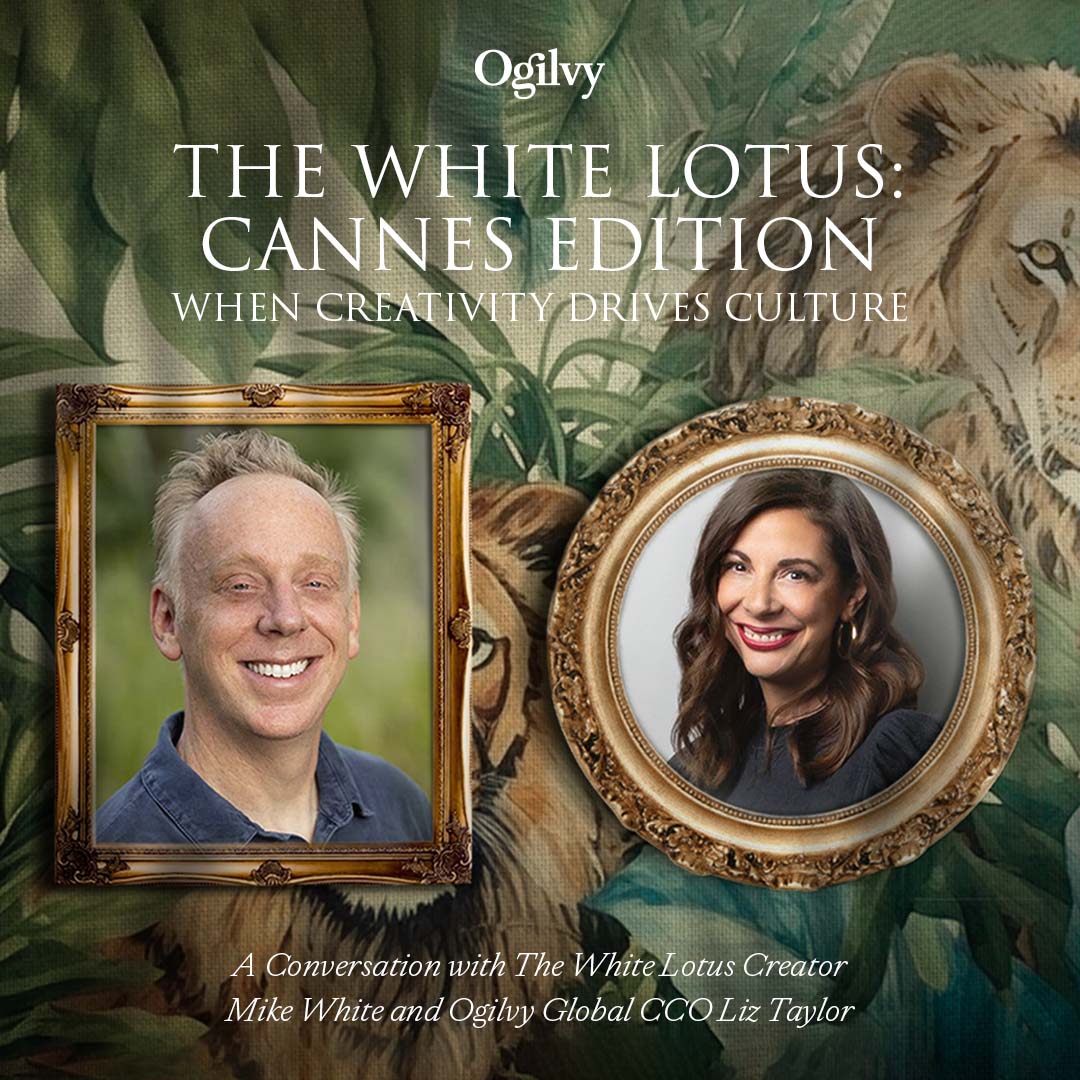 The White Lotus: Cannes Edition—When Creativity Drives Culture
Wednesday, June 21 / 11:30 AM - 12:00 PM / Debussy Theatre, Palais 1
Creativity requires method. Storytelling, craft. Even if a smash hit television show or culture-bending campaign starts with an inspiration strike, there's everything that comes after. Shaping the concept, testing its limits, giving it character (sometimes more than one), which is something that Mike White - multihyphenate entertainer and creator of TV sensation "The White Lotus" - knows a thing or two about.
Ogilvy will welcomes one such storyteller to the Cannes Lions stage. Mike White—creator of the TV sensation The White Lotus—will join Ogilvy's Global Chief Creative Officer Liz Taylor in delivering a masterclass on storytelling as the two sit down to discuss creative process, 'divine discontent', the experience of work taking flight, and how even our neuroses can be an ally in making something audiences love.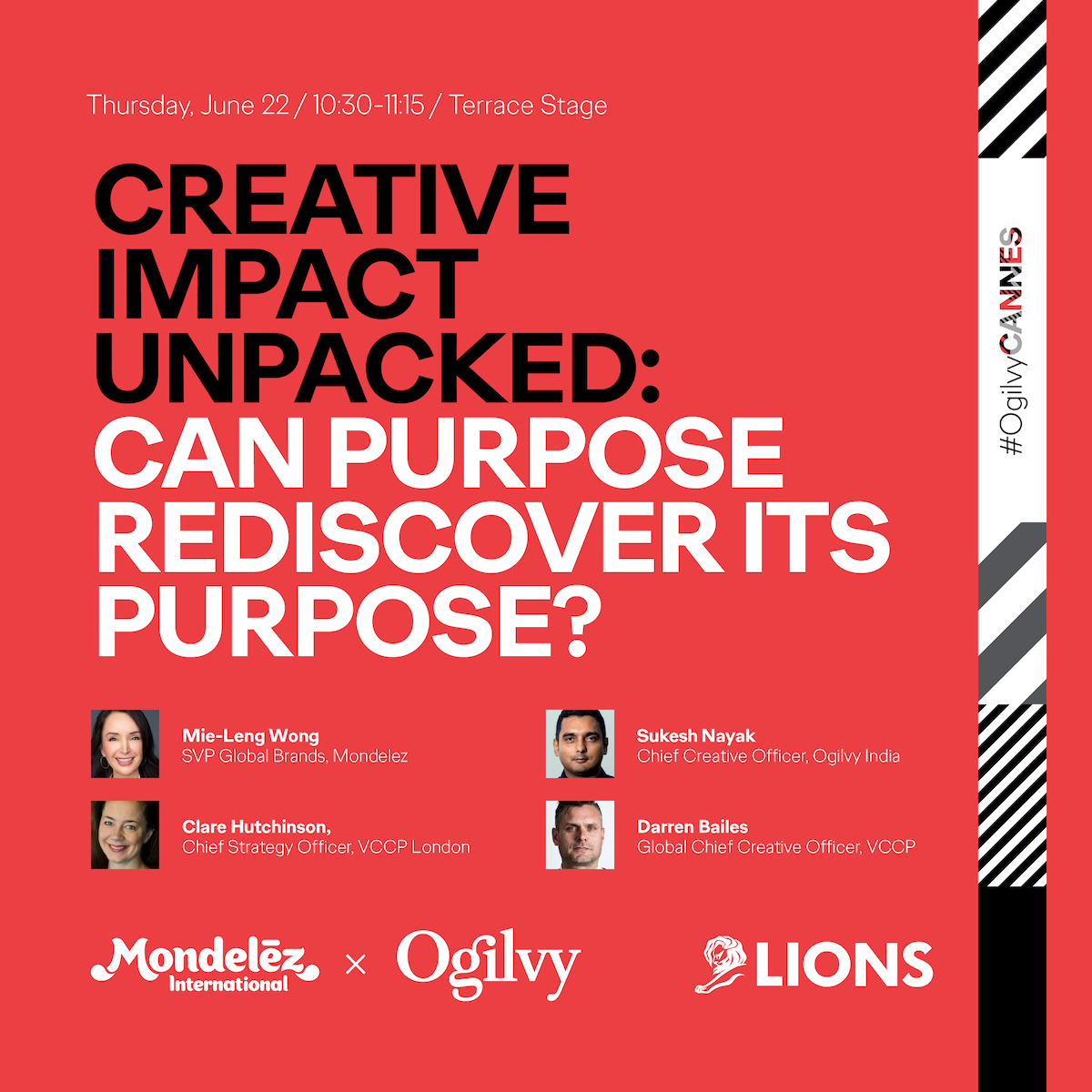 Creative Impact Unpacked: Can Purpose Rediscover its Purpose?
Thursday, June 22 / 10:30-11:15 AM / Terrace Stage
The concept of 'purpose' has split the marketing world - do brands need a purpose to thrive in the 21st century, or has a focus on purpose distracted marketers from their commercial priorities? Cadbury's goal to bring more generosity to the world, isn't purpose for purpose's sake: it's purpose that drives performance.
Sukesh Nayak, Chief Creative Officer of Ogilvy India, joins a panel that will take the audience behind the scenes of a campaign that attracted 40 million new customers to the brand and added $4.1bn retail sales value to the business, whilst winning countless creative and effectiveness awards
This session is part of Cannes Lions and WARC series that delves into some of the key themes defining impactful creativity.
More info from Cannes Lions here.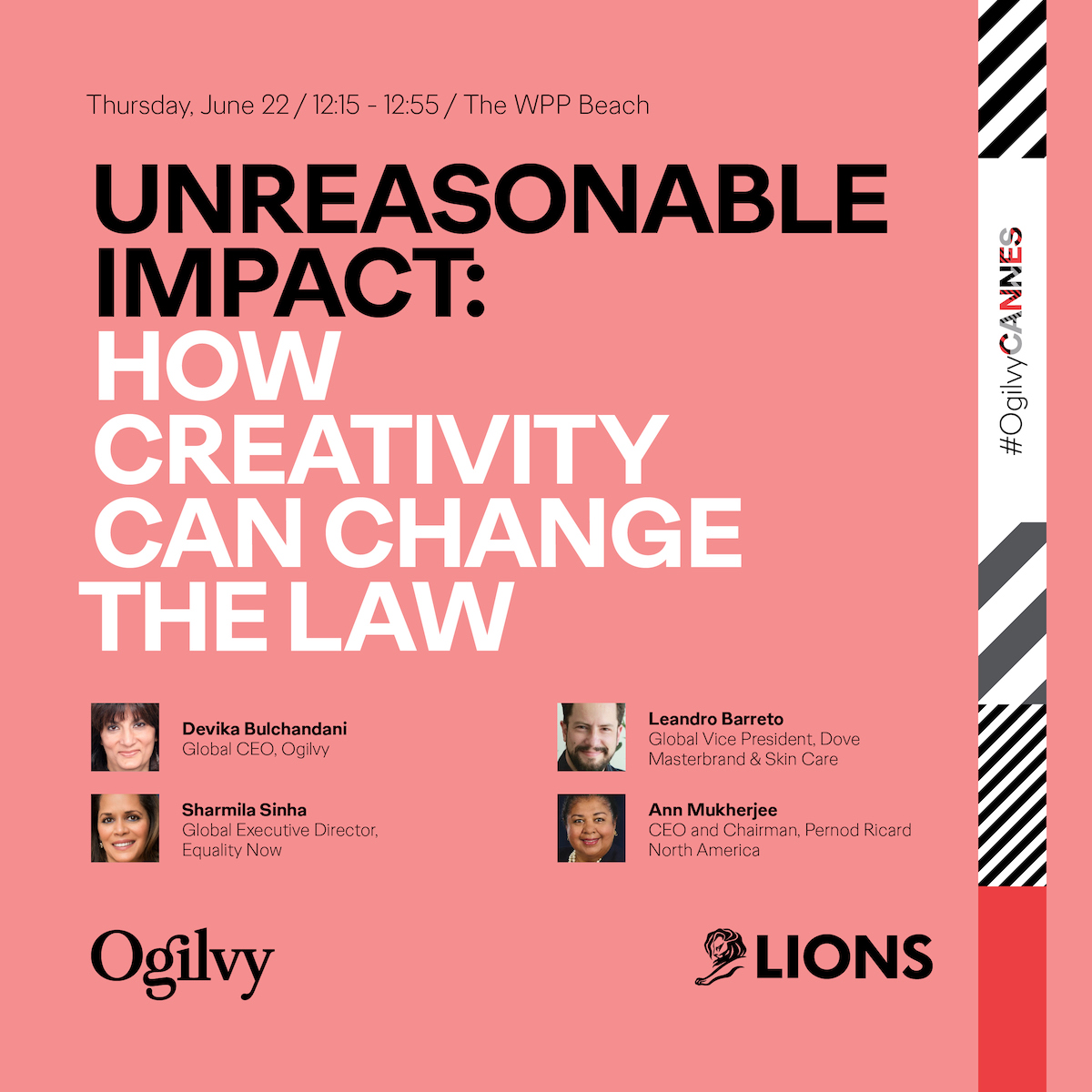 Unreasonable Impact: How Creativity Can Change the Law
Thursday, June 22 / 12:15 - 12:55pm / The WPP Beach
At a time when trust in government is low and the need to address crucial societal issues is more pressing than ever, the creative industry can play an important role in creating meaningful change.
Creativity is a force multiplier that can be used to open minds, generate passion, and even impact policy change. From addressing issues like race-based hair discrimination to gender equality and sustainability, this session will unpack recent examples of how creativity has helped galvanize movements that have changed laws, impacted public policy, and shifted corporate practices.
Join Ogilvy's Global CEO Devika Bulchandani and a passionate panel for a stimulating conversation about how artists, designers, innovators, influencers, and storytellers have developed ideas that support a more equitable, just, and sustainable world.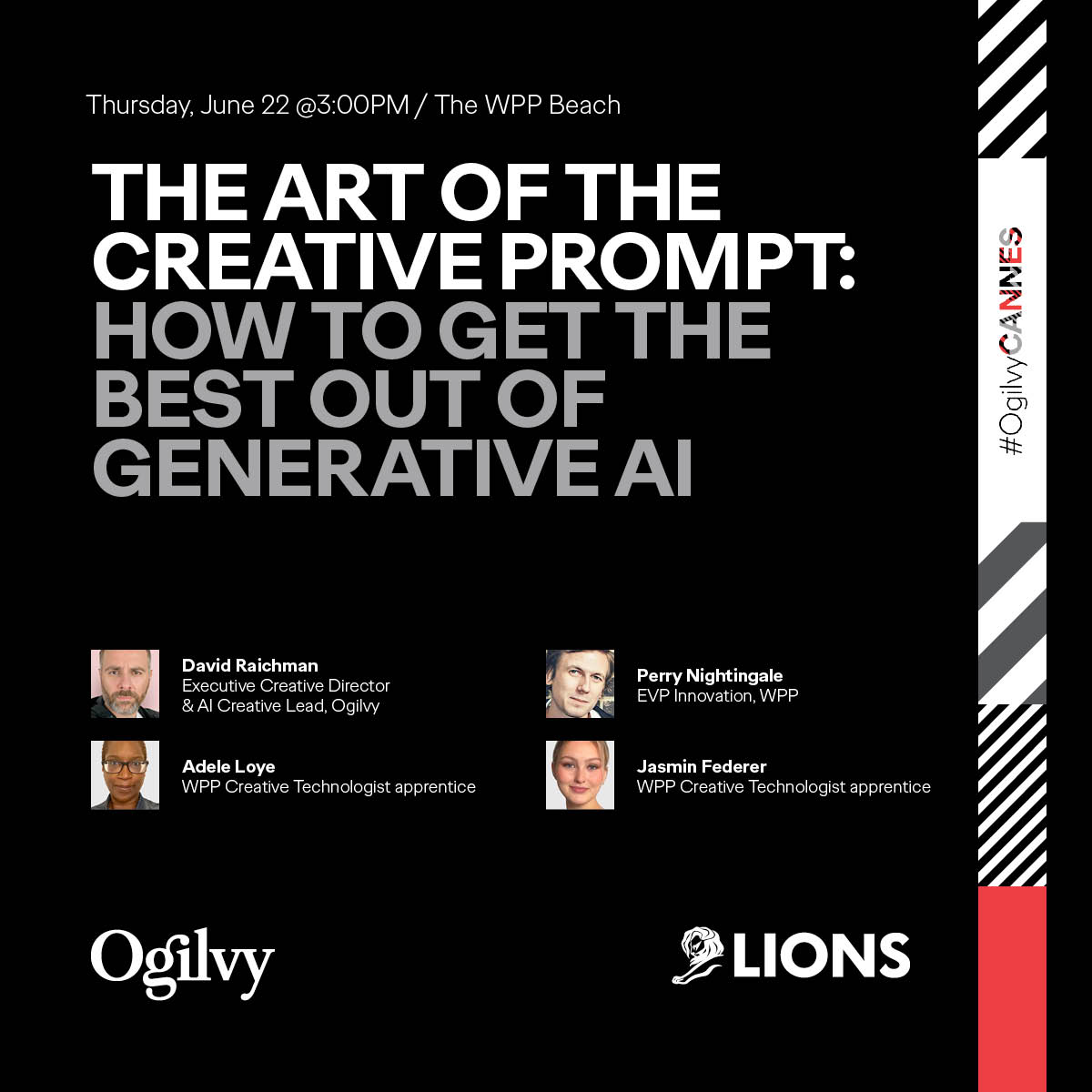 The Art of the Creative Prompt: How To Get the Best Out Of Generative AI
Thursday, June 22 / 3:00PM / The WPP Beach
AI is the buzz word of the year, but what's involved in the creative process and how is WPP producing AI generated content that works for brands and society at large. This session will unpack the challenges of discerning what is true and not true, with the possibilities of positive change through generative AI.
Speakers will include Ogilvy's David Raichman, Executive Creative Director & AI Creative Lead, Perry Nightingale, EVP Innovation at WPP, and two WPP Creative Technologist apprentices, Adele Loye and Jasmin Federer.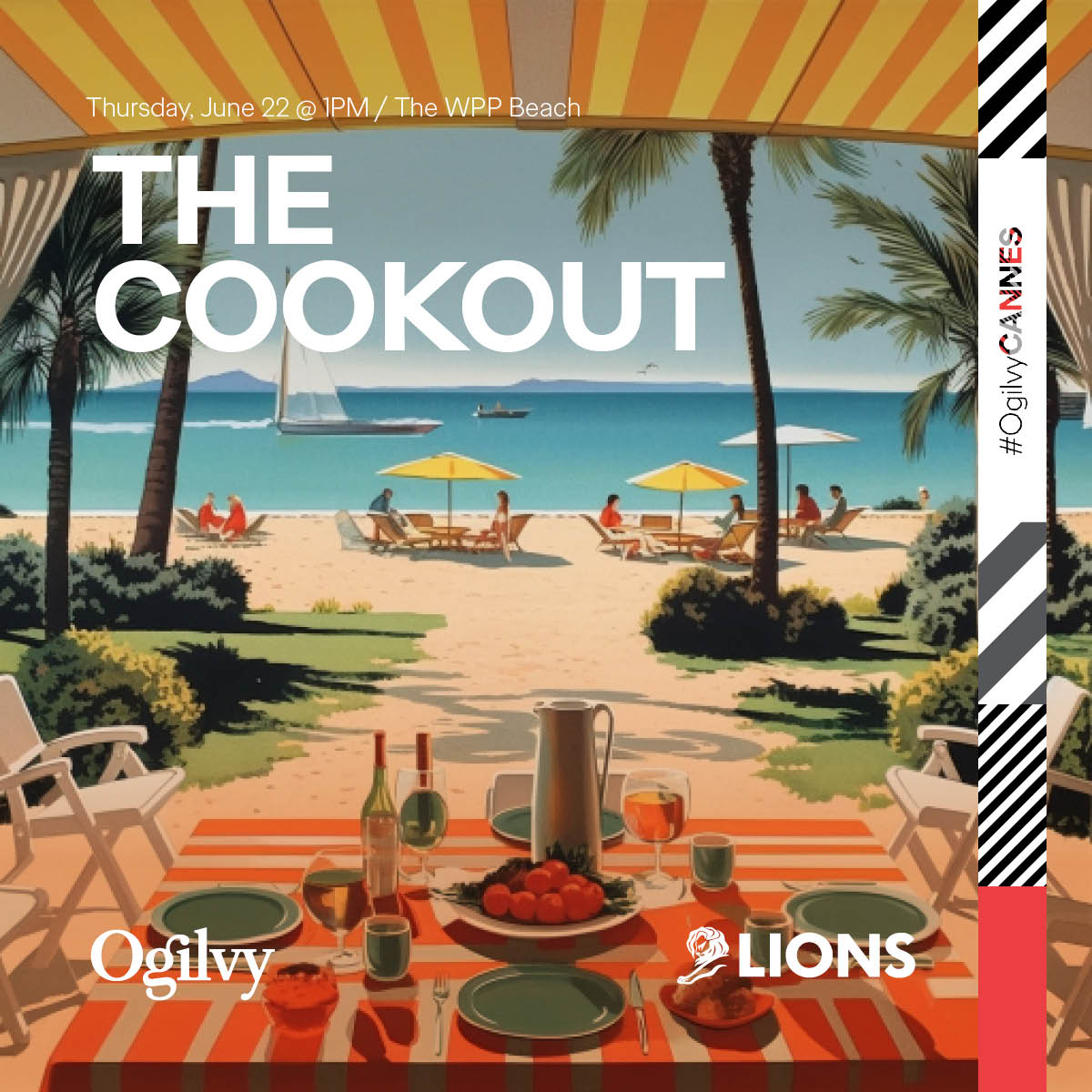 The Cookout
Thursday, June 22 / 1:00 PM / The WPP Beach
WPP invites you to join our second edition of The Cookout. Co-hosted by Ogilvy's Global Chief Financial Officer Stacey-Ryan Cornelius the afternoon features Caribbean fare, and fueled by music from across the African diaspora, we invite anyone of color, CMOs and allies to attend this event, to connect, network, build relationships and to belong at Cannes.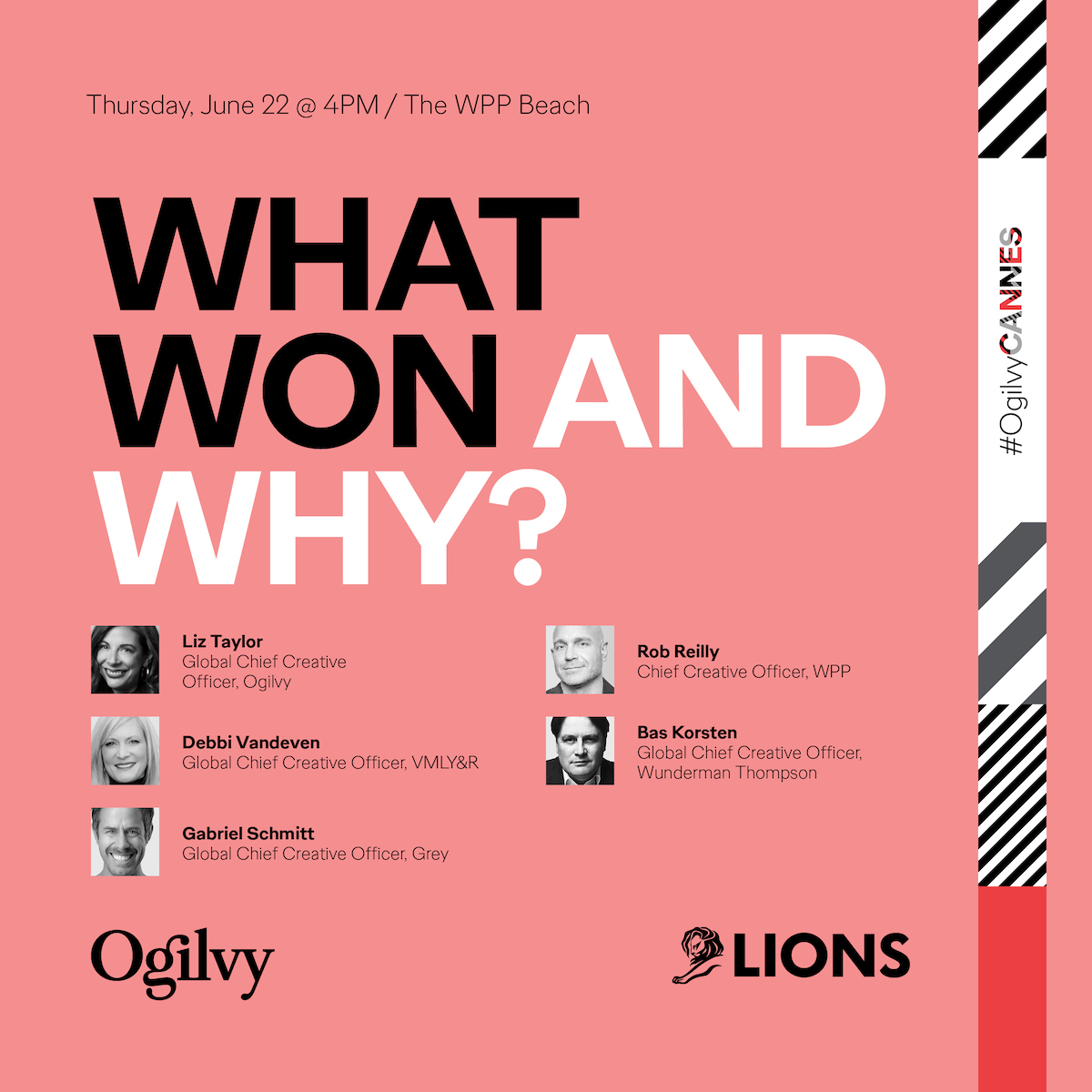 What Won and Why
Thursday, June 22 / 4 PM / The WPP Beach
Ogilvy's Global Chief Creative Officer Liz Taylor joins WPP's Chief Creative Officer Rob Reilly and a panel of other WPP creative leaders to discuss what won and why at this year's festival.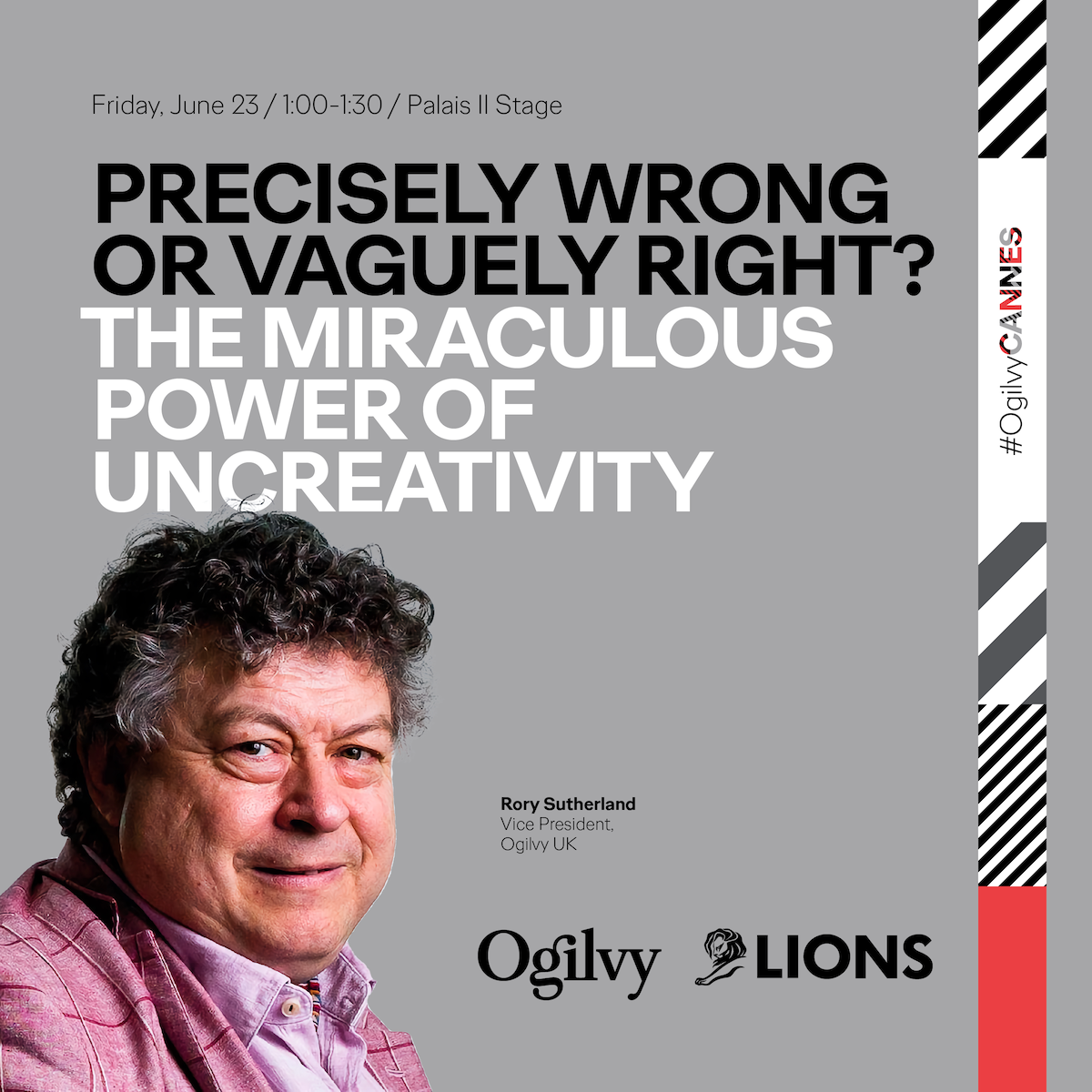 Precisely Wrong or Vaguely Right? The Miraculous Power of Uncreativity
Friday, June 23 / 1-1:30 PM / Palais II Stage
What if we have sold creativity the wrong way for decades? Is creativity something rare, incremental and optional or an essential part of rigorous decision making? Anyone with children knows, creativity is our natural response when faced with a problem. But corporations and institutions go to remarkable lengths to avoid using it.
Why do creative people have to present recommendations to rational people for approval? This rarely happens the other way round. The asymmetry is not deliberate. It is the result of an unconscious drive to remove subjectivity and instinctive feeling from decisions, to avoid blame for any potential negative consequences.
Join Rory Sutherland, founder of Ogilvy's Behavioral Science practice, to learn about the magic of creative phenomenology — there are more applications for creativity than you can possibly imagine.
Share