Mariana O'Kelly: My Cannes Awakening
The Cannes Lions International Festival of Creativity returns this year after postponement due to the Covid-19 pandemic. Eight of our Ogilvy colleagues have been selected as jurors of this year's work. We asked each of them about their specific categories and what they're expecting from this year's festival. See more entries: Andre "Dede" Laurentino | Mariana O'Kelly | Wendy Turner | Reed Collins | Emily Poon | Panos Sambrakos
Mariana O'Kelly — Executive Creative Director (Radio/Audio Jury)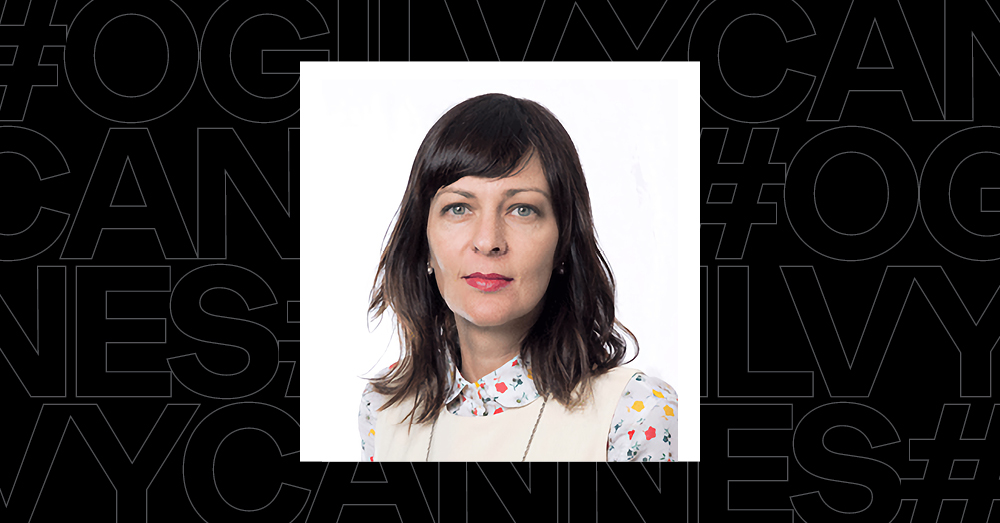 When I was asked to judge the Radio/Audio category at Cannes this year, I was, to be dead honest, a little disappointed. Secretly, I was hoping to get asked to judge Film. Or even Direct, where important words like "ROI" and "Reach" would make the judging process feel so much more important.
Don't get me wrong, I have always loved the Radio and Audio category and have had the privilege judging it at Cannes twice in the past. I wanted to 'move on' so to say, get a different experience.
Inspired by the psychologist Adam Grant, I decided to think again and shake off my audio arrogance. I started reading every article out there on where Audio is going as a platform—not just out of curiosity, but also to be able to recognize groundbreaking Audio ideas when I come across them while judging.
After days of research, I realized how far behind I was compared to where Audio had gone in just one short year.
So for anyone out there who also missed the Audio boat, here are some highlights of what I have learned so far. I'm thankful for every smart writer and journalist out there whose research has inspired me to re-think the mind blowing opportunities within this category.
In no order of importance, here are my key take-outs I'm not just going to carry with me into the judging room, but also into every brainstorm and hothouse.
Sonic branding is on the rise.
There is an increased demand for companies to have a dedicated Sonic branding strategy. It's becoming part of a brand's eco-system, with Brands looking at owning their own sound now.
Live social Audio is just getting started.
We've all heard of Clubhouse by now. But what I didn't know was how many other audio social players there are in town and the opportunities it holds for brands to become more relevant and truly authentic. Clubhouse has seen over 13 million downloads just from the Apple App Store and usage and adoption could also be set to see a big increase once it opens up to Android users, which has been rumored to be coming in May.
Twitter is working to enable all users to host their own audio Space in the app, which is already in testing on Android devices. LinkedIn is also experimenting with new features to help its users become more influential on the platform. It's also developing its own social audio experience, while Facebook, too, is testing the waters on the audio social front. The Clubhouse-like product will let groups of people listen to and interact with speakers on a virtual "stage". Facebook will also launch a product allowing its users to record brief voice messages and post them in their newsfeeds, and a podcast discovery product that will be connected with Spotify. There's also a lot of chatter currently, about Facebook working on an audio chat feature.
Industry analyst Jeremiah Owyang has documented almost 36 social audio apps in the market today. He is expecting a major consolidation in the next 12 to 18 months.
Streaming giant Spotify announced its acquisition of Betty Labs, the maker of sports-focused social audio app Locker Room.

Ted Baker is the first to launch a content series on Clubhouse, hosted by Abraxas Higgins, founder of the UK's largest 'club' – 9AMINLONDON, a virtual chat room created to start the week off right. A series of six hour-long talks will discuss the intersections of British culture and fashion, with brand-sponsored guests.

Billionaire businessman Mark Cuban plans to launch Fireside, a "next-gen podcast platform" that facilitates live conversation.
In the past, if brands wanted to talk to a large audience on an audio platform, there options were limited by either paying a radio presenter or Voice Over to speak on their behalf. Now brands have the opportunity to connect on their own platform with their own followers in an instant. It's also allowing brands to create authentic content quickly compared to the cost and time associated with shooting or filming content.
Voice-only content is on the rise.
Varun Duggirala, co-founder and content chief at The Glitch, notes that in recent years, content consumers have steadily been shifting their consumption, in part, from active to passive – one that doesn't require full focus, but can be consumed alongside other activities, and over longer periods. "Passive content consumption builds a deeper relationship between creator and consumer because it has a stronger subliminal impact. And audio has facilitated this shift," he says. According to him brands will start investing in pure play audio content. He adds that the real trick for monetisation though, is to bring them all together – podcasts, live social audio, social content and other audio forms – and build them at scale.
ComplexCon – Embedded a radio station into its digital fabric. Visitors (all 100k of them), who entered as avatars, bought from branded virtual shops and attended live gigs could also shop radio-related merch.

Samsung successfully re-engineered its London flagship into a live broadcast hub.

The Drum and Spotify have launched a special three-part podcast series themed around the 'Future of Audio', 'Storytelling through Sound' and 'Innovation: The Future of Audio' with all episodes now 

live on Spotify.

Bookstores being closed due to the pandemic has resulted in more audiobook titles being released than ever before.

Major publishers such Audible, Hachette Audio, HarperCollins, Macmillan, Penguin Random House, and Simon & Schuster have said that they have been investing in opening more studios and narrators in order to speed up production.

Apple is experimenting with something new with spoken word content.

US listeners can stream 13 audiobooks based on books by musicians including Questlove, Rakim, Patti Smith, Pete Townshend, Kim Gordon and Debbie Harrie. They're part of the main Apple Music service, and thus offered within their subscription system.

Overdrive is going to be launching a digital 

Covid response collection 

available to libraries for free. The first set of titles donated by OverDrive will be a Kids & Teens bundle including hundreds of ebooks, audiobooks, and Read-Alongs from Rosen Publishing, Lerner Publishing Group, Britannica Digital Learning, Triangle Interactive, and other participating publishers. The company is also working with major publishers for a Adult Fiction and Nonfiction collections.
Audio creators are on the rise.
Brands are starting to sponsor rooms on Clubhouse. In March, influencer marketing platform, Izea, sponsored a Clubhouse room called "The Value of Influencer Platforms" hosted by Lissette Calveiro who is also an influencer herself. Currently there isn't functionality built into Clubhouse that will facilitate money exchange between influencers and brands, but Clubhouse has begun a new experiment on Creator Payments.
With live social audio you can't fake it. Brands will have to be truly authentic for consumers to want to engage with them. Hard-sell isn't encouraged in this space. So the focus will have to be on transparency and building content and audience on the platform of trust. The focus will have to be on creating high quality, high value shows/content. With global ad spend on digital audio advertising projected to reach $4.5bn this year and the number of listeners set to exceed 976 million, according to Statista data, this is one medium that marketers and advertisers cannot afford to ignore.
Now onto Cannes!
For now, it's back to preparing to judge at Cannes and celebrating the power of creativity in the Audio category. Will we see some of the above trends reflected this year or is it still too early to witness the weird and wonderful new ways brands are connecting with their consumers?
Personally, I'm interested to see how brands will use these trends creatively, not just adopt social audio as a channel strategy. Those that do will win the true fame, whether this year or next.
Interested in bigger, bolder ideas? Sign up for our newsletter for more insights on how brands can make an impact on the world.
Share