Menno Kluin Named Chief Creative Officer for Ogilvy New York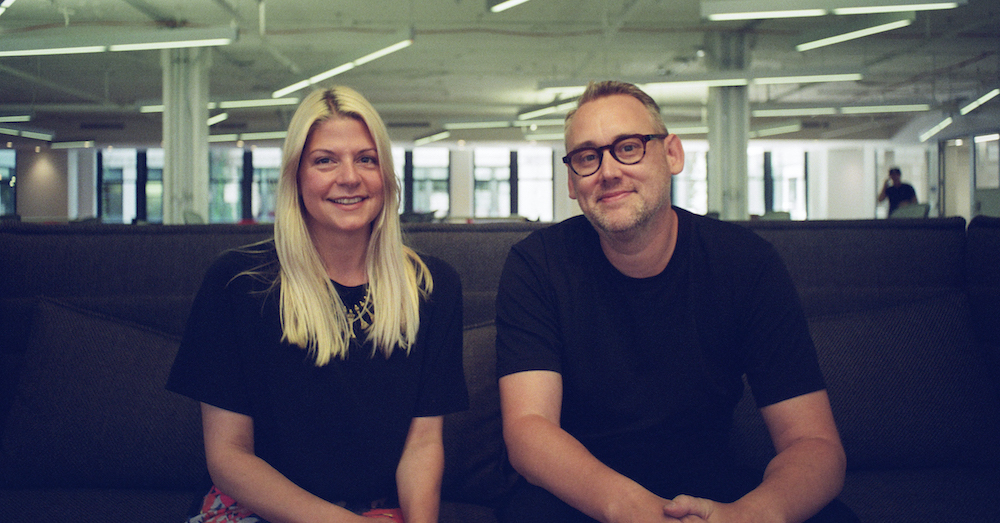 NEW YORK — JULY 5, 2022 — Ogilvy today announced that Menno Kluin has been named Chief Creative Officer for Ogilvy New York. Menno built his career in New York, becoming one of the city's most accomplished and awarded creative leaders. His track record of creative excellence was recognized earlier this year as Campaign magazine named him Creative Person of the Year. Menno will partner closely with Carina De Blois, President of Ogilvy New York, and be responsible for the creative product in Ogilvy's New York office which services a range of global and regional clients including IKEA, Nestle, IBM, The Coca-Cola Company, Nationwide, Samsung, and Audi of America, which recently named Ogilvy its creative and strategic agency partner, among others. Menno joins Ogilvy from Dentsu Creative where he served as U.S. Chief Creative Officer. See photo here.
Liz Taylor, Global Chief Creative Officer at Ogilvy, noted: "Menno is a modern creative who pushes the boundaries of possibility. He understands the complexities of our clients' business today and has a proven ability to produce creative solutions for them that are meticulously crafted and filled with wit and charm. Menno's reputation for using creativity to drive impact coupled with his track record of developing talent and fostering a culture of belonging will benefit our teams and further strengthen the creative product in our largest office." 
Carina De Blois, President of New York, said: "As we look to forge a new chapter for Ogilvy New York, our momentum is strong, and the opportunities ahead of us are big, so we absolutely could not compromise on this role. It had to be someone not only right for the team but also someone we would all be excited to work with. What many of us love about Menno is that he is a builder that brings out the true potential in talent, helps raise clients' ambitions, and has a track record for delivering work that creates a meaningful impact. He also has an appreciation for David Ogilvy's legacy, which is incredibly important to all of us as we continue to grow and evolve the agency." 
Chris Beresford-Hill, President of Advertising for North America, added: "Menno has made an impact everywhere he's been, whether it was winning all the big awards as a young creative or turning around a big agency with blue-chip brands and famous ideas. None of it is by chance or by luck, he is an incredibly talented and methodical creative person. But one of the best things about Menno is that people who have come up under him have built incredible portfolios of work and gone on to do big things. At the end of the day, if you're doing great work by raising people up, that's the kind of leader we want on our team."
Menno said: "When you see the big moves Ogilvy is making, it's clear that good things are on the horizon. I am a forward-looking person and a builder. Knowing that the current leadership teams subscribe to the same agency approach and philosophies was critical to me. It makes an opportunity like this irresistible."
In his most recent role as U.S. Chief Creative Officer for Dentsu Creative, Menno led the creative output for Dentsu's creative agencies including 360i, dentsuMB, and Isobar. Earlier this year, The Drum ranked him the 15th most awarded CCO in the world for 2021. Prior to his most recent role, Menno served as Chief Creative Officer for 360i where his creative leadership transformed perceptions around the type of work the agency produces, resulting in 360i's most-awarded creative output. Drawing on his background in design, Menno prioritized creativity rooted in traditional design principles and craft but produced with a digital mindset. Menno's influence at the agency extended far beyond awards. In 2020, 360i won more new and organic business than ever before in company history with clients including Kroger, 7-Eleven, GlaxoSmithKline, and others. Some of his creative highlights include the FTX "Larry David" Super Bowl commercial, the partnership with Oreo and PFLAG to launch Proud Parent, working with Kroger to create the first-of-its-kind AI tool Chefbot, producing the first brand campaign for 7-Eleven in years, and forming an alliance with HBO and Oreo to bring fans the mother of all TV-watching snacks. Additionally, his work on HBO's "Westworld: The Maze" won a Grand Prix in Radio and Audio at the Cannes Lions International Festival of Creativity. Menno recently served as the Jury Chair for the Interactive at the ADC Annual Awards. He is an alum of Miami Ad School Europe who started his career with roles at Saatchi & Saatchi NY and Y&R NY. Menno grew up in the Netherlands and currently resides in Brooklyn.  
Menno joins Ogilvy at a time of change and renewed momentum. Ogilvy recently earned the coveted position of Network of the Year at the 2022 Cannes Lions International Festival of Creativity. This achievement builds on Campaign magazine and The One Show recognizing Ogilvy with Network of the Year honors earlier this year. In March, Ogilvy became the only agency network to secure top rankings on both WARC's Creative 100 & Effective 100 lists. Earlier this year, Ogilvy also moved its New York office to the heart of the city in the Flatiron District. 
About Ogilvy
Ogilvy inspires brands and people to impact the world. We have been creating iconic, culture-changing, value-driving ideas for clients since David Ogilvy founded the company in 1948. We continue building on that rich legacy through our borderless creativity—operating, innovating, and creating at the intersection of talent and capabilities. Our experts in Advertising, Experience, Public Relations, Health, and Consulting work fluidly across 131 offices in 93 countries to bring forth world-class creative solutions for our clients. Ogilvy is a WPP company (NASDAQ: WPPGY). For more information, visit Ogilvy.com, and follow us on LinkedIn, Twitter, Instagram, and Facebook.  
Media Contacts: David Ford / david.ford@ogilvy.com
# # # 
Interested in bigger, bolder ideas? Sign up for our newsletter for more insights on how brands can make an impact on the world.
Share