Ogilvy Celebrates Second Consecutive Day of Wins at the 2019 Cannes Lions International Festival of Creativity
Cannes, France. 18 June 2019. On the second day of the 2019 Cannes Lions International Festival of Creativity, Ogilvy continued its winning streak, having secured a total of 17 Lions across the network. Ogilvy added 7 more Lions to its Day One tally, with wins in the Film Craft, Entertainment and Industry Craft categories. Ogilvy demonstrated its excellence in creativity globally with offices in New York, Frankfurt, London, Hong Kong, São Paulo and Bangkok as well as DAVID The Agency, INGO and De La Cruz & Associates, all of which are part of The Ogilvy Group, taking home Lions.
Piyush Pandey, Chief Creative Officer, Worldwide, Ogilvy said, "Getting recognition from industry stalwarts is a huge encouragement to clients and agencies for doing exemplary work. It's only second to winning the hearts of your consumers."
DAVID Miami took home a Gold Lion in the Print & Publishing category for its "Hear This Ad" campaign with Coca-Cola, and garnered additional wins in the Outdoor and Design categories. The 'Hear This Ad' campaign uses the concept that images on their own can't make a sound, but they are intrinsically linked in our minds with their own unique "soundtrack". The creative features macro shots of iconic Coca-Cola moments and challenges viewers not to "hear" the sounds they make in their heads. The print ad series, which features a close up of a bottle being uncapped, a can being snapped open and a glass of bubbles fizzing, taps into recognizable rituals associated with the product, to create a sense of synesthesia; a moment where the use of one sense causes an involuntary reaction in another.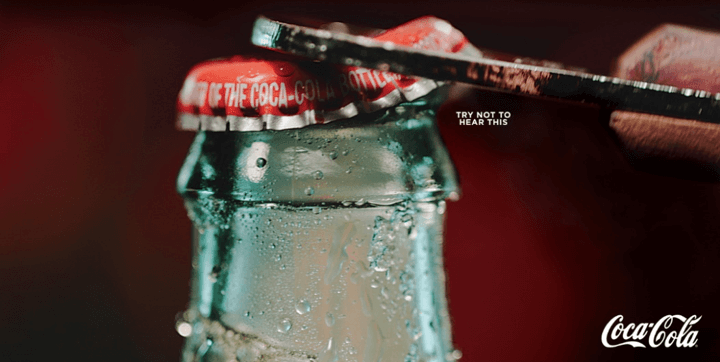 Ogilvy Hong Kong earned a dual-win, receiving two Lions in the Industry Craft category for KFC Hong Kong. In the latest iteration of its "Hot & Spicy" campaign, the creative team superimposed blown-up images of spicy fried chicken onto a range of photos including a concert, a dragon and a volcano; filling the space where fire would have otherwise been with the much-loved product.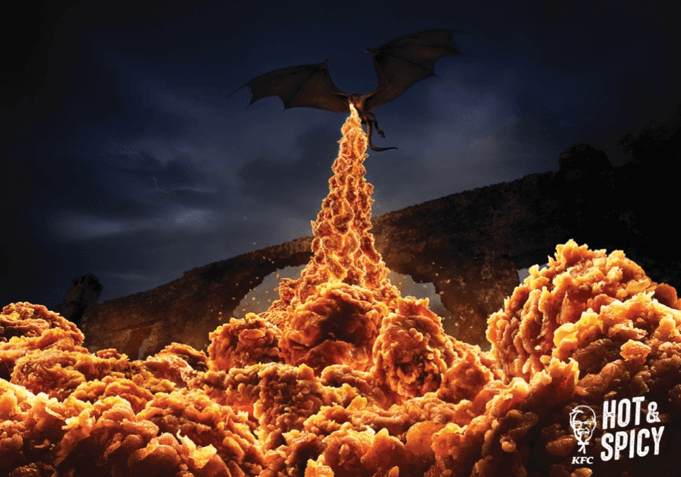 DAVID São Paulo was awarded twice in the Outdoor category for its "Burn That Ad" campaign for Burger King. In a tongue-in-cheek challenge based on the insight that McDonald's in Brazil invests four times more in media than Burger King, the campaign featured an AR experience where users of the Burger King app could "burn" McDonald's ads. The AR experience allowed anyone with the app to point their phone at any McDonald's ad and see it "burn" on their screen. At the end of the experience, users were directed to Burger King's in-app store and rewarded with a coupon for a free flame grilled Whopper.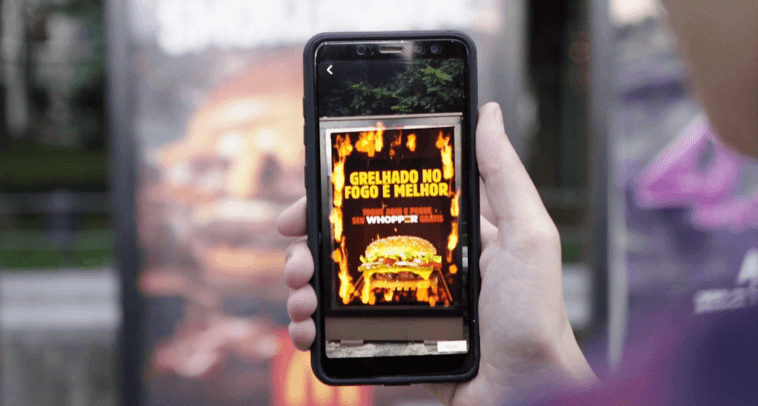 Ogilvy's New York office was awarded for Samsung's "Made in Korea", a global campaign that was built on the confusion around whether a foldable phone would be launched by announcing its launch in ads only written in Korean and received a Design Lion.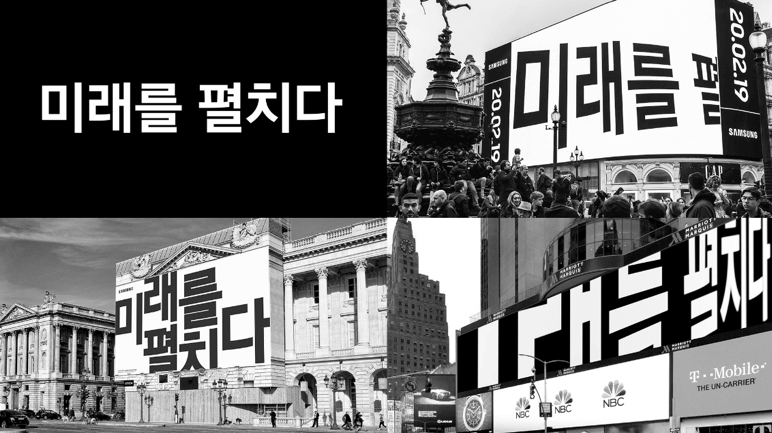 Ogilvy's team in Frankfurt, Germany was recognized in the Print & Publishing category for German Rail's "No Need to Fly", a clever side-by-side comparison of iconic geographical areas and near identical locations in Germany (and the prices it would cost travelers to get there).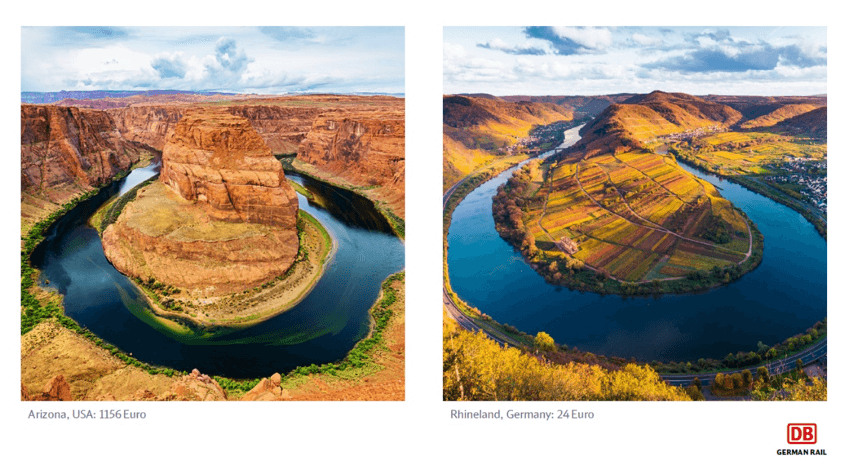 De La Cruz & Associates claimed a Lion in the Entertainment for Music category for its "Giving Songs" campaign for the International Charitable Day of Giving, also known as #GivingTuesday. The campaign used the fact that in 2018, 27 of the top 100 most watched videos on YouTube were from Puerto Rican artists as a tool to drive charitable donations, by asking artists to turn their song titles into public service announcements for the day. On 27th November 2018, artists replaced the titles of their YouTube videos with the names of the cause they were supporting, and invited viewers to donate via the #GivingTuesday website.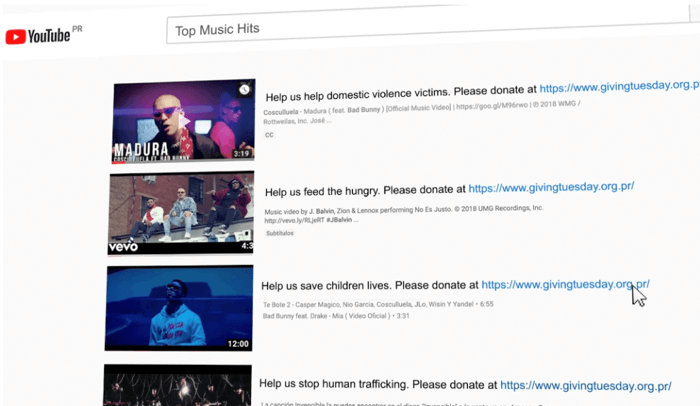 - ENDS -
For further information please contact Sarah Owen on sarah@pumpkin.uk.com / +44 (0) 7958 202 990
About Ogilvy Ogilvy has been producing iconic, culture-changing marketing campaigns since the day its founder David Ogilvy opened up shop in 1948. Today, Ogilvy is an award-winning integrated creative network that makes brands matter for Fortune Global 500 companies as well as local businesses across 132 offices in 83 countries. The company creates experiences, design and communications that shape every aspect of a brand's needs through six core capabilities: Brand Strategy, Advertising, Public Relations and Influence, Customer Engagement and Commerce, Digital Transformation, and Partnerships.
Ogilvy is a WPP company (NASDAQ: WPPGY). For more information, visit http://www.ogilvy.com/, or follow Ogilvy on Twitter at @Ogilvy and on Facebook.com/Ogilvy.
Interested in bigger, bolder ideas? Sign up for our newsletter for more insights on how brands can make an impact on the world.
Share