How Brands Can Help Build the Metaverse Responsibly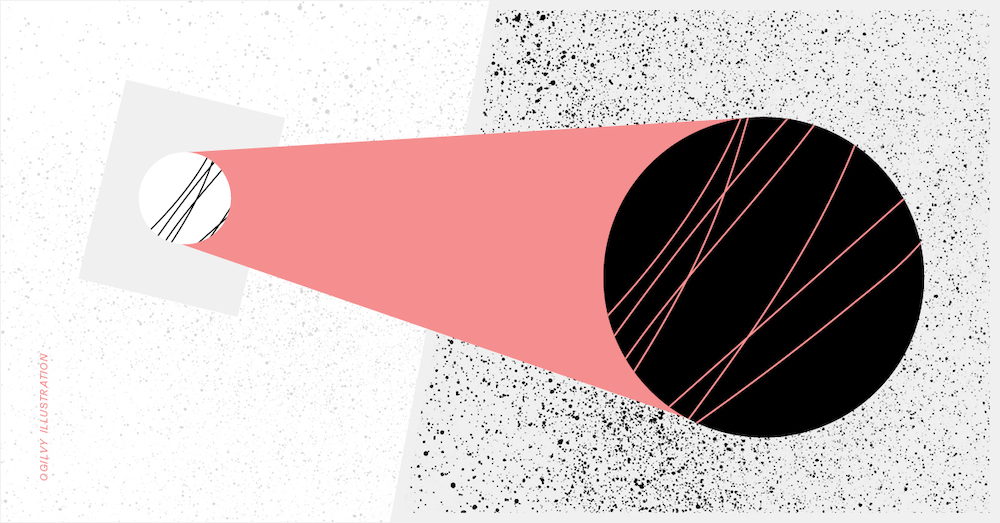 With billions of dollars in the pipeline and the most prominent tech voices trying to imagine what the future holds in the era of the metaverse, a crucial question arises: Is the making of the metaverse an opportunity to build a more sustainable, inclusive, and equitable world? 
The metaverse, to many, is a potential re-do. Why? Because the building of the metaverse (as well as web3) is a test of who we are as society today and tomorrow — where in theory, the line between what we do in our digital and real lives will be blurred. This inception could be a "fresh start" that allows corporations, users, and of course brands, to not only have a clear and public point of view about social, racial and environmental causes, but also apply those beliefs to the platforms, technologies or whatever other metaverse-like manifestations are being created.
Ultimately, these new technologies (like blockchain or AR/VR) or metaverse-like platforms (like Decentraland or Spatial.io) are aiming to impact the way we work, play, transact, create and socialize. This presents an opportunity to rethink current systems that shape standards of equity, inclusion, and sustainability, and then establish new paradigms – but only if we do so responsibly and unlearn past bad behaviors. 
As we explored in the previous two chapters, brands and marketers are fundamental players in this "Metaverse Wild Wild West." They have the power to help shape and build experiences to their advantage, but also, to connect in more meaningful ways with audiences that crave more than a standard product message. Expressing a brand's core values, committing to "being responsible" and then actually building that reality – yes, even if it's digital – will ensure those who tend to just talk, start to walk the walk.
In this chapter, we will spotlight the challenges and opportunities that come with building a metaverse responsibly, to guide the brands who take on this incredibly awesome challenge.  
Check out Chapter I and Chapter II in our ongoing series on Brands in the Metaverse.
1. INCLUSIVITY & ACCESS  
In its early stages, the making of "The New Internet" is falling behind on its promise of an experience designed by and built for all. However, there's still room to change, and brands should have a say in how it's done – to start, by revisiting and emphasizing the founding ideals of web3, including decentralization from tech behemoths, equity, disruption, and community-led engagement.  
Brands can build their metaverse strategies successfully, while emphasizing inclusivity and access:
Everyone should have a say in the Metaverse
One of the most prominent metaverse-expressions is the creativity and art around NFTs, and yet it seems there is already a significant gender gap: between 2020 and 2021, only 5% of NFT sales went to female artists (Source: ArtTactic). And this gender disparity is only the tip of the iceberg of the many equity problems we should address to achieve inclusivity and access.
Everyone should have the power to own the metaverse
Different from our current Internet (or web2), people are not only users; now, they're owners. Meaning, in a decentralized Internet without big tech ruling (in theory), people can personally buy and build into the platforms they're using on a daily basis and somehow impact its development. That's why it's so important for diverse voices to be involved in the creation of platforms and protocols that will form the foundation for the future of this new world.  
The Takeaways 
When thinking on activating in this space, brands should take into consideration this reality and promote collaboration from diverse creators and artists. 
Brands should understand this new balance of power and nurture the notion of collective ownership that is truly inclusive to all. For example, while a CPG brand might struggle to directly offer diverse voices to work on the design and creation, it will be critical for them to collaborate with vendors and other partners that are committed to these same goals.  
2. ENVIRONMENTAL FOOTPRINT
We've started to realize that building a new 'digital' world can have a very real impact on the world we already inhabit. Along with the excitement and technological advancements accompanying the development of the metaverse, there are also many considerations (or concerns, honestly) about its environmental footprint. 
The metaverse has created new environmental concerns  
Because the metaverse exists in the digital realm, it can sometimes feel intangible. But recent studies and statistics quickly put its impact into perspective and subsequently raise alarm bells.  
"Together, Bitcoin and Ethereum mining operations emit more than 70 million tonnes of CO² into the atmosphere. That's the same as the annual exhaust emissions of over 15.5 million cars." (Source: J. Jackman, The Eco Experts)  

"Estimates by Digiconomist suggested that a single Etherum transaction emits about 110 kg of CO2, equivalent to that of 42,734 VISA transactions or watching 18,253 hours of YouTube. Each time an NFT is minted or transacted, another block needs to be built on the blockchain, it is not difficult to imagine how much emission would amount if creator studios are moved to the Metaverse." (Source: A. Chen, UNESCO)   
The problem is forecasted to grow. Because the metaverse is in its infancy, so too are its impacts. Intel predicts that as the metaverse grows, it will require 1000x its current computing capacity, which translates to more energy needed, and a greater carbon footprint. (Source: C. Gartenberg, The Verge)  
There are some silver linings to the metaverse's
Despite the immense computing power and energy that goes into the metaverse, it also has numerous environmental benefits. The metaverse offers us digital alternatives to real life goods and experiences, which makes it a superhero when combating issues of materialism and waste. In industries with major sustainability challenges, such as fashion or travel, the metaverse allows people to reap the benefits of certain products, without the wasteful side effects.
The Takeaways
Be aware that there are trade-offs to every decision, and just because it's digital doesn't mean it's free from environmental harm. 

Consider the metaverse when you have conversations about your CSR targets and goals. Many companies are pledging to become carbon neutral, but they should factor their digital footprint into that equation. 

Use the metaverse to offer sustainable alternatives to products, services or experiences that have environmental challenges in the real world. 
3. EFFICIENCY VS. SCALE  
As innovation in the metaverse continues, the amount of energy required to sustain these new ways of shopping, socializing and creating grows too. It's a multitude of possibilities, but it's also a multitude of "stuff" – digital or not. The goal moving forward should be to think about how to innovate efficiently, not just at scale.  
Growing demand for responsibility, not just accessibility 
The metaverse will be a $10 to $30 trillion opportunity within the next 10 to 15 years (Source: MarketWatch), and consumer demand is growing to participate. If that demand is met with a more environmentally responsible way to buy, sell, and collect NFTs, we can start building more efficiently and sustainably before the problem gets too big to fix.  
While there are more sustainable blockchain networks available now, such as SolarCoin or Tezos, the truth is, everyone will need to participate, including the most popular Ethereum network, to make an impact. In fact, this dynamic is not that different from cars. The more that electric vehicles are becoming affordable and accessible, powered by the right mix of technology, the easier it is to achieve more eco-friendly highways and reduce our carbon emissions. However, the design and supply have to be available first.   
Consider how to integrate before you activate 
Brands are powerfully positioned between the small yet passionate NFT community and the masses (whose first introduction may have been 'that Super Bowl Spot'). That leaves a sizable gap between knowledge of how the metaverse works, a desire to build it sustainably, and the people who know how to do it. That gap can be filled by brands, and it should start now.  
In fact, some companies are already taking steps to alleviate their impact. Google has committed to operating on 24/7 carbon-free energy in all its datacenters by 2030, while Microsoft intends to be "carbon negative" by 2030. And Amazon Web Services is aiming for 100% renewable energy by 2025 (Source: K. Wiggers, VentureBeat). Meanwhile, data center, computing, and software technologies are becoming more efficient, in addition to some efficiencies with blockchain and verifying proof of work. 
The Takeaways  
When thinking of ways to integrate your brand into the metaverse, give as much attention to how you build the idea as the idea itself. Consider the networks you use, the talent and creators you choose, and how to responsibly build or even offset your environmental impact.  
 

When engaging audiences, from the few passionate experts to the still-learning masses, understand your responsibility as a brand to entertain as well as educate. We all have a role to play in responsibly growing this digital world.  
IN CONCLUSION  
This moment in time for the development of the metaverse is a crucial one. We either have the opportunity to build fair, sustainable and just systems from the onset or we risk creating more problematic systems that will have to be retroactively solved down the road.  
In a Venture Beat article, Kyle Wiggers says it well: "As evidenced by Bitcoin and other early blockchain protocols, growth sometimes comes first, creating problems that the community must scramble to reactively fix — if they're sufficiently motivated to fix them in the first place."  
We also need to remember that many issues still exist in our real world, and need our attention and action. At its best, the metaverse can play a role in solving some. At its worst, it can exacerbate others. And for many, it can be a hopeful escape from it all. As we continue to create and explore the metaverse, let's do so without shifting our focus away from reality so we can enjoy, create, shop, sell, dance, and live responsibly.  
Interested in bigger, bolder ideas? Sign up for our newsletter for more insights on how brands can make an impact on the world.
Share