Ogilvy Named Network of the Year at 2022 London International Awards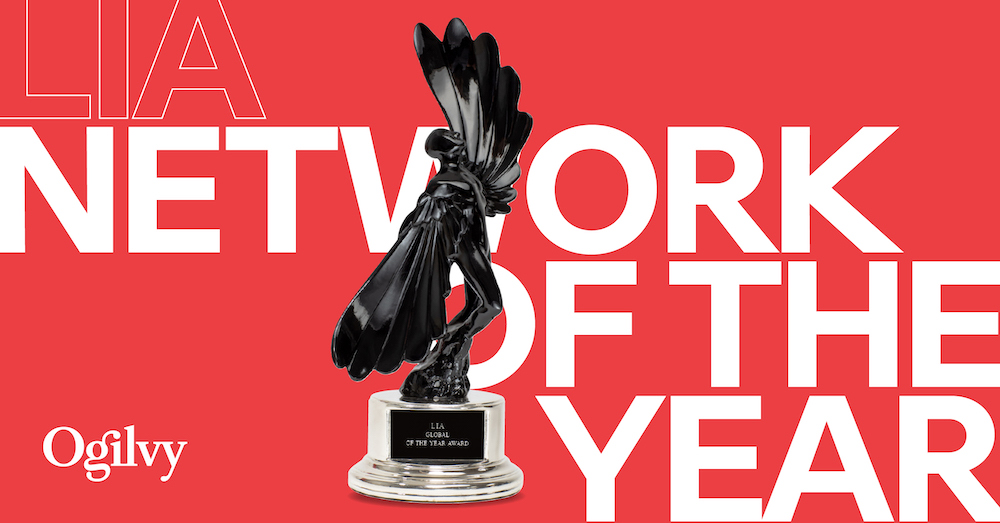 NEW YORK — NOVEMBER 8, 2022 — At the 2022 London International Awards, Ogilvy proudly earned Network of the Year honors for the second consecutive year. This achievement reflects the strength of Ogilvy's global creative network with over two dozen offices contributing a total of 115 statues including 3 Grand, 21 Gold, 35 Silver, and 56 Bronze, along with 44 Finalists.
Ogilvy's performance was led by three Grand wins. Ogilvy Bangkok took home a Grand for "The Innocent Eyes" for Voiz as did the campaign "Morning After Island" by Ogilvy Honduras for GePae. This marked the first Grand LIA for an agency in Honduras. Cannes Titanium Lion winner "Shah Rukh Khan-My-Ad" for Cadbury by Ogilvy Mumbai also won a Grand LIA. In addition, the 2022 LIAs marked a major accomplishment for Ogilvy Health, which earned its first awards at one of the "big five" global awards shows with "Pets of War" for Four Paws, "NYF Health" for New York Festivals, "Seat, Tire, Frame" for Cycle Kids, and "Unstoppable" for Zoetis all recognized at this year's show. 
Liz Taylor, Ogilvy's Global Chief Creative Officer said: "2022 has been a great year for our global network, and it fills us with pride and gratitude to cap it off with Network of the Year at the LIAs. We put forth an impressive roster of work, filled with big ideas that show the power of creativity to drive business results and impact the world. With over two dozen offices across our network earning recognition, this represents a true team effort. Congratulations to all our people across the network who had a hand in this collective effort, and a special thanks to our clients for their continued partnership and trust."
Barbara Levy, President of LIA, said: "Several Ogilvy agencies achieved milestones in the show this year. We are delighted to award Ogilvy Honduras winning the first Grand LIA for Honduras.  This achievement is even more meaningful as it is the first time LIA is awarding a Grand for Public Service/Social Responsibility in the inaugural Creativity in PR competition. There were also two Grand LIAs in Asia - one for Thailand, the other for India. Add to that, the 112 gold, silver and bronze statues, demonstrate that Ogilvy has always been a creative giant.  This year proves it!  Heartiest congratulations!"
The LIA Network of the Year win caps off an impressive year for Ogilvy. The creative network also won Network of the Year at the 2022 Cannes Lions International Festival of Creativity and The One Show. Ogilvy was the only agency network to secure top rankings on both WARC's Creative 100 and Effective 100. Additionally, Ogilvy was named Network of the Year for 2022 by Campaign Magazine. 
About Ogilvy  
Ogilvy inspires brands and people to impact the world. We have been creating iconic, culture-changing, value-driving ideas for clients since David Ogilvy founded the company in 1948. We continue building on that rich legacy through our borderless creativity—operating, innovating, and creating at the intersection of talent and capabilities. Our experts in Advertising, Experience, Public Relations, Health, and Consulting work fluidly across 131 offices in 93 countries to bring forth world-class creative solutions for our clients. Ogilvy is a WPP company (NASDAQ: WPPGY). For more information, visit Ogilvy.com, and follow us on  LinkedIn, Twitter, Instagram, and Facebook.  
Media Contacts:      David Ford / david.ford@ogilvy.com 
# # # 
Interested in bigger, bolder ideas? Sign up for our newsletter for more insights on how brands can make an impact on the world.
Share