Ogilvy Named Global Network of the Year at 2021 LIA Awards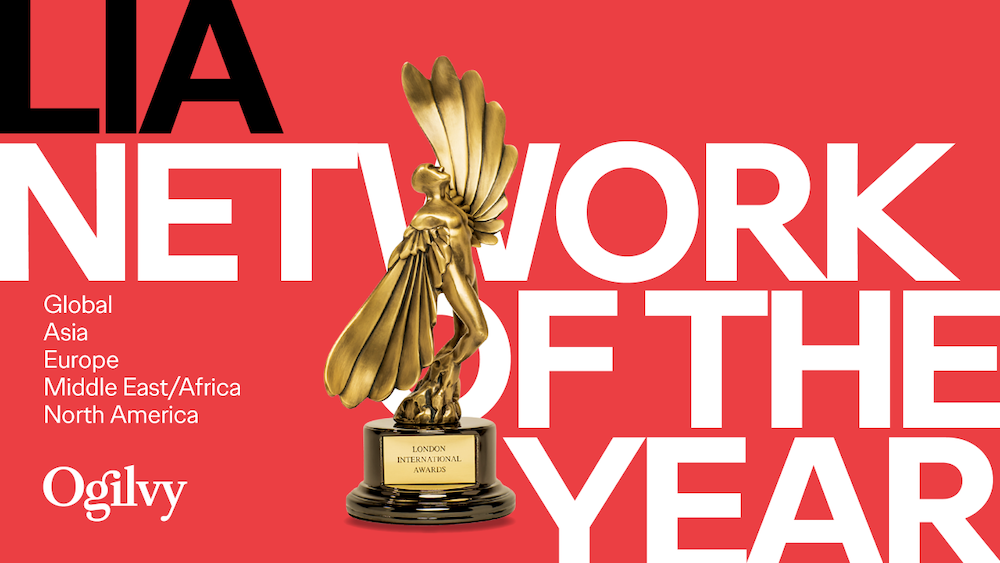 NEW YORK, NY, November 17, 2021 — Ogilvy is proud to be named Global Network of the Year at the 2021 London International Awards (LIA). Ogilvy also earned the Network of the Year designation across four regions including North America, Europe, the Middle East/Africa, and Asia. Additionally, DAVID Miami was named the Agency of the Year in North America. Ogilvy is delighted to congratulate Burger King for earning the honor of Client of the Year.
Liz Taylor, Ogilvy's Global Chief Creative Officer, said: "Winning any Network of the Year award is a great honor, but earning that designation on a global level—as well as in a number of regions—at a prestigious award show such as the LIAs is incredibly gratifying. It's a testament to the hard work of every single Ogilvy employee as well as the dedication and brilliance of our creative teams around the globe, who demonstrated their ability to create work that drives growth for our clients and makes an impact on the world."
Ogilvy's global network was awarded a total of 188 honors that represented creative work from 26 offices. The network's performance was bolstered by five coveted Grand awards including two for "Moldy Whopper", a collaboration between DAVID Miami, INGO Stockholm, and Publicis for Burger King, two for DAVID Madrid's "Stevenage Challenge" also for Burger King, and one for "Courage is Beautiful," a collaboration between Ogilvy London and Toronto. In addition to the five Grand, the agency won 37 Gold, 40 Silver, and 62 Bronze, with 44 Finalists.
Joe Sciarrotta, Deputy Global Chief Creative Officer of Ogilvy, said: "We're immensely proud of our performance at this year's LIAs, particularly the strength we displayed across categories, mediums and platforms. Our teams all over the globe created a number of memorable, meaningful campaigns that proved the power of our Borderless Creativity. Sincerest thanks to the winners and to our brave clients for their partnership, trust, and collaboration."
The LIA honors follow a year of industry recognition for Ogilvy at creative award competitions. Ogilvy was named Agency Network of the Year and DAVID Miami was awarded the Agency of the Year honors at the 2021 Clio Awards. At the 2021 Cannes Lions Festival of Creativity, Ogilvy was named one of the top global creative networks, taking home 81 Lions, more than any other agency, including 1 Titanium, 8 Grand Prix, 14 Gold, 27 Silver, 31 Bronze as well as 126 Shortlists. At The One Show 2021, Ogilvy's ability to have an impact on the world was on display with LEGO's "Green Instructions" winning the Green Pencil, while "Naming the Invisible by Digital Birth Registration" for Telenor Pakistan awarded the Sustainable Development Goals Pencil.
About Ogilvy 
Ogilvy inspires brands and people to impact the world. We have been creating iconic, culture-changing, value-driving ideas for clients since David Ogilvy founded the company in 1948. We continue building on that rich legacy through our borderless creativity—operating, innovating, and creating at the intersection of talent and capabilities. Our experts in Public Relations, Growth & Innovation, Advertising, Health, and Experience work fluidly across 132 offices in 82 countries to bring forth world-class creative solutions for our clients. Ogilvy is a WPP company (NASDAQ: WPPGY). For more information, visit Ogilvy.com, and follow us on LinkedIn, Twitter, Instagram, and Facebook. 
Media Contacts: David Ford / david.ford@ogilvy.com / 1-917-327-6288
# # # 
Interested in bigger, bolder ideas? Sign up for our newsletter for more insights on how brands can make an impact on the world.
Share