Ogilvy Earns Network of the Year at The One Show Awards for Second Straight Year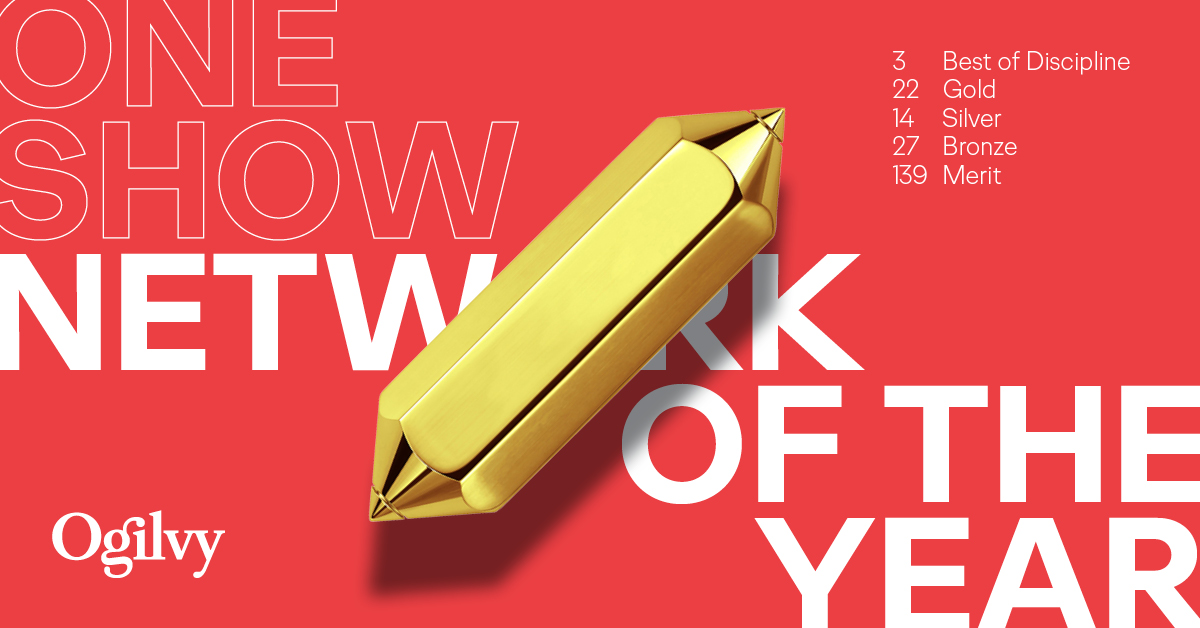 NEW YORK — MAY 19, 2023 — With a total of 205 recognitions including 3 Best of Disciplines, 22 Gold, 14 Silver, 27 Bronze, and 139 Merits, Ogilvy was named 2023 Network of the Year at The One Show. This marks the second consecutive year Ogilvy has taken home the top honor at The One Show, one of the world's most prestigious and competitive awards programs honoring the best in advertising, design, and digital marketing.
Liz Taylor, Ogilvy's Global Chief Creative Officer, said: "Earning back-to-back Network of the Year honors at The One Show is an incredible achievement and a true honor. We're proud that so many teams, from 34 offices in all, were recognized for big, bold ideas and their flawless execution of them.  This honor demonstrates that borderless creativity has the power to create unreasonable impact for clients and communities around the globe. "
The much-awarded "Morning After Island" campaign for GePAE by Ogilvy Honduras continued its incredible run, earning two Best of Discipline honors—one for Best of Cultural Driver and one for Best of Public Relations. "The Innocent Eyes" for Voiz by Ogilvy Bangkok also won Best of Discipline in Film & Video.
Among the Ogilvy campaigns to earn Gold were: Ogilvy UK's "The Hornicultural Society" for Relate, "Have a Word" for Mayor of London, and Dove's "Toxic Influence"; DAVID Madrid's "Even More Confusing Times" for Burger King and "Scratchboards" for Activision; DAVID Sau Paulo's "Burger Glitch" for Burger King and "Duet Delivery" for Burger King; Ogilvy Bolivia's "Appbulance" for Soulftware; Ogilvy Spain's "LaLiga Kickoff" for LaLiga; Ogilvy Bangkok's "Contact Lens", "Left and Right", "The Battle", and "The Eyes" for Voiz, and "Love Your Gut" for Dutchie Yogurt; Ogilvy Bogotá's "The Fresh System" for Carulla; and Ogilvy Frankfurt's "Escape" for Deutsche Bahn (German Rail).
This honor continues a successful year for Ogilvy. Last month, Ogilvy was named Network of the Year at the Clio Awards, and in March earned the #1 ranking on WARC's Creative 100 and Effective 100 lists. Ogilvy was also named to Fast Company's Most Innovative Companies list for its effective use of AI to drive business results.
The One Show is among the top three global awards programs for advertising, design, and digital marketing. An international panel of creative and business leaders judge the creativity of ideas and quality of execution of each submissions. It is produced annually by The One Club for Creativity, the world's foremost non-profit organization whose mission is to support and celebrate the success of the global creative community.
About Ogilvy 
Ogilvy inspires brands and people to impact the world. We have been creating iconic, culture-changing, value-driving ideas for clients since David Ogilvy founded the company in 1948. We continue building on that rich legacy through our borderless creativity—operating, innovating, and creating at the intersection of talent and capabilities. Our experts in Advertising, Experience, Public Relations, Health, and Consulting work fluidly across 131 offices in 93 countries to bring forth world-class creative solutions for our clients. Ogilvy is a WPP company (NYSE: WPP). For more information, visit Ogilvy.com, and follow us on  LinkedIn, Twitter, Instagram, and Facebook. 
Media Contacts: David Ford / david.ford@ogilvy.com
Interested in bigger, bolder ideas? Sign up for our newsletter for more insights on how brands can make an impact on the world.
Share