The Rapid Adjustment Of Customer Experience Strategy in Response to COVID-19
There's no question that your life, your employees' lives, and the lives of your customers have changed over the last month. There's probably been no better time to be able to empathize with your customers and employees — scared, worried about the future, feeling restless: we're all in the same boat. Although we don't know what changes will be permanent, we can already see that customers' attitudes about the brands they engage with are changing. As a result, your customer experience (CX) strategy will likely need to change as well. When thinking about how your customer experience will change in the face of COVID-19, you need to be AWARE.
AWARE
A – Assess Your Employee Experience
Assess the state of your employees and your ability to deliver an experience that will meet customers' expectations during this time. How are your employees holding up? Have you made a clear plan for their health and safety? Do they have the resources they need to do their jobs and support your customers' needs during this time?
Your employees' mental state and ability to do their job will have a profound effect on your customer experience. A recent Gallup poll states that only 54 percent of employees strongly agree that, considering the recent impact of COVID-19 on their job, they feel well-prepared to do their work.1 Just as you are instructed to put on your oxygen mask before helping someone else on an airplane, you must make sure that you are internally safe and healthy before reaching outward. This may mean understanding that your employees can't do as much because they're working from home while managing children and their schooling or that your essential employees require more sick time or more protective gear. Regardless of what it is, employee health — mental and physical — is imperative to creating a good experience for your customers.
W – Watch (and Wait)
Unless you have an immediate way that your brand can help contribute to the fight against COVID-19, take some time to evaluate what your customer base needs and how you can help. For many brands, this is a very scary time, and there will be a lot of pressure to do something! However, doing the wrong thing at this time could be more damaging to your customer relationships than doing nothing.
Ask yourself, How are our customers engaging with our brand during this time? Have we seen an increase or decrease in business? What about our customer experience metrics? A decrease in business may be unavoidable, but you may notice that your customers continue to engage with some of your touch points regardless. You may even see some of those metrics increase as customers make plans or wishes for the future. This data will help you understand what is still working within your customer experience strategy.
This is a good time to connect directly with customers through your customer service channels. Put your researchers and other CX team members on the front lines of your customer service, listening in on calls and observing social media channels. It's important to understand how people are thinking about your products and services before you start making changes to your customer touch points and communications. According to Forrester, 4 in 10 consumers anticipate that they will get things done from home and reduce spending overall.2 Digging deeper, consumer attitudes about what activities they will engage in are changing drastically, and your brand is likely not immune to these changing mindsets.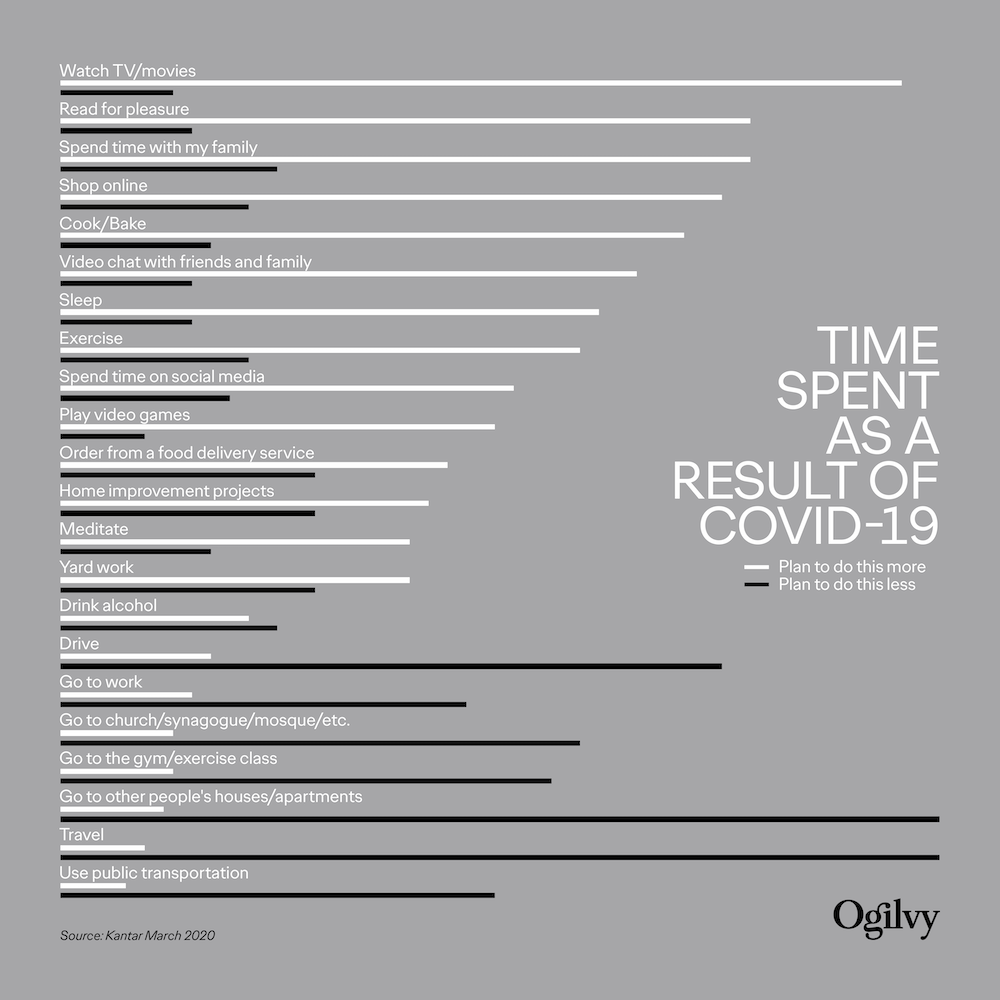 A – Adjust Your Artifacts
Even if you've done careful and diligent work creating your customer and employee experience artifacts, such as personas, journeys, and service blueprints, chances are that they are going to need some adjustments now. At least for a period of time, maybe forever, our world has changed, and customer needs and pain points have likely changed with it. Use the information you've gained during the watch period to inform these adjustments.
Although it's possible that your core product and service touch points and maps won't change during this time, I'll bet you'll find that personas and communication touch points will need to be updated. If you have a robust online business, you may find that you have new types of customers that have never found you before. If you are a brand with physical locations, you're likely experiencing drastic changes to your customer journeys as a result of social distancing. Adjusting your artifacts to show where your customers' thoughts are today will help ensure that every team is working from the same information when changes are made. Distribute any updated artifacts to all relevant teams — CX, innovation, product, marketing, and customer service.
R – Rethink Your Strategy
Now it's time to rethink your customer engagement strategy. Do the changes to your customer behaviors or needs necessitate updated or new solutions or communications? Do your employees need new tools to help themselves be more efficient or to serve a new type of customer?
To determine what touch points you need to rethink, first compare your previous CX artifacts to your new ones. Discuss the changes with your teams. Are there easy ways to address the changes using existing messaging or solutions? If not, highlight these as areas of opportunity for ideation. Next, consider your new journeys and personas in the context of our new COVID-19/post-COVID-19 reality. According to Forrester, only 24 percent of U.S. online adults trust that companies are currently putting their health and well-being first when making business decisions.3 Do your communications and marketing feel appropriately sensitive to your employees' and customers' state of mind and current reality? For instance, if all the images on your website show people in close proximity to one another, could that make your customers feel uncomfortable? Don't give your customers reasons to doubt or misconstrue your intentions or sensitivity to their situation.
After you've determined where you need to adjust your touch points, determine the value to the business and complexity of the change to create a plan that prioritizes changes to drive the biggest gains quickly.
E – Ensure Success
So you've realigned your strategy, your employees have the tools that they need, and your revised touch points are rolling out. Now is the time for you to really engage with your customers and employees by listening, responding clearly and directly, and measuring your changes to ensure that everything is working as you expect.
Continue to monitor call center data, social media, and other forms of qualitative customer input to ensure that your customers' needs are being met. Also, make sure you've implemented a feedback loop on any employee experience changes you've made. When you respond to concerns, continue with clear and transparent messages so that your employees and customers know what to expect.
Measure your touch point engagement, conversion, and satisfaction metrics to ensure that you made the right changes. Use measurement as a way to guide further changes or revisions to your strategy and ensure that your CX is generating value for your business.
If you're interested in learning more or would like help with your rapid CX strategy response, contact us for a walk-through of the AWARE framework.
Notes:
1 Gallup, "COVID-19: What Employees Need From Leaders Right Now," Jim Harter, March 23, 2020, https://www.gallup.com/workplace/297497/covid-employees-need-leaders-right.aspx
2 Forrester, "A Snapshot Of US Consumers' Attitudes And Behavior During COVID-19," Anjali Lai, March 20, 2020, https://go.forrester.com/blogs/a-snapshot-of-us-consumers-attitudes-and-behavior-during-covid-19/
3 Forrester, "Decision Making During The COVID-19 Crisis Requires A Bias Toward People, Not Profit," Anjali Lai, March 17, 2020, https://go.forrester.com/blogs/decision-making-during-the-covid-19-crisis-requires-a-bias-towards-people-not-profit/
Interested in bigger, bolder ideas? Sign up for our newsletter for more insights on how brands can make an impact on the world.
Share