Audi of America Names Ogilvy New Creative & Strategic Agency Partner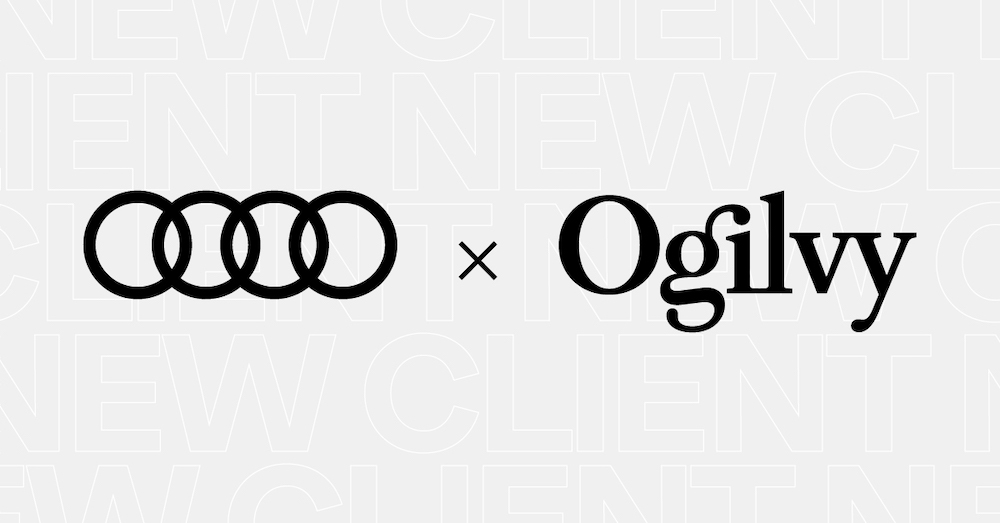 NEW YORK — MAY 20, 2022 — Ogilvy today announced it has been selected by Audi of America as its new creative and strategic agency partner. Ogilvy will be responsible for developing innovative creative ideas that showcase Audi's sustainable, inclusive, and innovative customer experience while delivering the sophisticated design, technology, and performance the brand is known for.
Tara Rush, Chief Marketing Officer for Audi of America, said: "With the launch of our global brand campaign, 'Future is an Attitude,' we are transforming and reshaping the perception of Audi in the U.S." said Tara Rush, chief marketing officer, Audi of America. "We are thrilled to welcome Ogilvy as our new creative and strategic agency of record. Together, we will bring to life an innovative, purposeful and electric future – a story we look forward to sharing with our Audi fans and customers."
Devika Bulchandani, Global President of Ogilvy, said: "Audi's ambition to use the power of creativity to not only move their brand forward but move the automotive industry forward is inspiring. We're honored to be working with a team that is curious about the ways Audi can impact the world and is committed to building a brand from the inside out that is meaningful, human, and inclusive." 
This marks an expansion of Ogilvy's relationship with Audi globally. The agency is also working with the luxury automaker in markets including South Africa, China, and Germany. 
About Audi of America 
Audi of America, Inc. and its U.S. dealers offer a full line of German-engineered luxury vehicles. AUDI AG is among the most successful luxury automotive brands, delivering about 1.845 million vehicles globally in 2019. In the U.S., Audi of America sold just over 224,000 vehicles in 2019 and launched the brand's first fully electric vehicle, the Audi e-tron – one of four fully electric models coming to the U.S. market in the next two years. Globally, the brand aims to be CO2 neutral by 2050. Visit audiusa.com or media.audiusa.com for more information regarding Audi vehicles and business topics. 
About Ogilvy  
Ogilvy inspires brands and people to impact the world. We have been creating iconic, culture-changing, value-driving ideas for clients since David Ogilvy founded the company in 1948. We continue building on that rich legacy through our borderless creativity—operating, innovating, and creating at the intersection of talent and capabilities. Our experts in Advertising, Experience, Public Relations, Health, and Consulting work fluidly across 131 offices in 93 countries to bring forth world-class creative solutions for our clients. Ogilvy is a WPP company (NASDAQ: WPPGY). For more information, visit Ogilvy.com, and follow us on  LinkedIn, Twitter, Instagram, and Facebook.  
Media Contacts: David Ford / david.ford@ogilvy.com  
# # #  
Interested in bigger, bolder ideas? Sign up for our newsletter for more insights on how brands can make an impact on the world.
Share