Ogilvy Honored with Sustainable Development Goals and Green Pencils at 2021 One Show Awards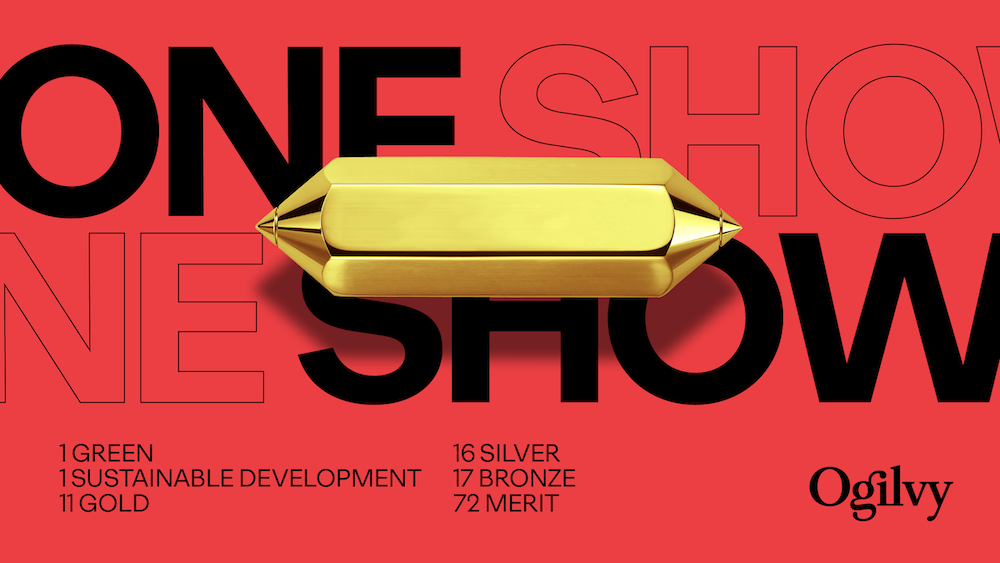 NEW YORK, NY – June 10, 2021 – The One Show announced its 2021 winners today, and Ogilvy is proud to have earned top honors in both Green and Sustainable Development Goals for two successful campaigns: "Green Instructions" for LEGO by Ogilvy Warsaw earned the Green Pencil, while "Naming the Invisible by Digital Birth Registration" for Telenor Pakistan by Ogilvy Islamabad was awarded the Sustainable Development Goals Pencil.
In total, Ogilvy earned 11 Gold Pencils, 16 Silver Pencils, 17 Bronze Pencils, and 72 Merits with 28 offices contributing to Ogilvy's total haul at this year's One Show, highlighting the strength of the agency's global creative network.
"We're immensely proud of all our offices who earned honors at this year's One Show, one of the most prestigious award shows in our industry," Piyush Pandey, Chairman of Global Creative, Ogilvy said. "I am particularly thrilled for our campaigns that earned top marks in the Green and Sustainability Development Goals areas, as these honors represent our ability to help brands make an impact on the planet and the communities in which they serve. I also want to thank our clients for their incredible collaboration and embrace of our Borderless Creativity, which spurs big ideas that make an impact and grow brands and businesses."
Among its 11 Gold Pencils, Ogilvy was recognized for its work with Burger King for "Confusing Times" by DAVID Madrid; Pizza Hut for "Pizza Hut x IKEA SAVA" by Ogilvy Hong Kong, and Dove's "Courage is Beautiful" by Ogilvy UK / Toronto. DAVID Miami also won Gold for Budweiser's "Bigger Picture", Ogilvy Bogotá earned a Gold for "NarcoStore" for Colombia Con Memoria Foundation, and Ogilvy Mexico won Gold for "Victoria 1.8" for AB InBev Modelo.
Ogilvy was awarded across key categories including Creative Use of Data, Interactive & Online, Experiential & Immersive, Public Relations, Branded Entertainment, Digital Craft, Social Media, as well as Direct, Print, Radio/Audio, Integrated, Out of Home, Film and more.
Andy Main, Ogilvy's Global Chief Executive Officer, said: "Ogilvy exists to inspire people and brands to have an impact on the world and our performance at the One Show is a shining example of how we are doing just that. Work of this magnitude is the result of our network's borderless creativity and the bravery of our creative talent. We are continually grateful for the trust and partnership of our incredible clients who help us bring to life big, meaningful ideas everyday."
About Ogilvy
Ogilvy has been producing iconic, culture-changing marketing campaigns that have grown brands and businesses since the day its founder David Ogilvy opened up shop in 1948. Today, with 132 offices in 83 countries, Ogilvy's singular ambition is to be the best creative partner and platform for growth on the planet. Ogilvy's deep expertise in almost every field coupled with its award-winning global network allow it to scale value-driving ideas at lightning speed – all powered by world-class creativity to give clients an unfair advantage in this complex, noisy, hyperconnected world. In 2020, two of the world's most prestigious creative award shows, D&AD and The One Show, recognized Ogilvy as the Network of the Year, a reflection of its ability to use creativity to transform business and culture. Ogilvy is a WPP company (NASDAQ: WPPGY). For more information, visit Ogilvy.com, and follow Ogilvy on Twitter, Instagram, Facebook, and LinkedIn.
For more information contact: David Ford / david.ford@ogilvy.com
# # #
Interested in bigger, bolder ideas? Sign up for our newsletter for more insights on how brands can make an impact on the world.
Share