Ogilvy Wins Creative Effectiveness Grand Prix for Cadbury's 'Shah Rukh Khan My Ad'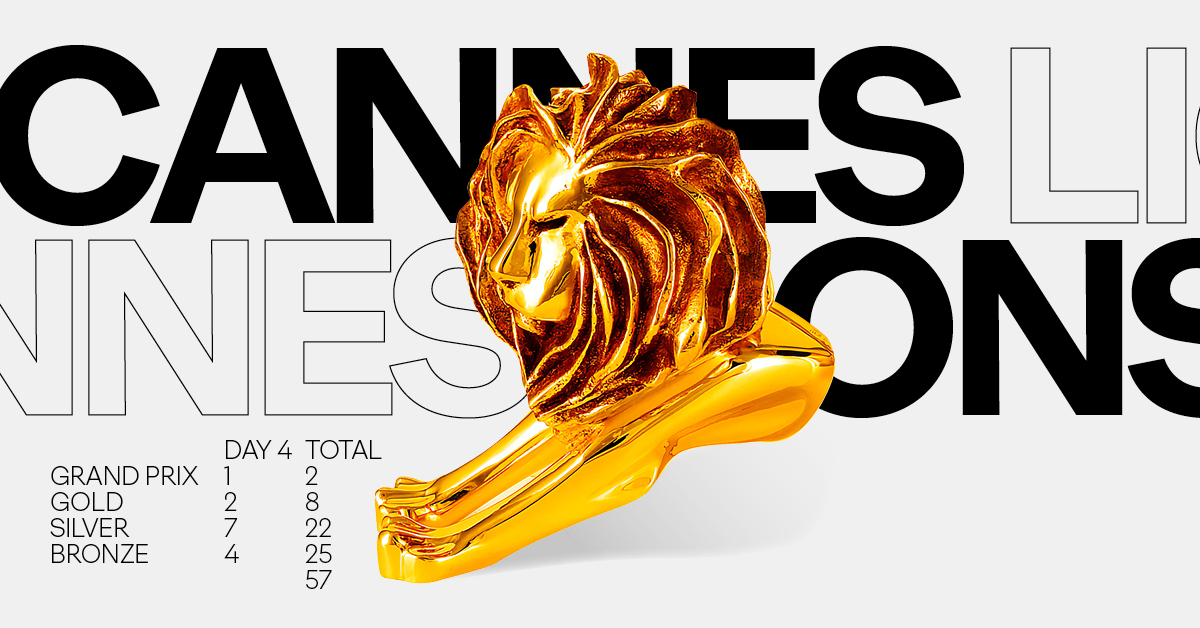 NEW YORK, NY – June 22, 2023 – On Thursday at the 2023 Cannes Lions International Festival for Creativity, Ogilvy secured its second Grand Prix of the week for the Mumbai office's work (along with Wavemaker) on Cadbury's "Shah Rukh Khan-My-Ad". The network also secured two more Gold Lions out of Ogilvy Honduras for Regal Spring's "Heaven Fish" and Grupo Estratégico PAE's "Morning After Island", as well as 7 Silver Lions and 4 Bronze Lions for a daily total of 13 awards – bringing Ogilvy's total to 57 Lions for the festival thus far. 
Ogilvy Mumbai and Wavemaker's work for Cadbury was recognized with the Creative Effectiveness Grand Prix in the Market Disruption category. "Shah Rukh Khan-My-Ad" was created in the wake of the pandemic, as local businesses in India struggled to fight back from economic hardship compared to big brands with deep pockets. Together, Ogilvy Mumbai and Cadbury Celebrations helped make Shah Rukh Khan – the world's biggest movie star – a brand ambassador for thousands of small businesses, using machine learning to recreate the real-world Bollywood celebrity's face and voice to use in ads for local shops, bringing more power to the people.
Ogilvy India Chief Creative Officers Kainaz Karmakar, Harshad Rajadhyaksha, and Sukesh Nayak said: "We are overjoyed and humbled to be given the Grand Prix for Creative Effectiveness for "Shah Rukh Khan-My-Ad." This is a result of the dedication and effort of our fabulous teams at Ogilvy and Mondelez. We also thank Rephrase and Wavemaker for their valuable role in making our idea a reality. This Lion is the biggest acknowledgment of how this campaign has helped over 200,000 small stores across India through a tough time. This is personalization at scale and more importantly, generosity at scale."
For Ogilvy Honduras' Gold Lion wins, one coveted prize came in Brand Experience & Activation – Cultural Insight for the "Heaven Fish" campaign. "Heaven Fish" captures the famous rainy season phenomenon where fish fall from the sky as a result of waterspouts forming funnel clouds that suck up the fish and spin them off. For the hardworking people of Yoro, Honduras – who on average make only a dollar per day in U.S. currency – this natural phenomenon is considered a miracle. Together with Regal Springs, one of the largest fish wholesalers in Central America, Ogilvy Honduras began safely gathering, registering and authenticating the fish, to then be processed and shipped across the country. More than 80 public markets throughout the country now sell heaven fish directly to consumers, which has helped increase the people of Yoro's daily wage by 400% as a predictable, sustainable and profitable business partnership.
The second Gold Lion for Ogilvy Honduras is a powerful example of how creativity can influence policy to create real change in people's lives – winning in the Creative Strategy – Not-for-profit/Charity/Government category. Honduras is the only Latin American country to ban the morning after pill, where one in four girls become mothers before the age of 18 and taking the pill can earn women up to six years in prison. Together with women's rights advocacy group Grupo Estratégico PAE, Ogilvy created "Morning After Island" to provide a place where women could go to take the pill without fear of prosecution – and on March 8, 2023, change finally came. The president of Honduras signed a full repeal of the prohibition, making the pill available to all Honduran women. 
Cesar Chinchilla, Chief Creative Officer of Ogilvy Honduras, said: "Winning Gold for the second year in a row fills us with joy and gratitude. Big thanks to all who continue to believe in our operation alongside Heaven Fish and Morning After Island. Huge thanks to all who championed us. We reiterate our creative commitment to continue delivering purpose driven ideas."
A selection of Ogilvy's winning work can be viewed on Ogilvy.com and on the agency's social media channels. Keep up with Ogilvy and Cannes-related news throughout the festival by following us on LinkedIn, Twitter, Instagram, and Facebook and #OgilvyCannes.
About Ogilvy  
Ogilvy inspires brands and people to impact the world. We have been creating iconic, culture-changing, value-driving ideas for clients since David Ogilvy founded the company in 1948. We continue building on that rich legacy through our borderless creativity—operating, innovating, and creating at the intersection of talent and capabilities. Our experts in Advertising, Experience, Public Relations, Health, and Consulting work fluidly across 131 offices in 93 countries to bring forth world-class creative solutions for our clients. Ogilvy is a WPP company (NYSE: WPP). For more information, visit Ogilvy.com, and follow us on  LinkedIn, Twitter, Instagram, and Facebook.  
Media Contacts: David Ford / david.ford@ogilvy.com 
# # #  
Interested in bigger, bolder ideas? Sign up for our newsletter for more insights on how brands can make an impact on the world.
Share