Integrating Mental Well-Being into Your Employee Experience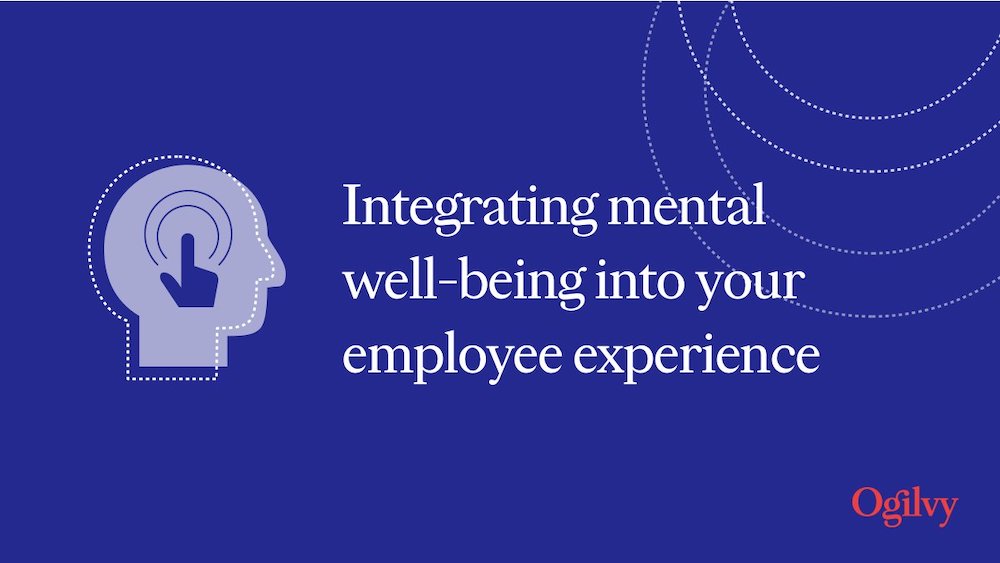 The idea of resilience has gained attention as the pandemic has settled in. In this context, resilience refers to the set of skills that are learned and applied by a person during an exposure to a difficult — but manageable — experience.
Resilience isn't simply genetic; it's also a learned skill or a muscle we flex that grows stronger. Resilience builds from exposure to tough circumstances that we then learn to grow out of. It's the ability to recover from difficult setbacks, to adapt, to move forward.
However, the reality is, this muscle isn't easy to flex. Resilience calls for optimism and the ability to move past the negative to focus on the opportunities during dark times. To build resilience, we must first look at our overall mental health and well-being. Consistent uncertainty, changing everyday norms and needs, and stressful situations can take a significant toll on our mental health; this can be worrying and hinder our ability to build resilience.
Mental health and employees
Right now, in the context of work, employees are facing new stressors, and this may be impeding their ability to build resilience. For example, a few realities include:
A lack of physical proximity to coworkers, leading to a deep feeling of loneliness
Asking "what's the point?" of the work when not able to link it to a collective purpose or sense of belonging
Anxieties building up as a result of uncertainty about the organization's future
A feeling of being overworked, that work-life balance is diminished without the rigor of a normal routine
Besides caring about what people are up against and wanting to help them individually, organizations need to think about how they manage the effects of stress overall. When individuals are facing loneliness, doubt or potential burnout, even the simplest of work duties can be a challenge.
Efficiency and effectiveness dwindle because the physical and emotional burdens of anxiety can cause people to miss work. They also affect people's job performance and, ultimately, job loyalty, making this a critical issue for employers to focus on. In fact, mental health and substance abuse cost U.S. businesses between $80 billion and $100 billion annually.¹
As an employer, failing to account for the whole person — including employees' mental well-being, beyond just their ability to do a job on paper — can hurt productivity, professional relationships and the bottom line.
Supporting well-being: a sound business strategy
Although some employers were already taking a more holistic view of employees, leading employers in tumultuous times do more than up their company communications. Some are even going so far as to incentivize well-being by paying employees who take consistent, thoughtful action in activities that benefit mental health.
In evolving your organization's approach to well-being and caring for the whole person, consider these three pillars:
The programs and coverage to support employee mental health
The culture, office norms and expectations of work-life balance
The role of leadership and managers in providing clarity and direction
Incorporating programs and coverage to support employee mental health
This is perhaps the most fundamental and least nuanced of the three pillars. And while many organizations already offer health benefits, employers who lead in mental health initiatives build tools and services to support well-being into their standard HR and benefits operations.
Start by evaluating health benefits coverage and explore things such as:
The extent to which mental health services are covered under insurance
The use of what's traditionally referred to as sick time for mental health days
The use of an employee well-being guide that highlights services and tools
Pulse survey tools that allow you to check in on employee mental health and work stress
In some organizations, HR departments are getting creative with this. One organization explored using opt-in cohorts of employees who would check in on each other, supporting one another in pursuing activities that improved or maintained mental health, while another is testing out well-being bingo. If budgets are a concern, take a moment to explore alternatives like this.
Evaluating the culture, office norms and expectations set for work-life balance
Programming and health coverage can be quickly undermined if the underlying culture of your organization doesn't respect, appreciate and practice healthy behaviors. Resilience builds as individuals learn to recover from difficult setbacks. This holds true within the context of organizational culture, too. If an employee's ability to adapt and move forward is stifled by a culture of pressure, toxicity and setbacks — new working circumstances, heavy workloads, tough projects or conflicts — the ability to build resilience may be lost. Instead, employees can become overwhelmed and spiral rather than recover.
Consider how the core elements of your organization's culture affect office norms, expectations for the nature of work and the sense of work-life balance. Does your culture support employees who tend to their well-being, or does it inadvertently work against them? Some elements of culture and "business as usual" norms to think through:
Aligning organizational objectives and making work feel meaningful can boost well-being. Are there opportunities for the goals of your company to link back to workplace mental health or a larger purpose?
Employees need an outlet to talk about work, concerns and barriers. Are there safe spaces for them to share this type of input?
Support is a critical element of culture that supports well-being. Do employees feel cared for? Are they interested in one another?
How has the nature of work changed for remote team members? Are there new systems for making sure they have the resources and access to needed? (Here's a guide for caring for the individual when working remotely.)
Working and nonworking hours — including expectations for answering emails, Slack messages or being available for meetings — need to be publicized. How are employees staying aligned about reasonable expectations for availability to one another?
Think critically about deadlines and project expectations. Are deadlines fair, reasonable and equal across teams?
Maximizing impact: the role of leadership and managers
The first line of defense for employees is oftentimes their manager. Manager dynamics can make or break an individual's experience at an organization. Leaders can proactively support their employees' well-being in two overarching ways.
First, they can be pivotal in building resilience. We know that a key component of resilience is understanding the path forward; this allows individuals to begin to adapt. Especially during times of uncertainty — such as a global pandemic — perhaps the most detrimental approach a leader can take is glossing over reality. In helping employees build the muscle of resilience, leaders should not downplay tough or dark realities. When doing this, employees let their imaginations run wild and start to assume the worst. This can lead to a crippling effect. Instead, leaders should be clear, consistent and honest and share what's known about the direction forward.
Second, leaders and managers are responsible for setting the example of what it looks like to appreciate and respect the value of well-being and mental health. Whether it's taking a less task-oriented approach, demonstrating empathy and understanding in a one-on-one setting, or reinforcing the importance of off hours, there are a wide range of opportunities for leaders to set an example. If you're a manager who wants to be proactive in supporting employee mental health, consider these opportunities:
Stop. Listen to how your employees are doing. Show empathy and understanding even when you can't solve the problem. Feeling heard goes a long way.
Reinforce the importance of sticking to agreed-on work hours consistently and often. Employees will follow the example and expectation set by their leaders. If you're sensing burnout, be sure to check in.
Avoid responding to or sending emails outside of normal working hours. Although you may have an idea in the off hours, resist the urge to share it; it sets the expectation that an employee should be ready to respond. Save those emails as a draft to send first thing the next day.
Bring awareness to company resources for mental health support. This isn't just the job of HR. As a manager, you can be pivotal to the adoption of tools and services that the company has invested in.
Evaluate performance measurement criteria to make sure the goals and expectations that have been set out are realistic and sustainable.
Resilience, employers and action
A 2016 study found that for every $1 spent on caring for people with mental health issues, $4 is returned to the economy.² And, in one study of Canadian employers that had mental health programs in place for three years or more, they found a positive median yearly return on investment (ROI) of $2.18 when investing in mental health programs.
As we all work hard to strengthen our ability to be resilient and adapt to the realities of a pandemic, organizations have a clear opportunity to either support or hinder this pursuit. Organizations have the choice to prioritize the support needed to recover from difficulty and remain optimistic
Think critically about how your organization can get more intentional about employee well-being. Employees who feel a clear and genuine concern from their managers and employers are oftentimes more loyal, better advocates for the organization and less likely to look for work elsewhere.
Interested in bigger, bolder ideas? Sign up for our newsletter for more insights on how brands can make an impact on the world.
Share