Loyalty Programs in the Middle East: For Love and Not Just Money
Customer loyalty marketing is big business, valued at $7.6 billion globally.  But do loyalty programs actually make customers more loyal? Additional contribution by Antavo, a global pure-play loyalty technology provider.
How many loyalty programs are you signed up to? One, two, three…more? If more, then join the club (pun intended). On average, we're enrolled in 10 programs, but only 20% of us engage with all of them.[1]    
This is hurting business performance: according to a McKinsey study, loyalty-focused companies' revenues grew at a weighted average of 4.4% per year, compared to 5.5% for companies without rewards programs. Compounding matters for the former, because rewards-driven companies have 10% lower EBITDA margins than businesses that spend less on loyalty.[2]  
Given the proliferation of undifferentiated earn and burn programs, it's not surprising that 2 in 3 customers in UAE value cashback or discounts above all other features [3].  Customers are hooked on chasing discounts. Meanwhile there's plenty of opportunity to innovate and reshape loyalty marketing in the region.
What are the drivers of loyalty?
Loyalty is an outcome of strong customer relationships. It needs to be nurtured across many dimensions and addressed holistically. Successful programs forge ALL four 'bonds' of loyalty: financial, structural, social, emotional.[4]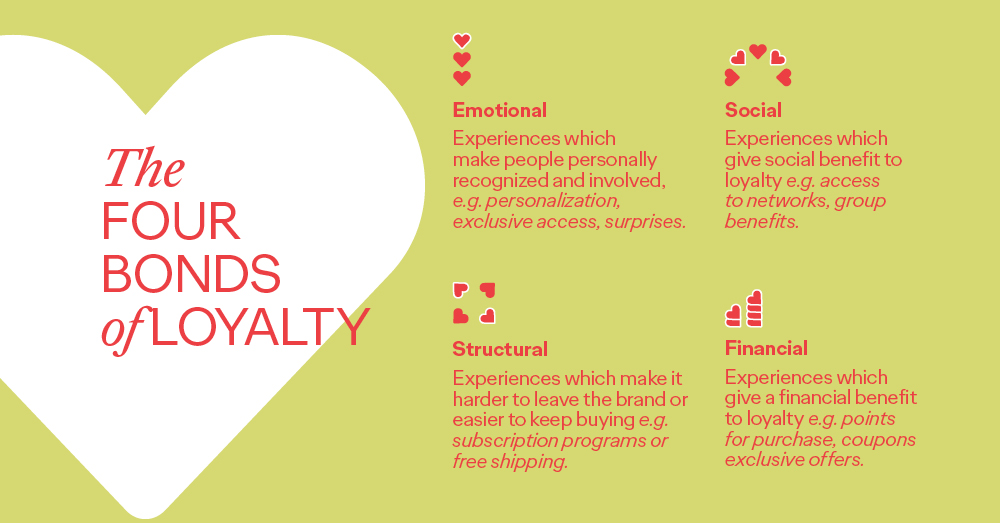 Financial and structural bonds are fundamental and the most obvious but on their own are not enough to create stand out anymore. Emotional and social bonds may be seen as soft but a recent study by Capgemini concluded that 70% of emotionally engaged customers spend 2x more on the brands they are loyal. So strategies for forging attachments and a sense of belonging to a like-minded community become less frivolous additions and more game changing.  These four bonds together will truly set apart loyalty marketing in the Middle East, ultimately generating higher returns for brands who take the plunge. 
Take Footlocker's FLX loyalty program. It successfully created a holistic experience through a tiered structure; a highly emotionally valued core proposition of redeeming points for a reservation slot for an upcoming product release, and diverse rewards beyond discounts.
FLX surpassed 11 million members in the U.S. in Q3 , and today members are spending 40% more than non-members. They also tend to shop more frequently, with the number of orders per customer more than 50% higher on average than non-members. [5]
So how can brands move forward to create true loyalty? 
Six considerations for next-generation loyalty
Paid membership is the new structural bond
The idea of asking people to pay a fee upfront — whether one-off or recurring — might seem too daring to work, but in fact, paid loyalty grew at a rate of 25 to 50% in 2018. [6]  More brands are going down this route so it's not just Amazon Prime.  For instance, nearly 40% of users subscribe to LinkedIn's Premium service.  It acts as an exclusive club for job seekers, recruiters and sales professionals individuals.  For a fee, individuals are given top-of-the-pile application spots, while businesses and recruiters appear at the top of job searches and are matched with the highest-rated professionals.  Brands can also create a paid membership layer within existing loyalty programs, just like Italian luxury fashion retailer LuisaViaRoma did when it created a VIP club inside its program.  Members pay a fee and in exchange they received early access to fashion drops.
It seems counter-intuitive but paid memberships appeal to customers because they signal value, and an exclusive consumer experience.  While more prosaic but paying upfront is a strong motivator to get the most out of the service.  So the advantages for brands go beyond covering the cost of funding premium rewards. McKinsey [6] found members of paid programs are 60% more likely to spend more on the brand, while free programs only increase that likelihood by 30%. Paid programs also drive other valuable behaviors, including increased shopping frequency and bigger basket size.  
Just bear in mind that to attract and retain customers, the benefits that people clamor for — such as free and faster shipping, or early access to products — have to outweigh the fee.  The answer to 'Is it worth it?' always needs to be a resounding YES. 
Personalization that matters
Personalization and loyalty go in hand in hand, or at least they're supposed to.  But it's quite hard to do right.  At Ogilvy, we look at personalization pragmatically, with a clear-eyed view of the constraints on companies.  It's about using whatever data you have AND adding real value (without being creepy).  However, to execute at scale requires technology and sophisticated analytical tools. Brands who can get the strategy and implementation right will reap the benefits as more (truly) relevant offers will help to reawaken customers' participation.
A startup in the Middle East that is getting it right and breaking the mould is REPEAT.  Its Smart Replenishment platform is designed to engender loyalty by enabling customers to take full advantage of better prices the more often they visit their favorite restaurants. Similarly, the higher a customer's bill, the greater the value they receive. Personalized pricing taken to the next level.
Incentivize customers beyond spend
Customers interact with brands in a multitude of ways and all of these together are just as beneficial as spend in order to unlock total customer value.  For instance, , as well as rewarding every financial interaction, First Abu Dhabi Bank (FAB) also rewards behavior such as registering for digital banking, and initiating online transactions.  Why? Because, digital is a lower cost to serve channel so incentivizing these behaviors will directly benefit profitability.  
The interactions can also be indirectly helpful.  Loyalty programs can play a key role in enhancing customer data by allocating points and perks for completing their online profile, participating in a survey and so on.  Actions such as writing product reviews, and sharing purchases on social can also be incentivized since peer recommendations carry so much more weight these days than brand-driven messages.
From the customer's perspective, earning credits for multiple actions addresses one of their main gripes: the slow, tedious process of earning and redeeming points.  Younger customers want instant gratification so enabling them to accrue points in many ways, allows them to reward themselves with perks quicker and more often.
No strings attached 
There's a pervading theme when it comes to giving points for spend, social media shares, or for completing a challenge: quid pro quo — 'If you do this, I give you that'. 
Loyalty, however, is implicit, irrational and emotional.  Brand actions that break the quid pro quo can tap into these aspects.  Brand generosity and unconditional thank you's through simple gestures like surprise & delight perks, random prizes, free content, or giving people the option of donating rewards to a charity of their choosing can go a long way to build brand preference and goodwill.  One step further could be to facilitate people's interests as Nestlé, an Ogilvy client has done.  Through its infant nutrition loyalty programs in different markets, Nestle provides community platforms for parental topics, and free curated and expert content to its members.
Thanking customers for just being a customer may be radical, but by making such moves, brands are showing their commitment upfront.  It's a win-win.
Make it instant & easy
Customers often find the process using loyalty programs too tedious and complicated. This leads to disengagement.  A mobile app is the obvious choice and has become a hygiene requirement for most customers. Whether one chooses a dedicated loyalty app or integrating the features into an existing one like Careem successfully has, as Bottle Rocket points out, 80% of new users stop using the average app just three days after download.  So what does it take to be better than average?   A mix of personalization, user-centric design and a communications plan will help to keep app usage healthy.  So for instance, single tap enrollment, leveraging mobile features including location data and geo-fencing to create highly contextualized offers, and a strong push notification strategy can all help a loyalty app become more than just a tick-in-the-box exercise. 
Step outside the program
Quality, convenience, customer service and overall shopping experience are all rated more important than loyalty programs as drivers of loyalty according to customer research by Deloitte7.  So it's crucial that loyalty programs work with and enhance the total customer experience instead of being siloed off as a separate brand experience.  For instance, customer data from a loyalty program could be integrated to ensure seamless hand-off points between online and physical shopping experiences.  Or an instant chat feature, like Gerber US's personal baby expert 'Dotti' which can provide meaningful help quickly, but also be a real source of insights for any kind of loyalty marketing.  Although, to make all this happen, brands need to first define the moments that matter in a customer's journey.  Leveraging the relevant loyalty mechanics, omnichannel messaging, and technologies accordingly will then be more purposeful and powerful because as customer expectations and actual experience will be in harmony instead of discord.
The shine of loyalty programs has worn off as the higher revenues and profitability promised in the early and halcyon years of such schemes have fallen by the wayside. Brands would be best served to throw off the straitjacket of their Earn and Burn mentality and reset the rules. The onus should no longer be placed on customers to prove their loyalty to brands; it's time for brands to demonstrate their loyalty to customers. Only then will they earn customers' love and money.
Sources
[1] Codebroker 2018 Mobile Loyalty Survey
[2] McKinsey study 2013
[3] KPMG survey 2019
[4] Ogilvy proprietary framework
[5] Oracle case study
[6] McKinsey Paid Loyalty Consumer Survey 2020
[7] Deloitte Consumer Review
Share