Ogilvy Named 2022 Network of the Year by The One Show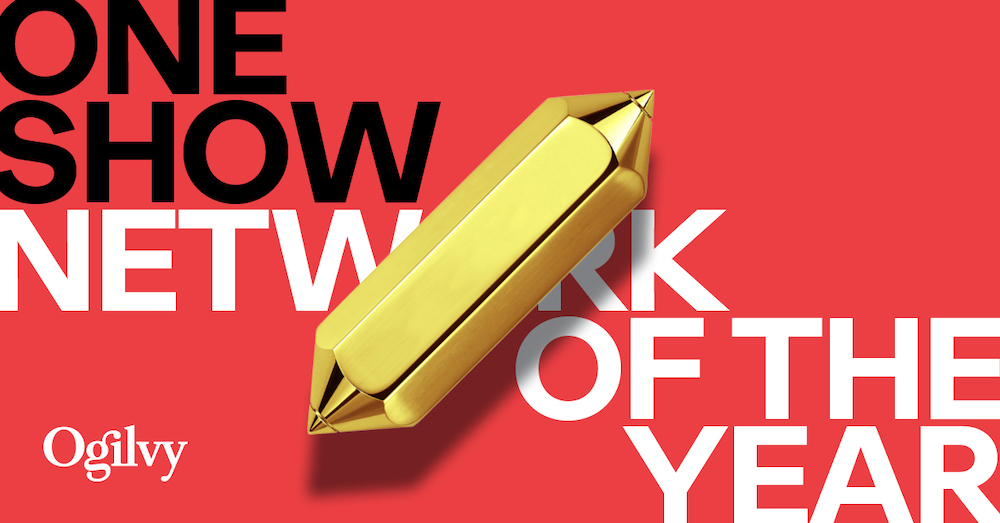 NEW YORK — MAY 20, 2022 — The One Show, the world's most prestigious award show in advertising, design, and digital marketing, has named Ogilvy 2022 Network of the Year in recognition of outstanding work across disciplines on behalf of its clients. Two dozen Ogilvy offices around the world contributed to the recognition by collectively winning 14 Gold, 16 Silver, 23 Bronze, and 75 Merit awards as well as a Best of Discipline in the Creative Effectiveness category for "Courage is Beautiful," a campaign created for Dove by Ogilvy's Unilever teams in the UK and Toronto.
Additionally, Unilever was named Client of the Year. This comes as Ogilvy's 65-year relationship with Dove was recognized with the prestigious Penta Pencil. The One Show recognizes that award-winning work is the result of a successful collaboration between creatives with great ideas and the clients who trust them. The Penta Pencil celebrates the impact and essence of this partnership with an honor awarded to an agency and brand team who, together, have created stellar work for five or more years.
Liz Taylor, Ogilvy's Global Chief Creative Officer, said: "It's humbling and thrilling to earn Network of the Year at the One Show. It is a great accomplishment, and most importantly a great team accomplishment. In particular, the honors we share with our incredible, brave clients are a testament to the power of borderless creativity to drive impact. I'm so proud of our teams across the network whose hard work led to this honor, and of our strong, collaborative relationships with our clients."
Mark Read, CEO of WPP, added: "Ogilvy's tireless commitment to world-class creativity produces ground-breaking work that resonates with audiences around the world and delivers impactful results for clients. Congratulations to everyone at Ogilvy on winning The One Show's Network of the Year honor—it is a testament to your passion and hard work, to the leadership of your network, and to your award-winning client partnerships."
Ogilvy's focus on borderless creativity resulted in meaningful collaboration across the globe and big creative ideas recognized across a range of categories and clients including AB InBev, Activision Blizzard, Bombay Sapphire, Burger King, Change the Ref, DoorDash, Dove, LEGO, Magazine Luiza, Mondelez, Relate, Sipsmith, The Chicago International Film Festival, Universal Music, and the Tourism Authority of Thailand, among others.
Campaigns awarded Gold Pencils included "Creativity is Essential" for Bacardi's Bombay Sapphire by Ogilvy PR's UK team in the Experiential & Immersive and Out of Home categories; "Even More Confusing Times" for Burger King by DAVID Madrid in the Radio & Audio category; "Home Sweet Home" for Tourism Authority of Thailand x Yggdrazil by Ogilvy Bangkok in the Gaming category; "Life, Scripted" for The Chicago International Film Festival by Ogilvy Chicago in the Out of Home category; "Reverse Selfie" for Dove by Ogilvy's Unilever teams in the UK and Toronto in both the Health & Wellness and Out of Home categories; "Shopping Inside Songs" for Magazine Luiza by Ogilvy São Paulo in the Direct Marketing category; "The Impossible Combo" for Burger King by Ogilvy São Paulo in the  Interactive, Online & Mobile category; "The Spotify Charthack" for Universal Music by Ogilvy Germany in the Film category; and "Welcome to the Flavourhood" for DoorDash Canada by john st.
This marks the fifth time Ogilvy has been named Network of the Year by The One Show, more than any other network. The previous four times were in 2020, 2017, 2014, and 2013—the year the category was launched. Earlier this year Ogilvy was also named the most creative agency network in the world for the second consecutive year by WARC. In fact, Ogilvy was the only agency network to secure top rankings on both WARC's Creative 100 & Effective 100 lists in 2021.
About  Ogilvy  
Ogilvy inspires brands and people to impact the world. We have been creating iconic, culture-changing, value-driving ideas for clients since David Ogilvy founded the company in 1948. We continue building on that rich legacy through our borderless creativity—operating, innovating, and creating at the intersection of talent and capabilities. Our experts in Public Relations, Consulting, Advertising, Health, and Experience work fluidly across 131 offices in 93 countries to bring forth world-class creative solutions for our clients. Ogilvy is a WPP company (NASDAQ: WPPGY). For more information, visit Ogilvy.com, and follow us on  LinkedIn, Twitter, Instagram, and Facebook.  
Media Contacts: David Ford / david.ford@ogilvy.com
# # # 
Interested in bigger, bolder ideas? Sign up for our newsletter for more insights on how brands can make an impact on the world.
Share