Ever Heard of HealthTok?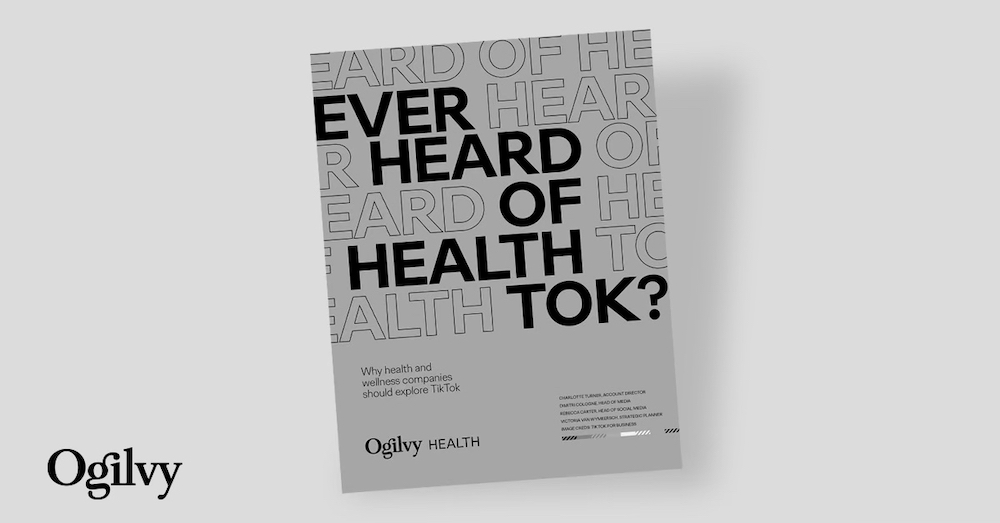 When it comes to companies taking the TikTok plunge, we don't spontaneously think of the healthcare industry. Yet, #medicaltiktok surpasses 2.5B views, and health content is one of the most-consumed topics on the platform. Also – according to different studies – up to 35% of people with chronic conditions seek app-based communities for support and information.
TikTok undoubtedly presents great opportunities for the healthcare industry, but, since health can be a sensitive topic and the industry is regulated, the main question is: how can pharma use the platform which is often seen as an entertainment platform for twenty-something year-olds? This white paper is not a love letter to TikTok nor a Gen-Z-centric narrative but uncovers examples of usage and guidelines on how to tap into the platform as a healthcare or pharma company.
Download and read Ogilvy Health's new report to learn all about the opportunities in front of health and wellness brands who embrace TikTok, and how they can benefit from those opportunities.
Get in touch to understand how your business can enter and/or grow further on TikTok: rebecca.carter@ogilvy.com.
The report is authored by:
CHARLOTTE TURNER, ACCOUNT DIRECTOR, OGILVY HEALTH
DIMITRI COLOGNE, HEAD OF MEDIA, OGILVY HEALTH
REBECCA CARTER, HEAD OF SOCIAL MEDIA, OGILVY HEALTH
VICTORIA VAN WYMEERSCH, STRATEGIC PLANNER, OGILVY HEALTH
Interested in bigger, bolder ideas? Sign up for our newsletter for more insights on how brands can make an impact on the world.
Share