Ogilvy Brand Impact Index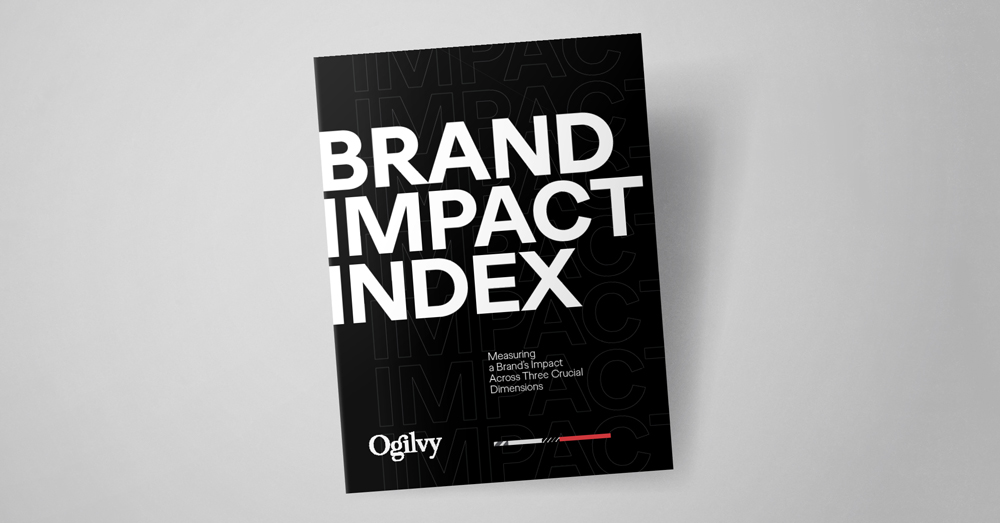 Ogilvy's stated mission is to inspire brands and people to make an impact. In our paper "The Shift From Image to Impact: How Brands are Creating an Antidote to Apathy," we define why brands need to change from marketing that conjures an image to marketing that makes an impact. However, the importance of being able to measure impact cannot be understated.
Perceptions of brand impact vary across cultures and from brand-to-brand. Impact for Apple is not the same as it is for IKEA, which will differ for Etsy—and so on.
The different aspects of impact make measuring it challenging, which is why WPP's Brand Asset Valuator (BAV)—the world's largest and longest-running brand model and database—was the ideal resource for assessing impact. BAV has captured 30 years of data on over 100,000 brands around the world on metrics that connect to current performance and future potential. Combining it with Ogilvy's own data led to the Ogilvy Brand Impact Index.
The Ogilvy Brand Impact Index zeros in on three ways brands can make the most impact. These three dimensions of impact—people, the planet, and performance.
For instance, brands with high impact on people are acting as personal heroes in consumers' lives by making them better, easier, and more efficient. People are passionate for these brands and willing to spread their love for them.
Brands with high impact on the planet are acting as citizens of the future by making society, our communities, and the world a better place. People trust and appreciate the efforts of these brands because they are contributing to the greater good. Impactful planet-focused brands are forward thinking and disrupt the status quo for the sake of the generations to come.
Brands with high impact on performance are acting as MVPs in the marketplace by having strong value propositions and momentum. Consumers are willing to pay a premium for these brands because they show what is next and transform how we think and live.
Learn more about the Ogilvy Brand Impact Index and view the inaugural rankings here.
Interested in bigger, bolder ideas? Sign up for our newsletter for more insights on how brands can make an impact on the world.
Share