Nothing Changes, Everything Changes: A Behavioral Perspective on the Metaverse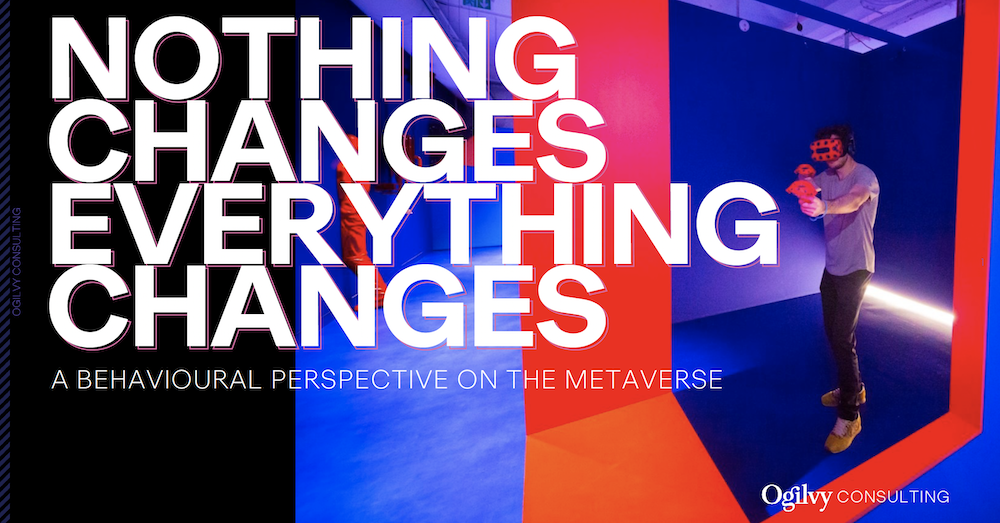 Imagine if you could work out with Arnold Schwarzenegger. Imagine learning about the D-Day landings, by running up the beaches yourself. Imagine walking through an art gallery in Berlin, playing cards in Las Vegas and then going clubbing in Tokyo, all in the same day.
This is what is made possible by the metaverse. 
The metaverse is a hypothetical 3D virtual place, where people can shop, socialize, attend events together and so much more. This hypothetical virtual world could soon be made a reality through the rapidly improving technology of virtual reality headsets, controllers, and their accompanying software. As a result, we believe that soon, it will be likely that much of societies' time and money, will be spent in the metaverse.
However, at Ogilvy, we understand that talk of virtual reality, NFTs and the metaverse is often an overwhelming topic for many. This technology is new for most, and many have never even tried virtual reality before. So, while business leaders understand that this is likely to be an extremely lucrative and important market to play in (USD 426.9 billion by 2027 according to marketandmarkets). Understanding what this technology means for society and businesses can be hard to predict.  
That's where this paper comes in. In this paper, we've combined our cutting edge understanding of the direction the metaverse is headed, with our unique expertise in behavioral science, to make our best predictions for how the metaverse is going to impact businesses and society at large. 
Through these lenses, we have identified 6 key opportunities that the metaverse could facilitate, that we think are important for brands to know. For example, we explore what the widespread use of avatars might mean for luxury brands. We predict that as people's social circles become increasingly virtual, the value of virtual status symbols may become as important or more important than physical symbols. This gives brands the opportunity to pioneer the virtual status symbol market and establish themselves as the most coveted virtual fashion company, in the metaverse. 
Another topic we explore is the implication of constant feedback. The idea being that in the metaverse, we can receive immediate and constant feedback for every action we take, in the form of animations, sound effects and so on. We predict, based on our understanding of psychology, that this constant feedback will make almost any experience in the metaverse, extremely engaging. As a result, industries that may have struggled with retention in the past, like the health and fitness industry, may become completely revolutionized as people find their virtual offerings far more stimulating. 
These are just two examples from our many insights inside this document. We believe that these insights will give business leaders a major head start when developing offerings that exist in the metaverse.
Download and read "Nothing Changes, Everything Changes: A Behavioral Perspective on the Metaverse".
Interested in bigger, bolder ideas? Sign up for our newsletter for more insights on how brands can make an impact on the world.
Share