How Ogilvy 485 Created the Agency's Updated Visual Identity System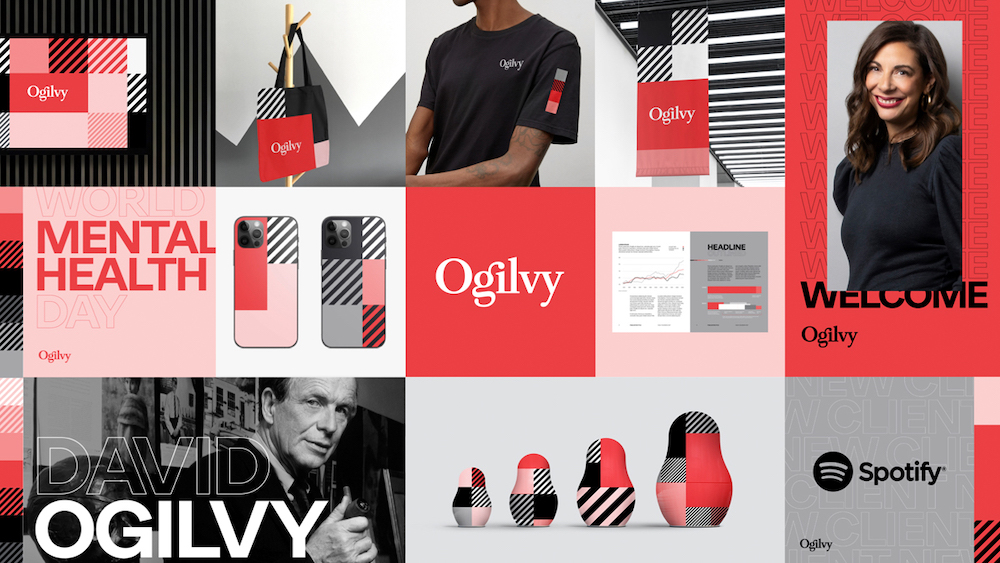 Every brand goes through changes. Some of these are by choice, others are in response to external circumstances, but any entity that's been around for a long time inevitably finds itself in position to evolve.
It wouldn't be accurate to say that a brand, left to itself, is nothing. But a brand is in the hands of its stewards—that is, the people behind it. It is an exciting but stressful task to evolve, update, or change any aspect of a brand, especially any successful brand that has existed for a long time.
As a champion of brands, Ogilvy has experience with helping its clients with this exact process. But when the brand you're tasked with updating is your own? It's a different feeling.
Last week Ogilvy unveiled an updated visual identity system. It builds on the full brand update that occurred just a few years ago, which was developed in partnership with COLLINS and featured a new logo, fonts, and color palette.
While much of that core visual identity remains, this latest update reflects Ogilvy's latest evolution as a champion of growth and impact, innovating at the intersections of capabilities and talent. The bright pink, yellow and blue accent colors of the past identity system have been updated with a modern, versatile color palette built on classic blacks and reds, and the team has introduced a new tartan pattern that pays homage to David Ogilvy's Scottish heritage, while also paving a way forward.
Ogilvy 485, a talented design department based in the agency's Chicago office, were the ones who earned this important ask and delivered the updated visual identity system (the group's name is a nod to Ogilvy's heritage itself; it's named after the Pantone color of the original Ogilvy red). For Executive Design Director Gabe Usadel, it was a huge honor to work on the Ogilvy brand, and also to build on the solid foundation that COLLINS built.
"It wasn't a project where we had to clean slate and start over because it was toxic, or wrong, or broken in some way," Usadel, who has been with Ogilvy since 2002 said. "It really just needed to be pivoted and sort of revived in a way that was more reflective of current leadership, which of course sends a signal to the rest of the network that something different is coming, that a change has happened."
Eight-year Ogilvy veteran and Creative Director Connor Fleming said he felt equal parts pressure and honor, but also excitement at a specific aspect of this project.
"It's really rare as a design group to go through a rebrand process and then be the ones to shepherd it through, and sort of oversee how it rolls out, and actually work with the different global offices to make sure it comes to light in the correct way," he said. That's super unique and really cool, and to do it for the agency that we love is really special."
Perhaps the boldest and most exciting aspect of the updated system is the tartan pattern. In creating the pattern, the team dug back into the past, looking at archival photos of David Ogilvy donning the traditional Scottish pattern. Throughout the research, the team immersed itself in the agency's history and heritage, all in service of creating something new and fresh. For Fleming, the process and the end acted in some way as a metaphor for the entire project.
"[The tartan graphic is] the thing that really unlocked the bridge between the past and where Ogilvy is going," Fleming said. "It just told a beautiful story of our heritage as an agency, and how we can repurpose that and point to the future  where Ogilvy is going; our current setup in how our business units are structured and the way we intersect and create impact at those connections, it just tells a really clear story. That was kind of a launching point for the whole identity."
Usadel likened the process to that of becoming a new parent—not only was Ogilvy 485 responsible for creating and birthing the new visual identity system, but they now take on the task of raising it.
"So that's something that required a slightly different kind of approach and slightly different mindset—it has to be collaborative in order to make it work," Usadel said. "We don't have all the answers up front right away right now. Along the way, we've met so many people and been introduced to so many perspectives who have helped to make it better."
It was that collaboration, both between the team members themselves and with expert colleagues in design, illustration, and communications, that made the process so enjoyable and special, team member and Designer Martin Pohlmann pointed out. "Once we had a good system in place, we started working with great animation teams to explore how this tartan could come to life…not just static on the page but visually in motion," Pohlmann said. "It was a huge collaborative effort, not just in design, but in making it all happen."
Among those who the team worked with intimately on the project were Carl DeTorres, founder of StoryTK in San Francisco, who helped create the initial concept that the team built on. Additionally, Erin Sarofsky and her team at Sarofsky offered her expertise in motion and animation. Ogilvy 485 member Remy Glock played a major role in exploring the tartan pattern, apparel and accessories, along with RC Shen who helped create the agency's new Keynote and PowerPoint presentation templates.
It was a true team effort, and in the spirit of Ogilvy's evolution, it took dedication and creativity across borders to achieve the outcome. It its creation and its final form, the updated visual identity system represents Ogilvy's commitment to inspiring brands and people to make an impact on the world.
"Everything from animation to PowerPoint templates, everyone who worked on it was just super excited," Fleming said. "It really brought out the best of Ogilvy, and everyone showed their passion for the brand at every deliverable, no matter how small."
Interested in bigger, bolder ideas? Sign up for our newsletter for more insights on how brands can make an impact on the world.
Share