Four Takeaways From Mobile World Congress 2018
Mobile World Congress in Barcelona is the largest mobile exhibition in the world. Originally organized as an industry event for Telcos and manufacturers, it's since evolved to be a truly valuable look at everything mobility. That makes sense, given the technological shifts that have changed the world in the past two decades. We're so used to thinking about mobility as a device—a smartphone or tablet that allows you to access information anywhere because of its ability to be brought anywhere. But MWC now attracts everyone from consultancies to universities to auto manufacturers. That's because mobile ubiquity will fundamentally alter every corner of our world. It will be a true revolution that will touch every aspect of our lives.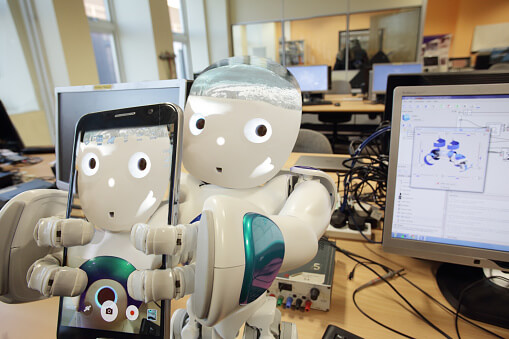 Among the aspects spurring this radical change on are 5G and Artificial Intelligence, two of the key themes from this year's conference. Here's a look at those and some others:
The speed of 5G Though it's still 2 years out for being released to the public at scale, 5G connectivity dominated the conference as the most impactful technology to come. T-Mobile confirmed 30 US cities to have 5G by 2020, and Qualcomm displayed a number of handsets with the 5G chipset Snapdragon ready for sale in 2019. If anything, this indicates that the speed at which this adoption is growing is getting faster. And its implications are potentially stunning. Smart cities rely on reliable, ultra-speed and automation connections. Imagine a car with windows that double as screens that display augmented experiences of the environment you are in—a city view with real-time full immersive experiences. Not to mention, that car is driving itself, as are the other cars surrounding it. That's only possible with 5G, and we're finally getting close to seeing it in real life.
Connected Life What started as a fully connected computer in our pockets has now evolved into a fully connected ecosystem. Any and every device that can be connected will be connected, if it's not already. What makes this Internet of Things future possible is the impending aforementioned 5G. Sure, some of this might seem superfluous—do our toothbrushes necessarily need to be connected to the internet? But omnipresent connection allows for lots of practical, daily improvements , such as the Dynamics connected credit cars that was on display in Barcelona. Not only does this fully-connected credit card communicate with the retailer during a purchase, but also with the bank. Additionally, say you are on vacation and your card gets flagged by the bank as having fraudulent activity, something that surely puts a damper on your holiday. No worries…a small display on the credit card allows the user to authenticate themselves, unlocking the card for immediate use. That's just one example of how full, fast connections can help solve problems that seem small, but when all added up and solved will make our lives much more seamless.
Messaging Evolved The evolution from SMS to stand-alone, app based messages has been fast and furious over the past five years. And what started as pure texting has evolved into fully rich and immersive experiences. But a new standard is on its way, and will surely make a big splash. The new built-in messaging app that will arrive on every Android phone will now support RCS, the new format from Google that looks to confront WhatsApp, Facebook Messenger, and Apple's iMessage. It brings rich media and e-commerce built directly into the messaging app, eliminating the need for downloading a third-party app or requiring the user to log-in. The marketing opportunities are clear and obvious. Marketers want to get as close to the consumer as possible, and these capabilities only bring us about as close as we can be in the non-physical world. Having direct access to consumers means marketers will no doubt have to exhibit restraint, and privacy and security will remain valid consumer concerns that brands will have to assuage. Those that get it right will have an excellent avenue to reach and service customers.
AI Everywhere Artificial Intelligence is projected to be a $42 billion market by 2025, with a possible $15.7 trillion total economic impact globally by 2030. What do these crazy numbers mean? That AI is here to stay and at its core, its real power and riches lie under the hood. What most consider revolutionary is not what most consumers see. So what could that…well…look like? Think about a Chatbot that says smarter things than the typical customer service rep. Or online predictive customer service results and better quality, more-personalized recommendations. The range of what it can do is where much of the power lies; small AI codelets that come embedded in headphones lets them automatically adjust to your hearing profile and the ambient noise around you. On a grander scale, think interconnected networks that drive smart cities, directing traffic based on pedestrian and automotive flow. For marketers, the value in AI comes in leveraging and connecting all that data produced by a trillion connected devices with the individual's preferences to create better stories and services to consumers.
Interested in bigger, bolder ideas? Sign up for our newsletter for more insights on how brands can make an impact on the world.
Share