Understanding the next generation of B2B buyers
In partnership with the B2B Institute and the Global Web Index (GWI), WARC have published a set of criteria that defines this new generation of executives, coining the acronym BETA Buyers.
B is for blurred lines
For this group, the boundaries between work and life are blurred. With 89% checking emails and work messages outside of working hours, the traditional working day of 9-5 is but a bad memory.
There is no longer a clear delineation between working and living, meaning marketers must look beyond traditional and industry specific channels to reach B2B buyers.
E is for evolving
As the professional and personal collide, this generations career and identity become intrinsically linked with a strong emphasis on their personal brand. The research highlights the BETA audience places a high value on entrepreneurialism, online learning and self-improvement.
Public opinion is important for this group with 60% wanting to "stand out in a crowd'. Key drivers of differentiation for this group are innovation and balanced risk taking.
T is for tech-savvy  
Digital tools and services make it possible to effectively work and collaborate anywhere with an internet connection stable enough for a Teams call. The below looks at the percentage of professional that use collaboration tools, social media, project management tools and video calls. With our BETA Buyers in the blue, we can see a marked difference.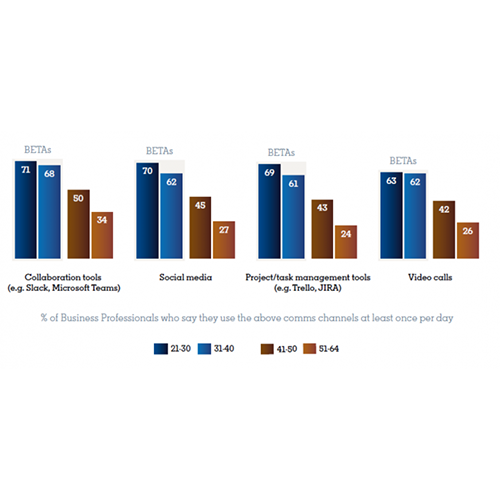 A is for activist
The new generation of executives also feel the responsibility of driving social change around gender equality, diversity and inclusion, and the environment. Looking to make changes such as: reviewing hiring policies; ensuring diversity in leadership and running community initiatives.
It is important that we, as marketers, understand the drivers and motivations behind BETA buyers helping us to better cater for their needs and support in growing their business.
By Tanisha Reeves, Account Manager
Interested in bigger, bolder ideas? Sign up for our newsletter for more insights on how brands can make an impact on the world.
Share