#DogsOfOgilvy: Why I Bring My Dog To Work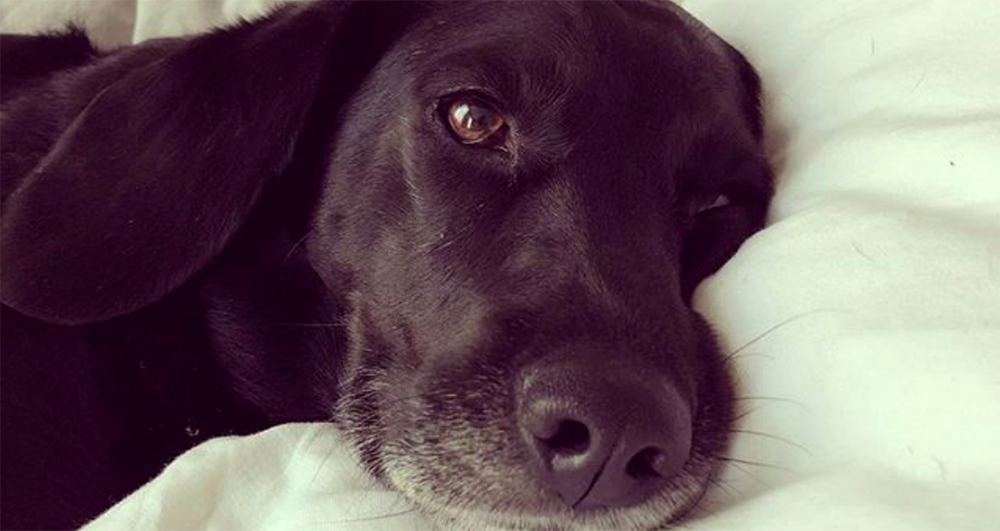 The floors of Ogilvy UK's offices at Sea Containers on London's South Bank are home not only to the agency's people, but also house very special regular guests: The Dogs of Ogilvy.
"We know that research has demonstrated the case for dogs in the workplace from a psychological and productivity perspective", says Ogilvy UK's Talent Management Partner, Lauren Mollyneaux-Brown.
Lauren explains that "having long had a dog-friendly office and encouraging people to bring their dogs into work, we have seen these multiple benefits firsthand. From encouraging people to step away from desks for a walk to providing calming cuddles, dogs play a huge part in the atmosphere of the agency and the well-being of our people at Ogilvy."
In celebration of National Dog Day, three of Ogilvy's many dog owners, Strategy Director Ben Hulme, Creative Operations Lead Libby Philpott, and Designer Dom Flaherty explain why they bring their dogs to work.
Tell us why you bring your dog to work?
Ben: I'm fortunate to work in an industry where bringing your dog to work is an option. I think this enables you to own a dog more easily. Ultimately, I bring Betty into Ogilvy because I can. She's my companion and she makes everyone on the tube and everyone in the office happy when they see her.
Libby: I bring Colin in twice a week and the other days he goes to daycare. It saves me money on daycare and always lightens the mood in the office
Dom: I bring Freddy to Ogilvy mainly to spend more time with him. It also forces me to take a lunch break to walk and play with him.
How has having your dog in the office impacted your life at Ogilvy?
Ben: Betty is super well known at Ogilvy. I've had instances where I'll be attending a meeting with a team I've not met before but they'll know Betty. She's a great ice-breaker. Some clients have completely taken to her too. In fact, Betty has even been requested to be brought along to meetings at my clients' offices.
Libby: I didn't have a dog before I worked at Ogilvy. It was the dog-friendly policy that encouraged me to get a puppy so it has completely changed my life- I love it!
Dom: I've met so many different people from all areas of the business who I probably wouldn't have spoken to through having Freddy. I also now get pug-related birthday cards!
Have there been any unexpected moments?
Ben: A person on my team is scared of dogs as she was bitten when she was a child. However, over time (and because Betty is so gentle) having Betty around my team has helped her to become more confident around dogs.
Libby: Thankfully no unexpected moments in the office! The only thing I've found is the excitement of the walk across Blackfriars bridge to Sea Containers has caused Colin to need the toilet in the middle of one of the busiest bridges in London, which can be embarrassing. I always carry an appropriate waste disposal kit for this part of the journey!
Dom: He was asleep once so I'd unhooked his lead so he was more comfortable. I think he was dreaming as he woke up out of the blue and started to run across the office! He's a lot more agile than he looks.
What about your team - have you noticed changes to their behaviour since bringing your dog to work?
Ben: I use silly voices when I speak to my dog and members of my team have started to do the same thing. Betty brings out the silliness in the team and transforms the atmosphere.
Libby: The team love Colin, he's a very easygoing puppy. Everyone volunteers to look after him when I go off to meetings! He's a great reason for people in the team to take a break and stretch their legs for a bit of exercise too.
Dom: Freddy tends to lighten the mood, which can be especially welcome in a difficult meeting or when everyone is a bit stressed out.
Finally, any advice for someone bringing their dog to work for the first time?
Ben: We're spoilt with the huge space at Sea Containers and multiple beaches right on our doorstep! I'd not been down to the beach before I'd brought Betty into work. It's great for walks and I'm sure we can all benefit from stepping away from our desks to go for a stroll each day.
Libby: I'd recommend having a whole new set of toys/bowls/a bed etc.
Dom: Make sure that they're toilet trained and are good around people. But don't be afraid to bring your dog into work!
Interested in bigger, bolder ideas? Sign up for our newsletter for more insights on how brands can make an impact on the world.
Share