Three Reasons Why The Ogilvy Apprenticeship Stands Out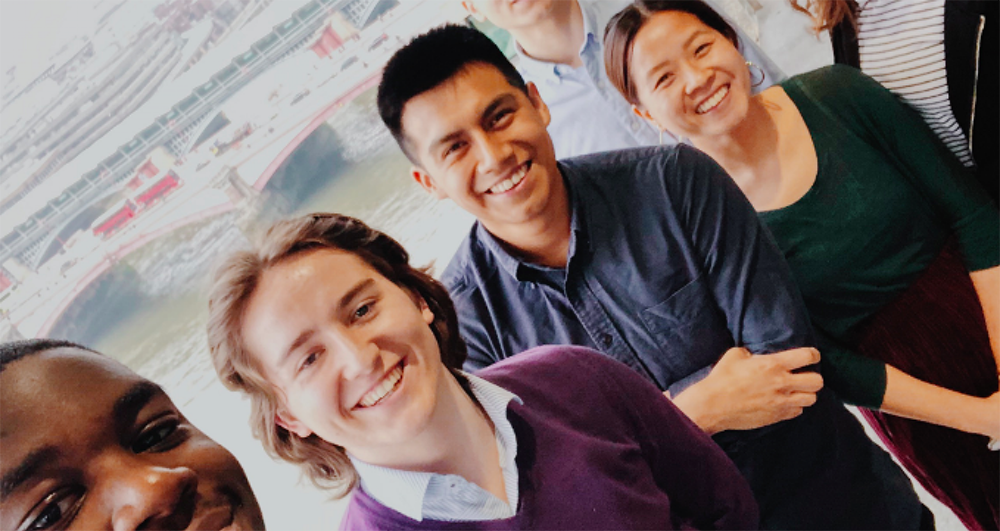 This week is National Apprenticeship Week. The week-long celebration focuses on recognising apprenticeships across England and encourages everyone to look beyond the outdated stereotypes surrounding apprenticeships, to celebrate the diversity of opportunity and the value that they bring to the country today.  
"Ogilvy UK launched the first Ogilvy Apprenticeship in 2018, a two-year scheme designed to welcome the next generation of talent into the communications industry", says Helen Matthews, Ogilvy UK's Chief People Officer. "Ogilvy has opportunities which are open to everyone and we seek to attract talent who might not ordinarily consider working in the creative industry. Our first intake of apprentices came with experience as diverse as retail to an estate agent and started as young as 17 years old. There truly is a place for everyone to feel included and contribute to the work we do at Ogilvy, and the scheme has added enormously to our learning culture."  
As our first cohort approaches the end of their apprenticeship, we caught up with Ogilvy UK's Head of Learning & Development, Gavin Sutton and Learning & Development Partner, Lauren Mollyneaux-Brown to reflect on the apprenticeship at Ogilvy. Gavin and Lauren tell us the top three reasons the Ogilvy Apprenticeship stands out: 
1 – Access to lots of jobs, all within one agency 
What makes Ogilvy so special is the range of talent spread across our London and Surrey offices. At Ogilvy, you work alongside and collaborate with such a diverse range of crafts and capabilities - covering Account Management, Strategy, Creative, PR & Influencer, Social & Content, Behavioural Science and so much more. Many of our apprentices are coming into an industry that they may not know much about, so their two years on the apprenticeship is a great opportunity to learn by rotating through these areas.   
We help our apprentices to navigate the business and follow their passions. One example that always sticks in my mind is Kevin — he started as an apprentice on Vodafone's youth brand VOXI. His experience in social and content creation for this account sparked an interest in social media as a whole, so for his next rotation, Kevin joined Ogilvy's Social & Content team. During his time on the team, he then became curious about creative production, so he's heading to Ogilvy's production arm next! Ogilvy has helped to guide him on this journey so he could follow his passions and find his place.  
2 – Building a career, rather than just gaining experience  
For anyone thinking apprenticeships are just about 'making the tea', that's certainly not what you'll find at Ogilvy. Our apprentices are looking to kick-start their careers in the industry in order to move on to a permanent role. This is not a job, it's a real start to a career rooted in what most interests and drives the apprentices.   
Take Harry Scott, for example, who came to Ogilvy with a real love of sport, in particular Formula 1.  Harry has been able to combine this passion with the Account Management craft and spent much of his apprenticeship working on the Formula 1 account. And we're pleased to say he has recently been hired onto our Formula 1 account in a full-time role as an Account Executive. This is the beginning of his career in advertising, working on a brand that he loves.  
3 – A qualification, without the debt.  
The real benefit of an apprenticeship is that in addition to on-the-job learning, you also leave with a qualification, with none of the debt that can come with university. Equivalent to two A-Levels, our Ogilvy apprentices will finish their two years with a Level 3 Advertising & Media Exec qualification.   
We want our apprentices to do the best that they can, so we actively support their learning. In addition to 20% of their working time being dedicated to learning, Ogilvy apprentices are given a Development Coach to support them through their qualification. We have also found that with a mix of learning styles from workshops to e-learning, the less traditional style of learning in this qualification appeals to a much broader range of people. There's something for everyone.  
Interested in bigger, bolder ideas? Sign up for our newsletter for more insights on how brands can make an impact on the world.
Share