Ogilvy Consulting Named to Forbes World's Best Management Consulting Firms List for Second Straight Year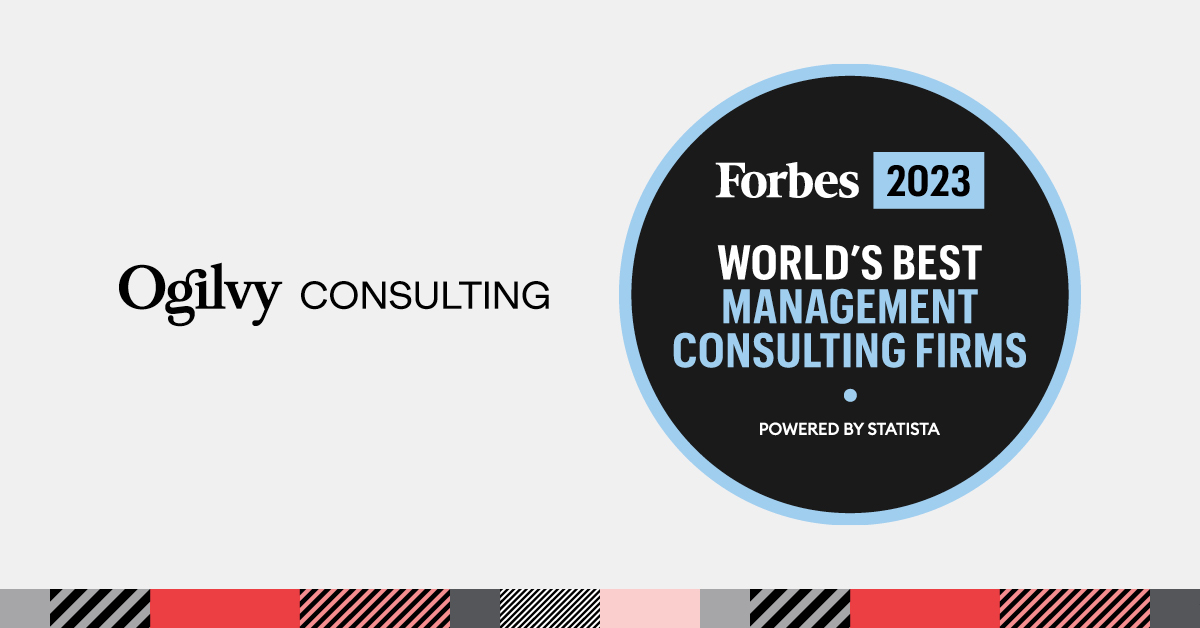 NEW YORK, NY —  Ogilvy Consulting has been awarded on the Forbes list of the World's Best Management Consulting Firms 2023. This prestigious award is presented by Forbes and Statista Inc., the leading statistics portal and industry ranking provider. The awards list can currently be viewed on the Forbes website. Ogilvy Consulting was also named to the list in 2022.
Carla Hendra, Global CEO of Ogilvy Consulting said: "Over the last decade plus, we've earned our spot as a top global Business Transformation and Brand Innovation consultancy, operating in every major market on behalf of iconic brands that span such categories as tech, hospitality, financial services, CPG and luxury among others. I'm so proud of our teams and the positive impact we're helping drive around the world – from our deep expertise in culture-shifting spaces like B2B, Sustainability, Health & Wellness and Futuring, to our global Nudgestock event as the premier destination for all things behavioral science and creativity. This recognition from Forbes is a testament to all that we've built so far, and our plans to bring it even further into the future."
An extensive online survey was conducted among more than 9,000 consultants (partners and executives of management consulting firms) as well as clients (executives) from different geographical regions worldwide. Within the relevance assessment, Statista has examined whether the management consultancies evaluated operate globally or at least on a multinational level. Across 13 industries and 14 functional areas, partners and executives were able to recommend management consultancies, excluding their own. In addition, the relevance of each consulting firm was reviewed for its consulting activities in the respective industries and functional areas. Only consulting firms that were active and recommended the most in the respective industry/area were recognized.
Since 2012, Ogilvy Consulting built a global Business Transformation and Brand Innovation consultancy covering major markets across North America, EMEA, Asia Pacific and Latina America. In addition to New York, Chicago and London, EMEA opened new operations or added new leadership in Germany, Spain and France for Consulting in 2022, and Asia opened Australia/NZ, in addition to China, Singapore and Hong Kong operations. A highlight of the year was the July 2023 global Nudgetsock event, curated by Ogilvy Consulting and streamed to over 100 countries.
Share