"Heinz" loves Curtice Brothers ketchup: confessional campaign by INGO Hamburg promotes new bottle design with a wink.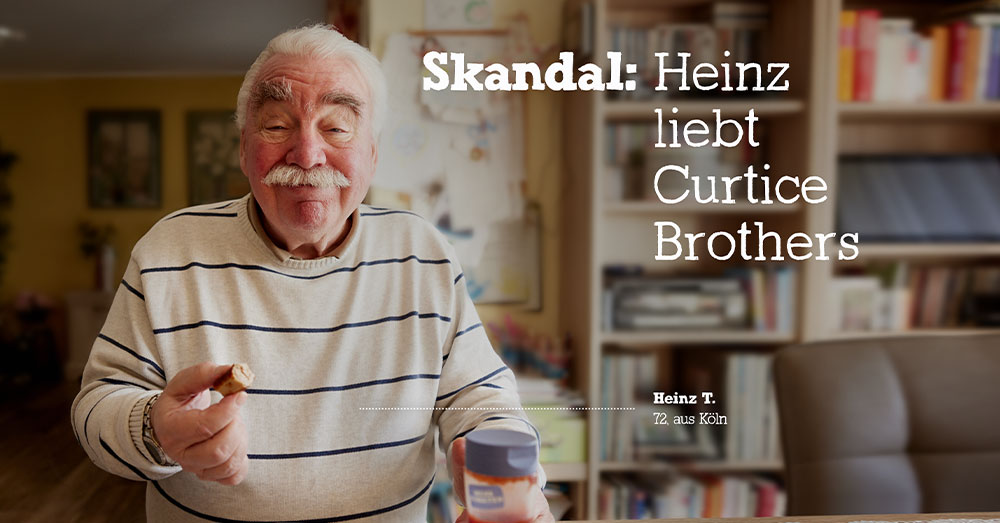 Hamburg, April 17, 2023 – Following the award-winning campaigns "Ketchup to the Rescue" and "The Ketchup Ban,"INGO Hamburg is now launching another campaign for Curtice Brothers. To kick off the barbecue season, this one draws attention to the upcoming sauce varieties in the new squeeze bottles. The new design was also created by the Hamburg company. The focus is on a special testimonial: an elderly gentleman who bears the name "Heinz" in real life as well as in advertising.
Sporting a pun, the campaign is intended to spark nothing less than a small revolution. In German retail, there has long been one market leader in ketchup – Heinz. But Curtice Brothers is now vehemently attacking. Retail weekly Lebensmittelzeitung has already reported extensively. With the real brand ambassador Heinz professing to be a fan of Curtice Brothers sauces, INGO Hamburg shows that even "Heinz" prefers Curtice Brothers.
The digital and social media campaign, which will run until the end of the barbecue season, includes various motifs in which "Heinz" expresses his love for Curtice Brothers sauces. The visual language is always authentic. Individual motifs will also be seen in out of home advertising and heavily at the point of sale. In addition, retail tasting actions and a guerrilla campaign are planned.
"Our target group is food lovers who attach great importance to natural ingredients. That's why we pay attention to a higher fruit content (more tomatoes) and less added sugar and salt to differentiate ourselves from the competition. We can offer quality at a price that is significantly better than the market leaders. By expanding to squeeze bottles, we are appealing to a broader target group," says Mario Bauer, CEO of Curtice Brothers. "In INGO, we have found a partner who can also take a more unconventional approach and, with inventiveness and a twinkle in the eye, appeal to precisely those people we want to reach and inspire with our products."
"Curtice Brothers not only has an outstanding product, but also creative courage. We at INGO Hamburg are excited to kick it up another notch and now challenge the top dog with a wink," adds Tobias Ahrens, Global Chief Creative Officer at INGO the agency.
The campaign is focused on Curtice Brothers' new product range, which includes tomato ketchup as well as a French fry, barbeque and curry sauce. These are now also offered in squeeze bottles (420ml). The bottles with the eye-catching blue lids will be available online, at organic retailers, nationwide at the REWE, Globus, EDEKA Nordbayern and EDEKA Südbayern grocery chains, and the "flaschenpost" delivery service.
The creators
Curtice Brothers
Mario Bauer, CEO
Cindy Zhang, Head of eCommerce & Brand
INGO Hamburg
Erwin Lorenz, Andrés Rincón, Jens Paasen
Contact
INGO Hamburg GmbH
Kaiser-Wilhelm-Straße 81
20355 Hamburg
Germany
Telephone: 0171 854 0708 | tobias.ahrens@ingohamburg.com
Share