WARC Recognizes Ogilvy as the World's Most Creative Agency Network for Third Straight Year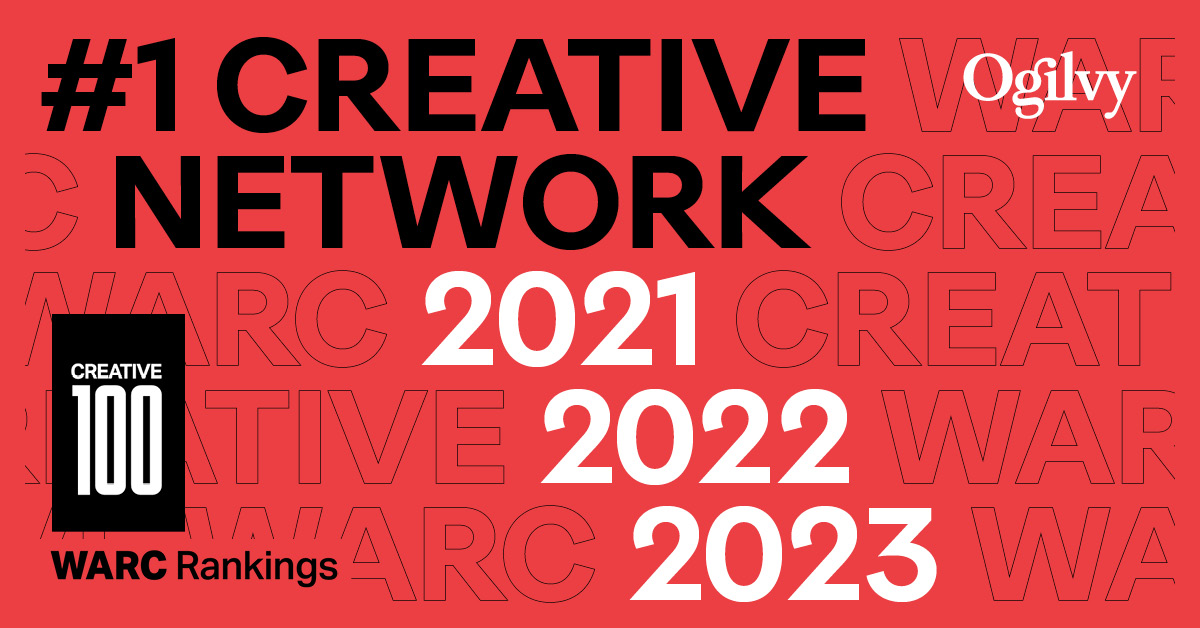 NEW YORK — MARCH 21, 2023 — Ogilvy is proud to announce that the World Advertising Research Center (WARC) has named Ogilvy the most creative agency network in the world for the third consecutive year. WARC today released the results of its annual Creative 100 ranking of the most creative agencies, networks, and campaigns in the world. The WARC Creative 100 is the definitive benchmark for creative success based on results from the most prestigious global and regional industry competitions.
Liz Taylor, Ogilvy's Global Chief Creative Officer, said: "It fills us with immense pride to see Ogilvy named the most creative network in the world by WARC for the third consecutive year. Our teams earned this recognition by doing work that had an impact on our clients' brands and businesses, and helped enact policies that have helped create a more equitable and just world. Our sincerest thanks to every person who works at Ogilvy for their passion and ingenuity, and to our brave clients for their partnership, trust, and shared belief that creativity is the ultimate differentiator."
Ten of the Top 100 most-awarded campaigns of the year were Ogilvy-created campaigns, including: "Reverse Selfie" for Dove from Ogilvy's global Unilever team, "Shah Rukh Khan-My-Ad" for Cadbury by Ogilvy India, "Even More Confusing Times" for Burger King by DAVID Madrid, "Morning After Island" for Grupo Estratégico PAE, "Toxic Influence" for Dove by Ogilvy's global Unilever team, "Burger Glitch" for Burger King by DAVID São Paulo, "Staraoke" for Amazon Prime Video by Ogilvy Milan, "Home Sweet Home" for the Tourism Authority of Thailand by Ogilvy Bangkok, "The Impossible Combo" for Burger King by DAVID São Paulo, and "Life, Scripted" for the Chicago International Film Festival by Ogilvy Chicago. Ogilvy London, DAVID Madrid, Ogilvy Mumbai, Ogilvy Bangkok, and DAVID São Paulo ranked in the Top 50 individual creative agencies, contributing to the network's overall success.
The WARC Creative 100 is a ranking of the world's most awarded campaigns and companies for creativity. It tracks the results of creative award shows around the world, and acts as a benchmark for creative excellence, allowing marketers to compare their performance with that of their peers. The 2023 WARC Creative 100 was compiled from global industry competitions including Cannes Lions, D&AD, The One Show, Clio Awards, and London International Awards, along with regional competitions such as Spikes Asia, Adfest, Eurobest, Golden Drum, Dubai Lynx, Loeries, and El Ojo de Iberoamérica.
This recognition from WARC caps off an impressive year for Ogilvy's global creative network. Fast Company recently named Ogilvy to its prestigious list of the World's Most Innovative Companies. Throughout 2022, Ogilvy was repeatedly recognized by industry leaders for producing work centered on big ideas that upended the status quo, altered the conversation, and drove business results. Ogilvy returned to the coveted position of Network of the Year at the 2022 Cannes Lions International Festival of Creativity and received the same honor from The One Show and London International Awards (LIAs). Additionally, Ogilvy was named Network of the Year for 2022 by Campaign Magazine.
Share